Graham Reid | | 5 min read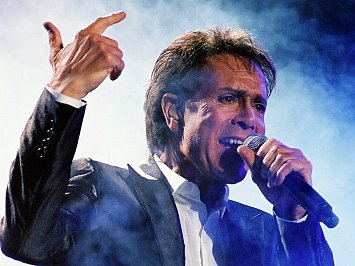 Cliff Richard was never my pop star. I was the perfect age for the Beatles and the Stones, so when She Loves You and It's All Over Now got their hooks in to me, Cliff seemed old fashioned, redundant and unnecessary.
However amidst my older sister's Elvis and Bill Justis 78rpms had been Cliff and the Shadows' Don't Be Mad At Me/Voice in the Wilderness single (from 1960) and before I had a soundtrack of my own I used to play it repeatedly. I still rate Voice in the Wilderness as a great pop ballad.
I never really followed Cliff's subsequent five decades-plus career (without hearing it, I honestly thought the song Goodbye Sam Hello Samantha was about a sex change operation) and, despite his best efforts to get my attention by touring regularly, I have never seen Cliff live.
Until now.
A week ago a friend told me someone we knew in Cliff's record company had tickets available and so, feeling I could no longer avoid a man who has been popular for more than half a century, I made the call. We would be two rows from the front at Vector and amidst the chapter of the Sir Cliff Richard Movement of New Zealand.
Could it get any better than that?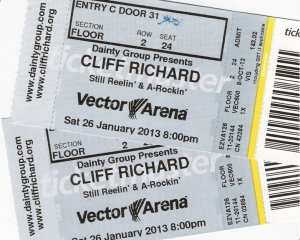 Cliff is many things, and one of them is punctual. The ticket said 8pm and at one minute past he was on stage and began Reelin' and Rockin' looking as slim as Jagger in a sparkle-jacket and matching sneakers. And -- with great sound, an eight-piece band and a superb light show -- Cliff was front'n'centre for the full 50 minutes of the first half.
He sang hits, joked about his flops (Miss You Nights which was hardly a chart disaster in the UK where it went to number two), sang some oldtime rock'n'roll hits which weren't his (Poetry in Motion, Sealed with a Kiss), did a duet with the striking Suzie Furlonger, mentioned his next album to be recorded in Nashville in April, told pointed and self-effacing anecdotes (the Parisian waiter who, on being told he was Cliff Richard said "but surely he is dead?") and never looked like he was straining his vocals.
Whether you like his music or not, you'd have to concede he still has A Voice . . . and he didn't lip-synch like some we could mention.
More remarkable, after a 30 minute break, he came back for a whopping 70 further minutes of hits (among them an exceptional treatment of the big ballad Ocean Deep), joked about being asked in the 70s if he wasn't past his selling date ("then this happened" he laughed and sang his million-selling Devil Woman), sang even more hits (We Don't Talk Anymore and Wired for Sound from the 80s) and was called back for more.
Not once did he stop for a breath or even a drink of water, and at 72 the man is a remarkable advertisement for tennis, good taste in wine and possibly his faith. He looked ridiculously youthful (yes, he's had work done said my wife) and gave the audience a great show. People loved it, and isn't that what popular entertainment is all about?
Value for money too: by my count he was up there for more than two hours (not bad for the first show on the tour) and even the tour programme was generous, being full of photos, song lyrics, Cliff's asides and thoughts etc. Better than that shitty thing Dylan was flogging.
Megan also bought the tea-towel set (not the teddy bear though) and it goes with our Elvis beach towel from Graceland and our "out damned spot" Lady Macbeth tea-towel from the Globe in London. Just tacky stuff, but fun.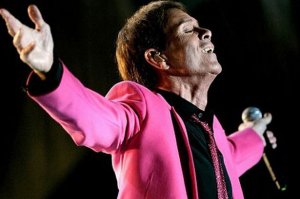 Okay, at times – as when he sang in an acoustic setting with his two backing singers, one of whom looked like a young Dave McArtney – this looked liked like a theatre production (sort of The Cliff Richard Story with "boy dancers", as they used to call them in the "thee-ater dahhling") and there was very little chemistry between him and Furlonger on the big ballads (sung to the crowd not each other).
And of course you have to like 50s and 80s pop, and not be embarrassed by singing along to The Young Ones (which, to be frank, is actually less embarrassing than singing "hope I die before I get old" at a Who concert).
So it was a terrific Show And Production and yes, here it comes. We and just a few others went backstage to meet Cliff afterwards.
He was more slight than expected (and slightly older looking up close naturally), funny, charming, self-effacing and admitted he has been surprised by his good fortune given there are so many other singers out there better than him. Anyone on an Idol show and those in his backing band, he said. He mentioned being sidelined when the Beatles came along and I asked him if he genuinely felt that at the time.
He said he did and asked his manager if he should be worried. The manager asked if he was still having number one hits (yes), still selling out concerts (yes) and still hugely popular (yes). At that he laughed. He just carried on doing what he was doing away from the whims of musical fashion.
We spoke about recording in Abbey Road (he was there five years before the Beatles when he recorded his classic slice of British rock'n'roll Move It in '58) and he said in some small way he and the Shadows could take some credit for the Beatles' career. By them having Britain locked down the Beatles had to go to Hamburg, but of course when they came back . . ..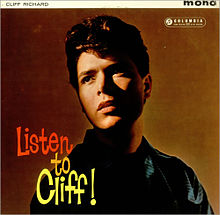 He seemed in no hurry to go off to dinner but after a glass of wine he was happy to have his photo taken with us (I didn't, we don't have functioning camera phones) and sign some autographs.
In anticipation I had taken along two old albums I bought in the past few years, Me and My Shadows (1960) and Listen to Cliff ('61). He laughed when he saw them – he looks impossibly young on the covers, but still does of course – and then I produced my ace: the single of Don't Be Mad at Me/Voice in the Wilderness which I have kept for over 50 years.
He did a double take at that and said "Voice in the Wilderness" to himself as if remembering something.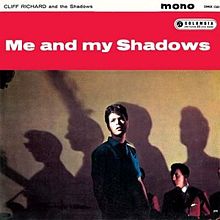 Sir Cliff Richard is a remarkable figure in popular culture. Hip and cool folk don't rate him of course ("Cliff 'em all", I say. Metallica joke, right?) but his peers know better: he has sung with Van Morrison, the Young Ones, Percy Sledge, Freda Payne, Elton John, Janet Jackson, Sarah Brightman, Stevie Wonder . . .
He said he'd like his next album to be rock'n'roll duets with Elvis which are of course possible due to technology and that they both sang those hits in the same key. There is of course the Presley estate to negotiate, he laughed.
So there you have it: I went to Cliff Richard . . . and an admission like that is sure to destroy whatever shred of credibility as a music writer I might have had left. But I couldn't care less.
I enjoyed The Show (if not all the music) in an utterly non-ironic way and admired his energy, enthusiasm and genuine connection with his audience.
And there is nothing better than being in a crowd of people unashamedly enjoying themselves. I find it life-affirming and, that most underrated feeling, fun.
Jeez, last week Elvis Costello delivering a blinder at the Civic and now Sir Cliff? Roll on Laneway and let's see what the grandchildren of Cliff's generation have done with popular music.
Sometimes you wake up and think it's great to be alive . . . and wired for sound.