Graham Reid | | 8 min read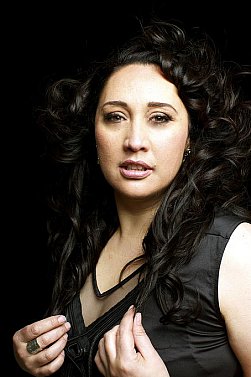 After a fine start with a series of singles in the mid Nineties (Make You My Own, Fatally Cool which used taonga puoro), awards, her debut album Drawn in Deep, and the song Kia Tu Mahea on the soundtrack to Once Were Warriors, Maree Sheehan seemed to suddenly fade and disappear.
By the turn of the century this talented woman – part of wave of smart young Maori women singer-songwriters --- was all but gone from the public eye. And although she did production work for film and television, and mentored the hugely successful and popular Nesian Mystik, the pop-chart singer was nowhere to be seen.
Until today . . . because with Chasing the Light, her first album in over 15 years, Sheehan is back. She is smarter and wiser, and her songs even better for the absence.
Chasing the Light doesn't play her danceable pop aces early but opens with the downbeat, thoughtful but self-assertive In the Light ("you're slowly breaking my down with your negativity, saying how I don;t deserve love . . . happiness, but I'm fight you") and later on the heart-aching, acoustic ballad That's What I Prayed For she looks at a marriage ending not for lack of love but the death of a partner.
This is mature and thoughtful stuff, but Sheehan also throws out the dancefloor soul-rocker Without You, the reggae riddums of Rock With Me and the more relaxed groove of Just For Today. Right at the end she closes with the self-analytical and extended hand for help on Watching Me Fall.
It's an album of darkness and light, but Sheehan is most assuredly heading into the light.
She is proud of the album but also flattered and delighted that people are interested in her again. And those for whom, because of her long absence, she comes as a new name.
"Oh yes," she laughs of doing promotion for the album she wrote and produced, "I get to talk about myself all day."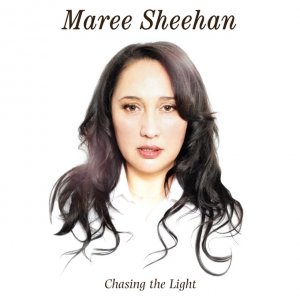 I imagine you are talking to people like me who know exactly who your are, and then perhaps younger people who really have no idea. Is that what it's been like?
Yeah, it is interesting. As you say, some do and some don't and it's a nice mix.
You must be pleased with the interest.
I'm really pleased and it's been very positive, and with people like yourself who do know me makes it so much easier. It's nice to have that reconnection.
Did you feel that for a long time you lost that connection because for a decade and a half or so you've just had observer status on the music scene in New Zealand, part of it but outside of it. How did you feel looking in from the outside?
When I stepped out of actually releasing music I felt the business side was too full-on for me in terms of it being a popularity contest. It became more about the business than my passion for the music. So having done that for a long time and be able to observe. I find it interesting to see how the industry has changed and technology has enabled a lot of people to record and find a distribution platform.
In the past it was always very much about record companies as the dominating feature.
But you are with Warner who are doing distribution for you. You have embraced the devil as it were. You could have done it all yourself. Do you feel there is a stronger position with a major record company?
For me, because the album is on my own record company, Warner are one of the distribution platforms and that's good but my own company produced the music, so it's the best of both worlds. I get to make the music and be independent and make a lot of the decisions about how it is seen and done. Yet I have a great partner in Warner who know the industry a whole lot better than I do.
Yes, despite what people say, these are the people who are still very connected.
True. and I like it and feel fortunate. For me the choice with Warner was that some of the people that work here are fantastic and I know them and have a relationship with, so I trust them and I know they know what they are doing.
They believe in me and that my music is worthy for them.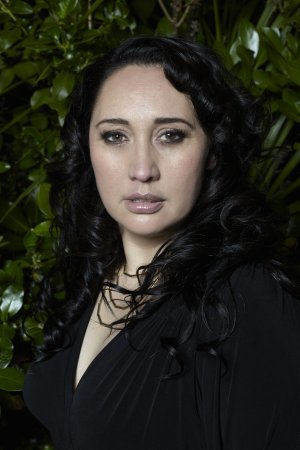 Did you just deliver them the complete album or were there conversations along the way?
I did it all myself and I wasn't signed to them, that came later. Once I'd finished the album I invited them to come and have a listen and then there were conversations about what we could do with the album after that
I imagine you feel much more in control of your music than all those years ago. Was that Maree Sheehan back then just a silly kid or did you just never have the opportunity to know better about the business?
I do have a few regrets, for instance I went to Australia and worked with Roadshow and they whited-out the cover photo for the Australian market. It happened, it went through and I look back on it now and think . . . Instead me more predominantly Maori they wanted me to be more Australian looking.
So they actually changed the tint of your skin colouring in the cover photo?
Yeah, a little bit. Those are the sorts of thing that can happen when you are not in control. You know back in the day it was very much a challenge for young Maori women like Emma Paki, Moana, Hinewehi Mohi, myself . . . We were very much challenged about our culture and the te reo and putting that out, and trying to get any airplay. I take my hat off to Moana who can have the longevity of a career that she has, she absolutely deserves accolades for doing that.
But you are still doing it too. I'm talking to you now, but when you dropped out you went for a complete change. Did you enjoy that or did you miss the music thing?
I like the change and being able to focus on other things. I always wanted to finish my degree and I did post-graduate study. My bachelors degree is a double major in English and Music and I finished my post-graduate in Maori development. I traveled the world and lived in London for three years, and those were great experiences, but when I used to see people perform I would go, "Ahhww . . .' There were times when I just thought I would love to get up and have a sing.
Was it to have a sing, or was it to be in the spotlight again?
Both I think (laughs)
It must be encouraging to be back having a sing and being in the spotlight.
Yeah and I have missed it. Stepping back into the studio was just fantastic. I'd been writing a lot in the last few years and to be in the studio and see it come to fruition was fantastic, and to have a hand in producing the sound I wanted. That has been phenomenal for me. Everything now is just a bonus.
When I was younger I was very caught up in the business and wondering where I was on the charts, and worrying if I wasn't popular. That got me down.
But being a bit older and more mature I am proud of my album and hope that people will like it. But if they don't there's not much I can do about that. I'm going to do the best show I can with my band and I am determined to just really enjoy it this time.
Let's talk about the music. Can I just say I really love Without You, it's a great upbeat song, but at the other end is That's What I Prayed, and that's it's a mature song and quite unusual. These songs came over for or five years of writing?
Without You I wrote last year and Rock You, That's What I Prayed I wrote three years ago. That came about because of a friend my age dying of cancer and it was a gut wrenching song because it talks about their marriage. They had been together 20 years and had two children and never thought they would ever be parted. So it's a very sad song.
It's also a very beautiful song and you can tell it's very heartfelt and honest.
Yes, I am very proud of that one.
And Just For Today seems like, 'Ah I'm over a lot stuff and I'm relaxed with myself.'
That's exactly what it is about. I was in the Hokianga when I wrote that song and it was sunshine and, 'Oh yeah, I'm just cruising with friends, couple of drinks, by the beach, I'm living now . . ' Just about living for today.
In the Light comes from a very different place.
Overall when you sit with the album – which is called Chasing the Light – there is darkness and light in life and there's definitely darkness and light in me, hence the album is eclectic. There are happy songs and the darker, more sad songs.
In the Light is really about a personal journey for me and coming out of a time when I was probably very dark. Things can get you down in life and you can sit in it, it's a little bit like depression, but that song was me thinking, 'No'. I realise I'm going through whatever I was going through, I was making a conscious decision to stand more in the light and be more positive,
When I first heard that I thought here was a song that all young women should hear, especially when they are going through things with stupid possessive boyfriends or whatever at that age. Here's a song which says you can get away from this and be a different person.
Yes, without it being from a religious point of view, it is from a spiritual point of view. Yet I don't want to put my own story on it, I want people to find their own story in it.
When I heard it I thought it was a universal story. It was probably something you had gone through but it has that universal quality. They are rare, songs like that.
That why I'm very proud of these songs, because they come from a very honest place in my heart. Whether it be happy or sad it's all honest feeling and that's why I can't be too worried about what anybody else thinks. It's there and it's done and from the people who have heard it, the feedback has been amazing.
There have been people who have heard it in the studio who have cried at That's What I Prayed, then there are people who hear Without You and are dancing.
Are you noticing that people are telling you they like a particular song but they are all different, they aren't all settling on the single?
Yeah. I do notice That's What I Prayed and How Do I Say Goodbye get commented on, and a lot of people like Without You and Rock With Me which will probably be the two singles. But people also like Do I Wish as well.
Who does the duet with you on Mistakes?
His name is Jason Carlo and he's not really well known and hasn't put anything out there. He's a beautiful singer and I met him through a friend. I'd written Mistakes with a young Maori boy from Ahipara and he was about 10 or 11. He wrote some of the lyrical content so I knew it was a male voice I needed on that song, so I scouted around and hJason popped up. We had a jam and he sung it and I thought, 'That's the voice I have been hearing in my head'. It was magic because for me as composer I don't always write for myself and Mistakes was for a different kind of voice and so with him it was 'Yes! That's what I wanted it to sound like.
What sort of musicians are you carrying?
We've got drums, bass, keyboards, guitar and backing vocalists. No backing tracks. That was the Nineties. And no lip-synching.