Graham Reid | | 2 min read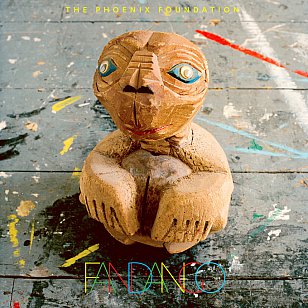 The name, even now, is a little odd: The Phoenix Foundation. It sounds like some right-wing think-tank, or a high-profile business whose directors appear in court for fiddling the books. You can imagine the logo of a stylised bird rising from flames on the front of the company prospectus.
And oddly enough Wellington's Phoenix Foundation – which has spawned a number of side projects from various members and has just released its fifth album, a double, Fandango – is somewhat of a high-flying growth industry and think-tank of creativity.
It's been a decade since their impressive debut Horsepower and since then the core members of Luke Buda, Samuel Flynn Scott, Will Ricketts and Conrad Wedde (with a few others coming and going) have carved out a niche where melodic rock rubs shoulders with indie pop and gently atmospheric psychedelic styles.
For their second album Pegasus they also included elements of Americana (slightly more prominent on Scott's solo album The Hunt Brings Us Life) and by their third Happy Ending (with the terrific single Bright Grey) they had become that growth industry.
Aside from numerous solo albums – check out drummer Ricketts' excellent John Dryden – they also did the soundtrack for Taika Waititi's Eagle Vs Shark in 2006 (four years later they would also do the Boy soundtrack for him), and their work – plus new material by Buda and Scott – appeared in the film Separation City written by political cartoonist/commentator Tom Scott, Sam's father.
Outside projects have also seen various members work on commercials and by their Buffalo album in 2009 they had gained an international reputation to match the string of awards and nominations on home turf: Buffalo scored five stars in Britain's Guardian and they appeared at Glastonbury and on Jools Holland's UK television show.
All of which leads to the new album Fandango which stretches to almost 80 minutes and is something of a masterwork in their already impressive catalogue. It reaches from snappy, economic pop (The Captain which rides on elevating updrafts of synths and a melodic line which hits minor and melancholy moods) through the MOR-to-jazzadelic flute and synth-stutter on Sideways Glance to the 17 minute-plus closer Friendly Society where psychedelic tripped-out studio-created pop reaches its zenith.
From this crucible of individual and collective creativity comes the dreamscape of Inside Me Dead which winds down into an eerily ambient coda, and the folksy, shimmering and mostly instrumental Corale which lazily stretches its limbs for the first four of its seven seductive minutes then takes a more darkly prog-rock turn to close the first disc on an edgy note. The whimsical Supernatural opens the second disc and later there's pure 80s synth-pop on Walls.
There's a lot of musical and lyrical information across these two discs.
The album's opening track – the dreamy and almost pastoral Black Mould, which actually has a creeping undercurrent of urban and emotional decay – shifts into sharp social and personal commentary as it turns the microscope on their own backyard: "We're living in darkness in a river of shit on a rainy little island in a fly-infested spit, we're dying in our bungalows . . . it's a nice little place and cosy I suppose . . ."
Given much of the album was conceived and written over 15 months in various locations the reference might be to anywhere, but you can't help feel the stifling damp of New Zealand villas in winter. A more specific reference is Thames Soup of which Buda has said, "We imagined a big bowl of unadulterated Thames water served up by Jamie Oliver".
But far from sounding deeply poisonous, the song is an aching and sexualised love letter home which drifts on gently driving, chiming pop and synth punctuations: "My heart is sick and swirling, exploding like a melon on the street, crawl off and hide until it settles, all the horny little devils are rushing through my blood, I read the message you send . . . if feel I'm dying here . . . I don't live here".
Over the full scope of Fandango – as with their previous albums – you'll conclude it's our great good fortune that the Phoenix Foundation live in our country.
By the way, if you're wondering where they got their monicker from, it was the company which employed the ever-inventive TV star MacGyver.
And given these talented musicians are like a Swiss Army knife of multiple, clever and useful parts, the name Phoenix Foundation actually does makes sense.
For more on the Phoenix Foundation and their various offshoots see here.