Graham Reid | | 3 min read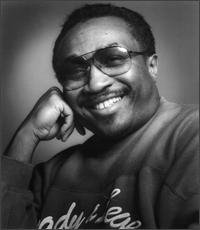 The world of popular music is populated by lost prophets, wandering souls, damaged geniuses and those taken too young. There are also musicians who couldn't handle the sudden fame thrust upon them, and those who couldn't handle it when fame never knocked on their door or suddenly abandoned them.
This is a world of venal villains (record companies, managers and lawyers usually) and artists who were often their victims.
Swamp Dogg – born Jerry Williams in 1942 – endured some of the above and after a short career under his own name, adopted his new moniker . . . and it was all downhill as far as sales went.
His two early Dogg albums Total Destruction of Your Mind (1970) and Rat On! from the following year (in a hilariously awful cover of him riding a white rat) all but disappeared.
Their recent reissue allows us to hear an often exceptional soul-funk singer who had country music in his bloodstream. Proof of the latter is he and Gary US Bonds co-wrote the country classic She's All I Got (a hit for Johnny Paycheck and much covered).
Dogg began his recording life as Little Jerry Williams in the late Fifties then became a songwriter and producer for Atlantic Records where he hung out with the likes of Jerry Wexler and Phil Walden. Good grounding for what would follow.
He continued to record with little conspicuous success but because he had grown up with country music his sympathetic ear for the style kept him in studio work as a writer/producer.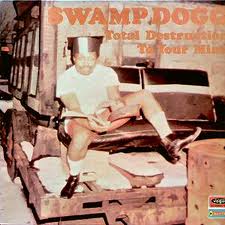 However a name change to Swamp Dogg and a determination to deliver edgy soul mixed with country (not an unfamiliar idiom, see here) meant his Dogg debut was fittingly recorded at Capricorn Studios in Macon, Georgia.
By any measure it's a remarkable record for its amalgamation of tough funk with horns, deep soul and slippery country. He covers Georgia-born Joe South's poke at southern white racists on Redneck and These Are Not My People, Bobby Goldsboro's post-apocalypse but trite The World Beyond, co-wrote three with Gary US Bonds and another with Dee Irwin on I Was Born Blue. The other five all came from him, among them Synthetic World which opens "Hey you, I come from the bayou". You believe him, even though he was from inner-city Portsmouth in Virginia which is closer to the Blue Ridge Mountains in the Appalachians than the swamp.
But he certainly knew his southern country, as you can hear in the horns and guitars which he arranged for the yearning ballad I Was Born Blue (which has some rather odd lyrics, it has to be said) and Sal-A-Faster about moonshine.
Although not a lost classic – the Goldsboro, despite Dogg's soulful yearning, pulls it back – Total Destruction nails down some furious soul-funk (the title track) and showcases a true southern country-soul singer (check Dust Your Head Color Red) who deserved better than for it to fail.
His own The Baby is Mine is a heartbreaking account of a separated father whose child now has another father-figure in their life who jealously makes trouble when Dogg visits his ex-wife – whom he no longer cares for – and their baby.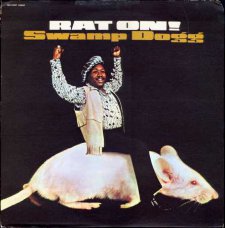 However he did himself no favours with the awful artwork for Rat On! which is usually in any list of the worst album covers of all time (although it's surprising the photo on Total Destruction doesn't make the list also). Which was a shame because he was always a (mostly) serious artist and again touched on important topics like infidelity (Predicament #2, That Ain't My Wife), politics (remember I Said Tomorrow) and race (God Bless America For What). He also covers the Bee Gees Got to Get a Message To You and Mickey Newbury's country hit She Even Woke Me Up To Say Goodbye.
In the liner notes he writes "produced, arranged, piano, vocal background and everything else of any importance Jerry Williams Jr" and also claims the cover concept. It was the cover, he writes in the reissue, that kept the album from disappearing into obscurity.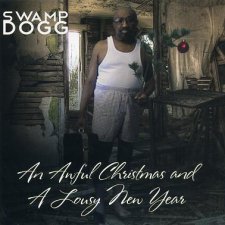 His penchant for crazy covers continued through his subsequent career (one equally odd one was for An Awful Christmas and a Lousy New Year).
And although he continued to record albums, co-wrote a book about a fictional soul singer and had great if occasional success as a songwriter and producer, Swamp Dogg is a name that mostly exists in footnotes.
But these two albums capture a strong soul-country singer who was somewhat outside the mainstream, and one well worth investigating.
Never judge an album by its cover, huh?