Graham Reid | | 8 min read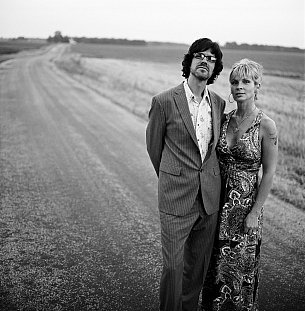 The phonecall catches Linford Detweiler of the American band Over the Rhine in the lobby of a hotel in Iowa City, kids are screaming in the background and when he ambles outside to try and find the tour bus the air is pierced by sirens.
"Wow," he laughs, "maybe Iowa City is pretty interesting after all."
With his other half in Over the Rhine, Karin Bergquist, they are partway through a US tour on the back of their new double CD Meet Me at the Edge of the World (reviewed here) and so far have done a Ride the Rails songwriters train trip in Alaska, been out with Cowboy Junkies and are looking at dozens of dates scattered across the vast US with their touring band, most of whom were on the Joe Henry-produced album.
It has been some while since we last spoke – I tell him I thought maybe five years and was shocked to see it was back in 2006 when Over the Rhine played the International Festival of the Arts in Wellington then a couple of other dates at the top of the North Island.
"We are working hard on getting back and it's looking good for us to return to New Zealand next year. One of the absolute highlight of our creative partnerships and career was when we got to travel to New Zealand and play the International Arts Festival in Wellington and did some performing in Auckland made it to Kerikeri as well.
"It's been a crime we have not returned. It's a helluva commute, but we are looking at 2014 and it's going to happen."
OTR proved enormously popular in this country (they weren't exactly household names but their four nights in Wellington were sold out) and the new album finds them again on their consistently top form with songs which ease between folk, alt.country, blues and European cabaret.
So far it has been very well received – "there's a lot of love in the rooms and we are excited about this song cycle" – and yet the songs came together in the studio in just a few days.
Did you rehearsed the songs before you went into the studio, so it was just go in and get them down?
Well, we worked the wonderful kindred spirit Joe Henry for the second time and Joe's gift is really his ability to put the right musicians together in a room once he's heard the songs. We had a pretty good idea who we wanted to work with in this group. They are all pretty familiar with Joe and vice-versa, so we sent everybody our simple home recordings in advance and then convened in Pasadena.
I don't think anybody, not even Joe, can predict what the record would sound like in advance. We have to make the record to find out.
What does Joe bring to a project other than knowing how to put people together. Is he hands-on and will say maybe drop that guitar out in this section, or move that chorus?
He has a gentle touch and is more into discovering something and letting a group of musician play together and playing to everybody's strengths. Joe changes the weather by being in the room. He's one of those people that hears music deeply and is really good at knowing at when something has been bottled,. He has that ability to say 'Let's try one more' or sometimes we'll play a song once and he's pretty confident it can't be improved and is willing to accept those little miracles and move forward.
He has a way of building everybody's confidence and that's what great producers do
Tell me about Garfield House where you recorded it. Is it the old place which belonged to the widow of President Garfield?
You are absolutely right. That's a bit of an Ohio connection there. President Garfield was assassinated and Mrs Garfield – and they were from Ohio – transposed herself to Pasadena and had the house built by a couple of Ohio architects who were pioneering the mission style, they were Greene and Greene .
And Joe lived in Ohio for a brief time as a boy so we appreciated that little connection to our home state.
And it's easy to work in the rooms?
Joe and his family live above the shop and the studio is down in the basement. It's a lovely place to work and the upstairs has its revelations as well because Joe and Melanie have a special relationship and a couple of beautiful children. It's a great realm to enter.
We can't not mention Ohio, and it is everywhere on this album. When we met many years ago you spoke about moving into this new place where you now live. This has profoundly influenced what you write and do. Being settled in Nowhere -- which I remember you said could also mean "now here" -- has been good?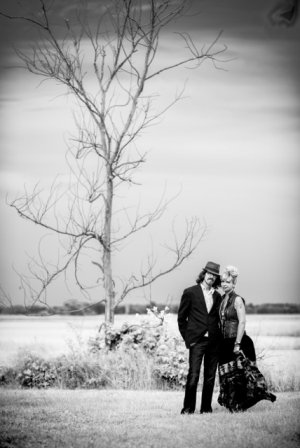 Indeed. Karin and I started Over the Rhine in what was considered the bad part of town in Cincinnati, an old neighborhood called Over the Rhine . We were very romanced by that when starting out but I think we both had secret dreams to eventually find a piece of unpaved earth we could call home. And we found this hideaway farm in southern Ohio with a house that had been built in 1833 and Karin and I have lived there for eight and half years now.
When we moved there we realised that when it came to the birds and the trees and the weeds and the wildflowers, we didn't really know the names of anything. Yet we were surrounded by so much beauty.
So we began the slow work of trying to call things by name and they began appearing in our songs, and all the songs on Meet Me At The Edge of the World revolve around this place. It really feels like home.
I heard a child screaming in the background there, that raises the obvious question: your music is very quiet so you do need the quiet times and the space to write?
Yeah, I am at the mercy of hotel lobby at the moment. But absolutely. I wouldn't want to live in the middle of nowhere forever. Karin and I get to go to so many great places and share our music, but we love to be able to come home and find the opposite, and have a place of deep solitude and peace to catch our breathe and recover.
The references to the natural world and sense of place across these two records, I guess that has an intimate connection with people. For example if you mention a bird that I don't know, that specificity doesn't really matter because I know my own bird as an image to fill that reference.
Yeah, I've always been fascinated by American writers and artists who are immediately associated with a place or have some roots and history. So if I think of the poet Robert Frost or the writer Flannery O'Connor or a painter like Georgia O'Keeffe I immediately think of a place that was unique to their work. Karin and I resisted the urge to uproot and move to Nashville or LA when we were young songwriters who'd been signed to a major label and were more interested in the idea of staying put.
So our place has become southern Ohio, this land just west of the Appalachians.
I was born in Ohio and I think people feel that connection that's hard to quantify. It feels like our lives are in balance right now.
I know we've missed opportunities by not living in a place where we could have had more contact with out musical peers, but on the other hand we've had space to find our own way.
It also gives the lie to that belief particularly prevalent among young people that you can't be creative unless you are miserable. You can be creative when you are settled and happy, fair comment?
(laughs) Yeah, I like to think we are going to be getting some of our best work done in the coming years. I hope I am still growing as a writer. There is a tendency to pay a lot of attention to talented young people when they are just starting out, and we certainly benefited from that when started Over the Rhine. We had some good breaks and did a tour with Bob Dylan early on and there is a lot of excitement starting a new band. But I'm also interested in what happens further down the road.
It's like falling love, there is a lot of excitement and there is a thrill in the early stages to be in a relationship and a lot of sense of discovery, but what happens further down the road can be much more complex and layered.
I still hope our best work is in front of us now.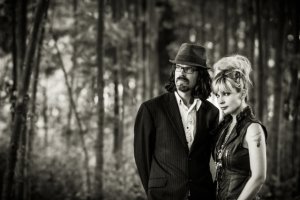 You have a very strong fan base and this album was funded by contributions from them.
Yes, and they have been incredibly generous. One of the things we did when we realised we had all these songs which had grown out of the dirt of Nowhere Farm was we decided it would be adventurous and fun to invite people to come out to the first time and offer some music. So we set up a circus tent and had about 1000 people come out over two nights.
It was a little nerve-wracking for Karin to try to envision that in advance, but it all worked out beautifully and it was pretty great to play the songs on the ground they had grown out of.
Our audience is very respectful and it felt like an extended musical family, and when the big tent came down it was as if nothing had happened. There wasn't any trash lying around.
Nobody had raided the fridge?
(laughs) No, they were very respectful.
That takes a great degree of trust to invite people into your home space. Now they all know where you live and can pop by.
Yeah, we probably wouldn't have had the courage to do it if Levon Helm hadn't done it when he began having those rambles in his barn on a Saturday night. We were fascinated by that. This was an experiment that went well and I think maybe we'll do a barn raising and maybe do more music out there, and let the farm help sustain itself.
Is it a big property you have?
It is just 10 acres but the way it's laid out it was able to support a small festival quite beautifully and it is surrounded by hundreds of acres of open land. Our nearest neighbour is about a mile down the road, so there is wide open space.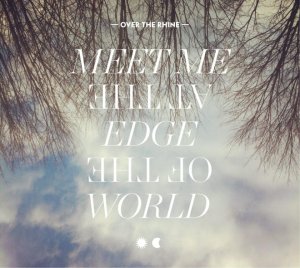 A good place to get back to after touring.
Yes, it is so different from our life on the road, it brings balance.
One last question before you go to find the tour bus: was there a natural division between the two albums?
Yeah, you mentioned us working quickly. We recorded the first CD on the three days before Easter Sunday and we had the first 10 songs done with Joe.
I had told him that I was haunted by the possibility we might have a double album but we weren't married to the idea. But we worked those first three days and I said, 'What would happen if we came back Monday and tried to make a better record?' And that became disc two which we made in the days after Easter.
I really liked the idea of separating the songs into two chapters. Long records can be a little overwhelming, I prefer two short records.
Fot that archival interview with Over the Rhine and album reviews see here.