Graham Reid | | 4 min read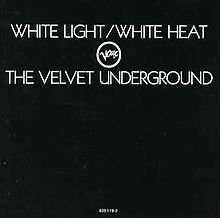 Elsewhere has previously quoted Brian Eno from 1976 about Velvet Underground, but it bears repeating. He said, "I knew that they were going to be one of the most interesting groups and that there would be a time when it wouldn't be the Beatles up there and then all these other groups down there.
"It would be a question of attempting to assess the relative values of the Beatles and the Velvet Underground as equals".
And so it has proven to be, this despite their influential debut album Velvet Underground and Nico still not selling much more than half a million copies in the 45 years since its release. I don't have figures on their follow-up White Light/White Heat from '68 but a guess says -- given it has fewer recognisable songs for the lay person -- it might have sold even fewer copies.
It was certainly a more difficult and demanding, and at times unworthy (John Cale reading Lou Reed's story The Gift which hardly bears repeated listening, other than if you can find the instrumental-only version which was available to you through one speaker in the "stereo" version).
Mary Harron writing in NME in '81 described it as being called "the most nihilistic record ever made; but it's too speed crazed to be depressing, while the great Sister Ray (about drag queens, speed, a bar, sailors, a murder) is more like black comedy than anything else".
In that article -- and interview with VU guitarist Sterling Morrison -- Morrison says his major regret about the album was the best song I Hear Her Call My Name was destroyed in the studio. He's right. It's a cacophonous mess. Unless you happen to like a cacophonous mess and are prepared to strap yourself in for one of Reed's most wild and migrane-inducing guitar solos (which borders on the brilliant and is closer to Ornette Coleman free jazz as re-imagined by early Seventies electric Neil Young).
In fact, the whole album was about tearing down whatever they had done on that debut by delivering an album which was more brittle and wilfully chaotic in places.
"Everyone was hellbent on being heard," said Cale later. It would be his last album with VU (until the reunion).
Morrison -- speaking of Sister Ray which was done in one take because they would always argue over which take to use if they did a few -- says, "There is a musical struggle -- everyone's trying to do what he wants to do every second and nobody's backing off.
"I think it's great the way the organ comes in. Cale starts to try and play a solo. He's totally buried and there's a sort of surge and then he's pulling out all the stops until he just rises out of the pack.
"He was able to get louder than Lou and I were. The drums are almost totally drowned out."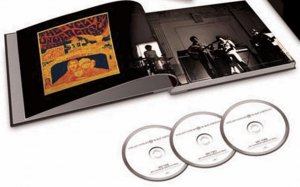 VU aficionados have long sought out alternate takes and versions (perhaps just to try to make sense of it all), but the three CD 45th anniversary "super deluxe" edition of the album -- in a hardback book with period photos and posters and an essay by Rolling Stone's David Fricke -- offers the remastered stereo and mono versions of the album and numerous bons tracks on each . . . including vocal-only and instrumental-only versions of The Gift.
The third disc is the band live in New York in April '67 (between the two albums) and only two of the seven songs have been previously released outside of bootlegs. The sound -- given the period and equipment -- is remarkably good (far more than just tolerable anyway) and in the opener Booker T you can hear their origins as a jamming band with their ears on late Fifties pop and soul. It's not that far removed from the Beatles in Hamburg.
The live material is among the best here: the jam of I'm Not a Young Man Anymore is Dylanesque (Highway 61 had been an influence) and Reed later said "That was probably one of those songs made up on the spot never to resurface again from us".
Drummer Maureen Tucker says they used to rehearse on stage, and you can hear that in the r'n'b groove of Guess I'm Falling in Love which -- in a parallel universe, admittedly -- you could imagine Otis Redding doing.
Of course there is beauty here (of a kind) on the innuendo-laden Here She Comes Now (especially the mono single mix), the title track launched at least a few Flying Nun bands and the live-in-the-studio approach where the needles were in the red zone and there was leakage actually set a threshold for many other bands who followed.
It is raw and, although hard going in places, the better for it.
Among the extra tracks are the final songs Cale cut with the band: the snaky Temptation is Inside Your Heart (Reed almost playing it straight but joking about Motown acts while Cale comments from the sidelines) and Stephanie Says which is in that lineage of Reed's quiet portrait songs based on overheard conversations. It's quite lovely and Cale's viola is sympathetic.
White Light/White Heat was never an album for the casual VU listener or those who like Reed's early solo hits, but it anticipated punk by almost a decade and the guitar demolitions of Sonic Youth and others by even longer.
Lou Reed said no one listened to it and people stayed away from it.
That's true to some extent, but it was also the album which -- if we can use this awful phrase -- gave permission to a thousand bands to work in the studio in a very different way, as Nirvana would do for In Utero.
It was, as Cale says, about knowing there was a cliff and everyone being willing to jump off.