Graham Reid | | 1 min read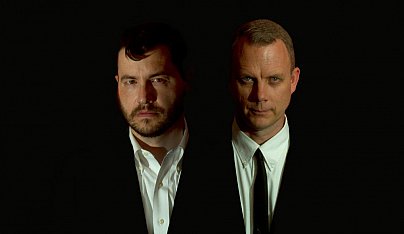 In the secretive world of code-breakers and cypher-deciphering the Enigma machine is legendary. It is one of that family of highly complex machines designed by mathematicians and boffins used to crack the codes of Nazi comunications during the Second World War.
But for the Baltimore electronica duo Matmos -- Martin Schmidt and Drew Daniel -- it became another tool for creating and encrypting notes for their music.
Something of boffins themselves -- Daniel is an assistant professor in the English department at John Hopkins University, Schmidt his partner has also been a teacher -- Matmos have used some odd source material and scientific processes to create their distinctive sounds on more than a dozen albms and EPs since the late Nineties.
They also spend as much time creating distinctive visual presentations to accompany their live shows where electronica meets psychedelia and dance lives hand-in-hand with provocative samples.
Using found sounds, voice samples from experiments they set up, cutups, sounds from the world of science and medicine (both members had parents who were doctors) and even Americana folk (on their 2003 album The Civil War), Matmos have defined genre-bending.
They have worked with Bjork for her albums Vespertine and Medulla, delivered lectures for the Red Bull Academy on production and creativity (see here where they used the sound of liposuction), and their album The Rose has Teeth in the Mouth of a Beast from 2006 had tracks inspired by and dedicated to William Burroughs, Joe Meek, Warhol would-be assassin Valerie Solanas, mad King Ludwig of Bavaria and linguistic philosopher Ludwig Wittgenstein among others.
Daniel says they are conceptual artists -- they come up with the concept and then find the sounds to realise the idea -- but there is also humour in their work. Check out the clip below which refers to the late, great Canadian animator Norman McLaren.
The good news then is Matmos are on a brief New Zealand tour this month bringing their innovative audio-visual show which, we might expect, will defy preconceptions.
Worth seeing, no doubt.
MATMOS TOUR DATES
Dunedin – Tuesday 21 Jan, 8 pm Dunedin Public Art Gallery, w/ The Ladder Is Part Of The Pit
Christchurch - Wednesday 22 Jan, 9 pm Third Door Down, 7 Lincoln Lane, Addington w/ Sam Hamilton and Misfit Mod
Wellington – Thursday 23 Jan, 9 pm Mighty Mighty, with Ducklingmonster & Koi
Auckland – Friday 24 Jan, 9 pm Cassette Number Nine, w/ Race Banyon, Team Catfood and DJ Power Nap