Graham Reid | | 5 min read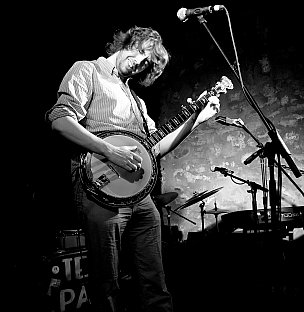 At 26, British musician Dan Walsh is living the dream. He's highly acclaimed by the media and his peers, has three albums behind him, writes a very interesting and often amusing touring blog at his website, last year was invited to collaborate with some Indian musicians in Kolkata, tours regularly in Britain and now has made his way to New Zealand for a short tour (dates below).
And he has achieved all that by playing . . . banjo?
But Walsh is not just any player knocking out the theme to Deliverance or The Beverly Hillbillies. While he loves bluegrass, his repertoire incorporates traditional British and American folk, swing, Middle Eastern and Indian sounds . . .
You've already played the Auckland Folk Festival and it went well?

I loved it. I was very pleased with the reception. When you play in a new country it's always in the back of your mind as to what will work, even if it works everywhere else. But I was absolutely thrilled and the response was ecstatic and I sold some CDs.
I would think that might in part be because the banjo is an unusual instrument in many ways but it's a dextrous instrument and once people get past bluegrass and folk, people can be pleasantly surprised by what you can do.
Yes there is that. I did some of my Indian stuff and people were very surprised by that, it was a varied set.

I'd like to talk to you about that . . . but first, what takes a handsome young man like yourself down the dark path of banjo?
Oh, beautifully put. Well, I started on guitar and for some reason was born with an obsession for music. I'm not from a musical family as such, but was completely obsessed with guitar which I started when I was about eight or nine.
The banjo thing came about because I was listening to a lot of Scottish and Irish folk music and I went to see a banjo player called Barney McKenna [of the Dubliners] in my hometown and just fancied trying it. So I said to my parents 'Can I try the banjo?​' and by this point I was about 13.
And they went to the local music shop and asked about a banjo teacher and there was a guy in the next town who taught five-string claw-hammer banjo which is what I play now.
And the rest is history, and he was the best mentor I could have had.
The five-string is completely different to what I had been listening to. I'd been hearing four-string tenor banjo played with a plectrum and strung like a mandolin which is what is used in a lot of Scottish and Irish stuff.
But I had no idea there were different banjos, so it was a happy accident that I ended up with five-string and this claw-hammer style.
The banjo was a slightly unusual choice. That year the latest Playstation console was out and that's what most kids got. And I got a banjo, but it was like I found my missing voice. It just clicked with me.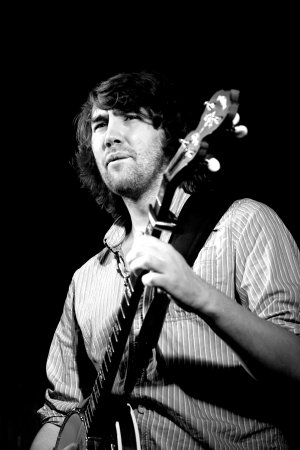 And I guess unbeknownst to you at that time it also belonged to that family of instruments like the oud.
I didn't really have a particularly firm idea of what the banjo did. Yes, I'd listened to Scottish and Irish stuff but I'd never heard of bluegrass. But to everyone else in England then, and pretty much still, the banjo means one thing, and that's the scene in Deliverance.
It was only when I started playing in pubs when I was 16 that I realised that is what everyone expected to hear, I wasn't even aware of that. I started playing other things – and I was into some Egyptian oud music when I first got the banjo – but it wasn't conscious like, 'Oh, I must try this on banjo'. It was that I just didn't see any reason not to. I didn't have a firm idea in my head of what the banjo did.
I got introduced to all sorts of fretted instruments and used to research stuff from all around the world even then, and got into an Egyptian guy called Hamid el-Bin who played the oud, and later on followed the Indian stuff which has become a bit of an obsession.
Tell me about that. I know that around this time last year you and a few others went to India and played with local musicians there.
The Indian thing started a few years ago when I played at something called Sounds Around the World at the Barbican and there were musicians from everywhere and I fell in love with the music of the Indian guy in that. So I started to research [Indian music] and tried to make my banjo sound like that.
Then last February I got invited onto this project and it was organised by the British Council and the English Folk Society and it was four Brits and six musicians from South Asia – India, Bangladesh and Pakistan – and the objective was we had a week to get together and play a gig in Kolkata. And that was no less than a dream come true for me, which sounds corny.
But to get to go to India and play Indian music with Indian people was really amazing. I saw it as a once in a lifetime opportunity o explore Indian music in its proper environment. I performed a raga at the concert for about half an hour with an Indian sitarist, and played on quite a few Indian folk songs.
After we'd finished that one of the musicians, Suhail Yusuf Khan, an astounding sarangi player, he and I did a UK tour and played quite a lot of indian music and some Western items as well. So there was a real cultural crossover. And now in my sets I usually do a couple of Indian items and it's not what people expect from banjo. It adds a great variety, and I like to dabble in a lot of genres . . . but Indian music really does mean something to me that I can't put my finger on.
The claw-hammer style allows you to get a drone thing going on.
Yeah, I was asked a few times at the [Auckland Folk Festival] what tunings I used for Indian music. I use pretty standard banjo tunings but what I try to do if I can is to get the bottom string to be the root note and Indian music is quite drone-y.
Was the Indian concert recorded?
There is a You Tube video knocking about but it's not great quality, but I'm recording a solo album this year and I'll be recording some Indian items on that. And Suhail and I are going to record in the future too.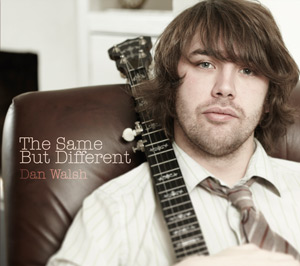 The last album I heard was The Same But Different of 2012 and there is a great range on that from traditional folk through swing and bluegrass. And I especially like that lovely piece Snow in March.
Thanks, a lot of people go for that one. It's not dissimilar to the Indian thing, the banjo is not associated with slow lilting waltzes like that piece. It probably comes down to that, it's just not that expected. When I play it live it always gets a nice kind of humming noise when I finish, like "Hmmm that was nice'.
The unexpected works in a set, obviously.
Yes and I try to plan a set to offer that. But I do really love bluegrass as well to kick it out.
Dan Walsh Gigs NZ
7 Feb, 8:00 pm Schnappa Rock, Tutukaka
8 Feb, 2:00 pm House Concert, Kerikeri
10 Feb, 7:30 pm Devonport Folk Music Club, Devonport
12 Feb, 7:30 pm Biddy Mulligan's, Hamilton
13 Feb, 8:00 pm Rhythm Bar, New Plymouth
14 Feb, 7:30 pm Pukengahu Playskool, Stratford
16 Feb, 7:30 pm The Bodega, Wellington
18 Feb, 8:30 pm Mussel Inn, Onekaka
20 Feb, 8:30 pm Le Cafe, Picton
21 Feb, 7:30 pm The Boathouse, Nelson
22 Feb, 7:30 pm House Concert, Havelock
23 Feb, 7:30 pm Christchurch Folk Club