Graham Reid | | 7 min read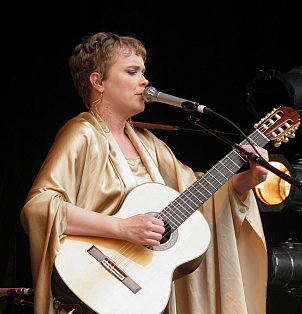 Danish-born and Swedish-resident Ane Brun was one of the highlights at the recent Womad for her crafted songs and pure voice. And with a small ensemble (a drummer and a percussion player plus two women multi-instrumentalist backing singers) she presented quite a colourful palette of sounds.
Now in her late 30s, she can look back on a career in music which began more by accident than design.
Sitting in a small porta-cabin before an afternoon performance she spoke about her intellectually itinerant career as she pursued studies in Spanish history and language in Madrid and at Uppsala University (an hour north of Stockholm), and how she was also tempted in law at one point and studied that for a year.
"Which I liked, but I realised I didn't want that for the rest of my life because it's so intense. My dad is an attorney so I know that life."
She laughed about not doing vocal exercises much before her performances these days: "You don't need to when you are doing your own music, it's more when you are doing other people's, like when I was on the Peter Gabriel tour".
Brun had sung the Kate Bush part on his Don't Give Up for his 2011 album New Blood and subsequently joined him on tour. Two of her former backing singers are currently with him, she says.
And then after talking about this year writing for a new album to be recorded next January, making time for a private life, the house she is building on the Atlantic coast of Norway ("A very powerful place, it's far out on a big ocean, I love it") and her early academic life she mentions she started studying music theory and "at that time I started writing music"..
Just like that? What made you start writing music?
I think I've always been creative. I was as a child. There was a lot of music in my family. And my mom was a singer. I did clay sculptures and painted and so I had that in me. Then I remember being around 21-22 and feeling the urge to have something creative again, so I found the guitar and after a couple of years I started writing songs.
When you were at that age were you forming this idea you would become . . . what? A songwriter as much as a performer?
I didn't even think about that. I had no ambition of becoming a musician. I actually resisted and I wanted music to be my own meditative thing for a couple of years. I didn't think I could keep that feeling if I started working with it, but now I realise I can . . . and can even get more.
At that age were there anything particular happening in music that you thought 'I like this kind of idiom'?
I listened to all kinds of music since I was a little girl, more than many children. I used to listen to classical music and jazz when I was 10. But at the exact same time as I was learning guitar I discovered Joni Mitchell's early work and Nick Drake, the finger picking masters. That's how I started learning and they were my teachers.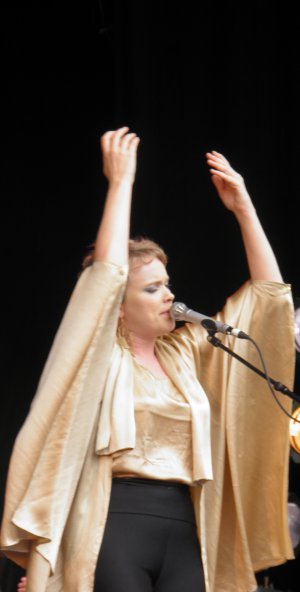 By starting on guitar has that formed the kind of writing you did, as opposed to being on piano?
Yes it is different. I do write on piano now as well, but the songs become different. And there are many people who just sing the music and they don't have any musical instrument, they just sing the melody.
What I like about finger picking though is I can make the bass lines as well as the chords and so I can make the whole arrangement on guitar. I can do a rhythm and a bass, and for many years I was very protective of that and didn't bring in any other musicians.
At that point you weren't hearing this music you were making and were thinking 'At this point there will be a cello'?
No. Of the first album I did [Spending Time With Morgan, 2003] the songs I am most happy with even now are the songs which just had the guitar or maybe just one more instrument because at the time I didn't know how I wanted the songs to sound.
The last three or four years though I have felt so self-assured about my music that I can open it up, so here we are a full band.
I've always thought the more naked way of performing allows the audience to put their feelings and sounds into the space.
Yes. I think after 10 years of touring and playing I have started seeing more of it that way now, but I've now come on the other side and am more searching and learning. For the past few years I have been touring with a big band and just this year I am going out on a solo tour and am going back. I just did a two week tour in America just me and a cello and the audience loved it. It was a challenge for me to go back to that.
Do you set yourself challenges like that?
Yes, I get bored otherwise. I want to feel something when I play music.
From what you said, this is music you are making for yourself. I know songwriters who go to the office 9 to 5. But when I listen to your songs I never think you might have done that. Correct me if I'm wrong but they seem to be written in a very quiet place.
I've never had an office. I don't have children so I'm not depending on keeping times. But when I am doing an album I work intensely hard for a few hours. I have a really beautiful place in Stockholm where I write.It's an old 1600s house, very big and with thick walls and it is quiet.
I presumed your work was done with a sense of quiet.
I need to be alone when I write. I've done a couple of co-writes but I find that difficult because I am so introverted when I am writing. Although as a person I am a very social being and very open.
Do your friends think, 'We better not interrupt her, she's writing at the moment'?
Oh I say that to them. I say sorry I can't talk now, I am totally gone into the writing. When I write I weigh the words carefully. Sometimes it takes a day and it's finished but sometimes I work on something for months because I just can't find the right angle.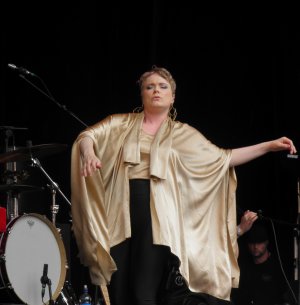 There is a poetic sensibility There is a poetic sensibility in your work. Do you read a lot of literature, poetry . . .?
in your work. Do you read a lot of literature, poetry . . .?Sometimes, but mostly it is mostly my own thing. I'm quite physical when I write, I can feel things and if there is a specific emotion to express I try to find a way to transpose it and then go into that world, like physically thinking 'What is in this world and how dos it feel to be in this state?'
Do you know the people in your songs?
Yes, but if I don't know the people it's from going through my own emotions. Many times when I write a very emotional lyric it can be only from about 10 seconds of my life. A specific moment or a specific feeling that I can't grasp.
The idea of an intense focus on a moment is the moment of truth, but on the road life fills the space as you travel. That must be hard and diverting you from writing.
Yes, now I am in the process of knowing I'm going to write a full album this year so my head is always thinking of the theme and what can I write about. But I need to sit down in my own quiet space to write and think, I can't do that on tour. I need to have space or stay in the same place for a week. I am just too curious.
Do festivals like Womad offer an emotional inspiration?
Yes, for me it is more inspiring to see music that is very far from what I do than music that is close. The most inspiring music is when I go and see a Stravinsky concert because then my head just explodes. The same with this kind of thing. People like [Sufi qawwali singer] Asif Ali Khan is so far from me, but the tweak and turns in his voice I think, 'Oh, that is nice'. For me it is easier to be inspired by that than to go and see a peer.
If Joni Mitchell was on tour again though you'd go?
Yes, for the enjoyment. But I don't think I would be inspired because it is too similar to what I do.
So you look beyond your immediate world?
That's what I have discovered when finding my inspiration. You can also be inspired by people's perspective on stage, how they relate to an audience. That is interesting for me. I learned a lot from Peter Gabriel when I was on tour with him, to see how he is with his audience.
You said that initially your songs were just for you, were you a confident performer on stage at the start?
Yes, when I look back and hear it I'm surprised how confident I was actually. I was always confident about my voice and guitar, but it was when I started bringing in other things that I started getting insecure. There is something very immediate about it at the start, it was like, 'Yes, I like this, I like my voice'. I think I am lucky that way because when it comes to the core of what I do I really like it.
It's not a job in that regard?
Of course it's a job in one sense because it's my income, but the music is still just wonderful to me. And I think it's more fun than ever right now because I have grown up more, and in my personal life I feel happier.
A lot of people say the best songs come from misery and you can't write a good song if you are happy.
I think you can. You have to dig into the shit though. I can always go and get some old bad memories back. (laughs)
You said about being less comfortable when the other elements came in, was that because you felt you were losing touch with the original song?
Absolutely. Since I'm self-taught and learned late, I couldn't have conversations with musicians and producers and say, 'No, I want that and that'. I could say I didn't want something, but I didn't know the alternative. But after a few years I did and that's when I could start making my own world. And now I know exactly what I want and can say it.
And you are very much in control of your career because you have your own record label.
That has been important because I don't have to wait for anyone or stop or change something for someone.
I've been able to do things my own way.
For more details on Womad 2014 artists with sound samples and Elsewhere's opinion simply go here.