Graham Reid | | 8 min read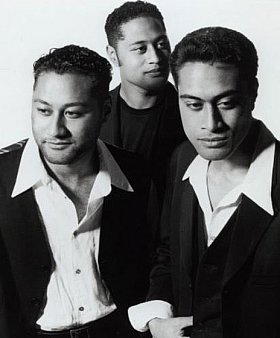 The rooms backstage at the Auckland Town Hall aren't up to much. Clean, certainly, but this very small one comes with only a tiny mirror above the handbasin, the toilet is somewhere down the hall, and the six people waiting here are rotating in the five available seats.
This is an important night for the room's temporary occupants. Grace – the three Ioasa brothers – short time Chills drummer Earl Robertson and backing vocalist Bic Runga.
In a few minutes they open for Ruby Turner and last night in Hamilton their set erred on the rocky side and misjudged her mainstream audience. They've changed it completely tonight. Keyboardist Anthony expresses relief at being back home playing to Aucklanders - but mostly they worry about the soundcheck they'll be getting.
Opening acts rarely get a decent soundcheck and this night has been no exception . . . and the time before these support slots they were let down again. That was an important gig too.
Grace are a band that a lot of people have, quite rightly it would seem, big hopes pinned on. Kane Massey of the Deepgrooves label signed them up for a three album deal before they'd even recorded a single and Sony Music Publishing has done a sub-publishing deal with Deepgrooves for New Zealand, Australia and territories overseas including Japan, England and Europe.
Sony's Paul Ellis says they are delighted to be associated with Deepgrooves, and Festival Records (which distributes Deepgrooves) confidently claim Grace as "New Zealand's premier urban soul act" who "have the potential to be the next big international act to emanate from this country."
The Ioasa brothers, while cautious, have a degree of self-confidence, experience and aspiration which supports others' expectations. However, they come without much of a track record aside from that attractive debut single Skin To Skin (which they say is unrepresentative) and the Confessions follow-up.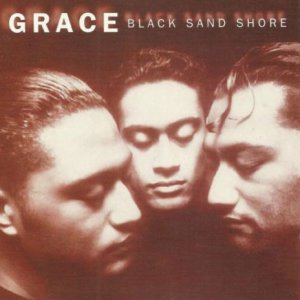 So when Grace launched their Black Sand Shore album at the Galaxy in mid-February, there was a turnout of media and industry people, hors d'oeuvres and drinks - and a general feeling among the assembly of wanting Grace to do well.
Black Sand Shore bristles with musical ideas but weaves them adeptly into a kind of ambient soul, and their first video (Confessions, artfully directed by Jonathan King) was number one on MaxTV's Pepsi Chart Attack. So was their second, the self-directed Black Sand Shore.
"One of the finest local pop bands around and their debut album is stunning," says MaxTV's Daniel Wrightson. Brent Cardy in Real Groove wrote of "the exemplary production on this diverse, very stylish debut," and Russell Baillie hailed their "assured debut" and noted that, at its best, the album hummed along languorously, synthetically and was imaginatively textured.
A band on its way but . . .
The Galaxy night had to be counted as a disappointment. The sound was appalling. Robertson's metronomic style hammered insensitively through the centre and all nuance and subtlety were lost. For a band whose music demands the most acute balance of sound, it was criminal.
And now they are sitting backstage knowing they just had an inadequate soundcheck and someone else's audience is out there to be won over.
Guitarist Paul silently concentrates on a video game, Anthony tells how he sang once here when he was five and was told off by the teacher.
Then it's time. Onstage, promoter Gray Bartlett announces "Ladies and gentlemen, Festival Records recording artists Grace." And they step out to face Ruby Turner's stony audience.
The Grace story begins long ago, although curiously, this is the first time the three brothers have played together in a band.
"You never want to play with your family, it's so embarrassing! We never spent much time together, so the weird thing is we're all together now," says Anthony. "We've all got into different things but now we're starting to get closer, more like friends than brothers. We have different characteristics and tastes as people, so I can't really speak for the rest of the band. If I talk about music it's 'I don't like that band, why did you say I did?' Very funny."
It's a week before the Ruby Turner tour and he's sitting in the office at Festival putting the bigger picture of Grace forward. It's a cliche-defying story delivered with humour, visible frustration and one which betrays a deep sense of musical smarts. It's a matter of getting the audience past the preconceptions, he says as he sits wearing a Nine Inch Nails t-shirt and discussing favourite musicians as diverse as Soundgarden, Brian Eno, Bailterspace and Roddy Frame of Aztec Camera. That's not quite the musical agenda many expect from three New Zealand-born Samoan brothers. And there lies the problem . . .
"We get it all the time! 'So, you got a whole set of Marvin Gaye records at home?" That's the educated guess. The other thing is rap. 'You're not a rap band are you?' Then when the video came along, people asked if we were a soul band or not. But we just love heaps of music."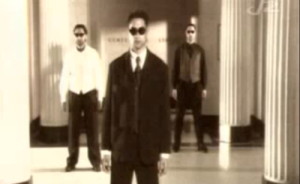 And people assume skin colour determines musical taste?
He looks depressed. "Yeah, and we get it from our own people as well - that's what scared us the most," he says wearily.
"We thought we'd get it from Europeans but you'd think that your own people would support you first. They expected us to be the next Fuemana and something from South Auckland. People put that South Auckland stamp on us and it was written right from the word go. It's really hard to change that," says the former student of Rosmini College, on Auckland's North Shore.
"We just tell people we're a band and love music and you can't judge a person on what music they listen to."
Fortunately not, because Grace would confound all expectation. Their story has been canvassed by now: growing up in a strict family where their immigrant father insisted on discipline and music lessons, joining the family covers band, early burnouts... And with an encyclopaedic musical knowledge acquired along the way.
Jason - a merchant banker by day - learned bass, joined the family band, had classical training and his conversation can effortlessly embrace legendary jazz musicians such as Jaco Pastorius and Stanley Clarke... and David Bowie.
Brother Paul started on piano at the age of nine, joined the band with Anthony and Jason and had lessons in flamenco playing.
And Anthony began on drums, shifted to piano, had classical training ... "We've had to sit two grades a year and that was tough, then performance classes. I was taught jazz, but it didn't go with classical harmonies and some things we would want to do I was told not to try. I ran away from home at 17 and never went back. That's when Dad really woke up to pushing us too hard."
The family band -- playing Elvis, Everly Brothers and so on: "They've all been remade or remixed today, so they must have something!" -- looms large in their background. Anthony characterises their upbringing as violent, his father driving them hard to achieve. They'd play three nights a week, music lessons on the weekend and "we'd lose friends because we couldn't go to the movies or just jam. Friends didn't understand we just had to do this. I don't think I've understood completely until now and I'm 26".
He says the brothers only recently decided to reveal the circumstances of their upbringing because other kids are probably going through the same thing, but they've got their own careers to push, too, and we can, hopefully, be an example to carry on."
Anthony did numerous jobs and eventually went to university: "I started a BCom then jumped to a BMus but didn't enjoy it. I didn't think it would be Fame but thought it would be a bit more open-minded and testing of theory."
He lasted a year, "ran into some people in studios, listened to bands, made music at home with samples, bought heaps of records, started hanging out in studios and finding out why people get to number one, why the charts work this way, then realised [the] music industry was not about music but about marketing and publicity".
He's an established producer (Jules Issa, Three the Hard Way) and his inventive remix of Greg Fleming's Codeine Road took the song from a light country feel into a shuffling city beat. He's now working on Fleming's new album and has just finished a Paul Kelly remix.
Not surprisingly then, Grace wrote, arranged and produced their album themselves. And in places it embraces everything from urban soul to... that sounds like Fripp and Eno's guitar ambience on No Pussyfooting, doesn't it?
"We love Eno's work. He explore different angles and harmonies. My harmonies come from Debussy, he's my God. I always turn back to him, although he's probably a bit too sweet for the Nineties. There's more of an open-tuning style of harmony in the Nineties. We tried to amalgamate Ryuichi Sakamoto as well, just those harmonies and the way they attack certain textures in a melody, it might just be a few notes or a sound but it acts as a melody."
He deflects praise or criticism of the album, noting that it is simply a starting point and a picture of where they are now. They will be in Australia recording a second [album] in the middle of the year with "a lot more edge, more guitar."
"We want to do things that other bands might not have had the studio time to do or wouldn't even think of putting on an album, or put on five albums down when they are confident they've become established. But we've also learned patience, which is what the music business is all about. That's helped us sit back and not rush into things."
Yet things have moved fast enough: their Skin To Skin single of late '93 took off in Wellington and set things up for Confessions, which received a NZ On Air video grant and high-rotation refund. "New Zealand On Air are very supportive; we wouldn't be where we are without them. The first single was just a jam but we needed to start somewhere and prove to people we had an album in us. You could always wait for the right musos, the right time and the right feeling, but it won't happen.
"So it was 'start now'. And we got two nominations for the Music Awards [most promising band, most promising male vocalist] out of it."
They pulled the support slot for Bryan Adams and they were on their way: "We felt like we were Queen up there! Jason did a breakdown and to feel 13,000 hands clap in time was great! You could feel the stage moving. I can't get enough of it - give me another one."
A week later it came soon enough with Ruby Turner.
Their set finished, they slump quietly in the soulless room again; by any measure it was a fine performance. No, they couldn't hear each other onstage and their set was abruptly cut short; yes, the acoustic guitar was all but inaudible and the audience was cool for the first two numbers... but then it happened: for Winter Madness, Jason got the whole audience clapping along. From then on, the audience was theirs. In the very back row, people were cheering wildly as their distinctive sound faded.
Backstage again, they sit quietly or express frustration with the sound, Kane Massey and Festival's Mark Ashbridge bring beer and wine. The mood lifts, some slip out to see a little of Ruby and there's talk about the long overnight drive to Wellington for the next one.
A band on its way.
Grace's album Back Sand Shore is available in iTunes. They never made a second album. Paul Ioasa was killed in a car accident in the USA in 2003