Graham Reid | | 2 min read
Recently I played the Beatles' Helter Skelter from "the White Album" to a class of my university music students.
But something odd happened.
And no, they didn't all want to foment race war like Charles Manson after he heard it.
At the end instead of fading out then returning in a blast of noise and Ringo shouting "I got blisters on my fingers", none of that happened.
The song just faded and that final minute or so wasn't there.
I waited in silence and then carried on with the lecture slightly bewildered by what I hadn't heard.
It wasn't until I realised I had lifted it from the mono version of the song – released on CD in 2009 – that it clicked.
All my life I'd only ever heard the version on my much played original vinyl album from '68 which is in stereo.
The Beatles in mono and the Beatles in stereo can sometimes be very different.
All my original albums up to Sgt Peppers are mono because that's how they initially came out, and how the Beatles heard and approved of them.
The "stereo" versions of almost all their albums were mixed after the Beatles had gone home or moved on to recording other things, and sometimes they strenuously objected to the stereo versions.
In '74 Lennon said of the stereo mix of Revolution which was on the flipside of Hey Jude, "[It] was destroyed. It was a very heavy record but the stereo mix made it into a piece of ice-cream".
When they moved from two-track to four-track recording in the mid Sixties the differences between mono and stereo mixes became more pronounced and choices for tracks were made without their knowledge or approval.
Beatle obsessives can point to any number of – admittedly minor – variations between mono and stereo editions of songs: On Tomorrow Never Knows the looped tapes fade in and out more quickly in the mono mix and the guitar sounds different; there are some additional backwards guitar in I'm Only Sleeping; some of the songs on Sgt Peppers are slightly longer; the sound of aircraft in Back in the USSR is different in each version . . .
And of course in mono you don't get "I got blisters on my fingers"
Six of one and half a dozen of the other perhaps.
But most listeners agree that, counter-intuitively, Sgt Peppers actually sounds better in mono without the stereo separation. It seems more musically integrated – each song less the sum of parts than a cohesive whole – and packs a greater punch.
By that time the Beatles were completely engaged in the minutiae of the recording and mixing process, but even they stepped out after the mono mixes had been done and left the stereo mixing to producer George Martin and the engineers.
They'd heard it they way they expected it to be heard.
The CD editions of the Beatles in mono have been out for a few years but this month the box set of Beatles on mono vinyl has been released and the old listening tests take on greater interest and arcane analysis.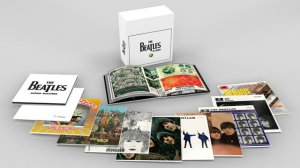 The albums re-presented on 180gm vinyl are the expected: Please Please Me; With the Beatles; A Hard Day's Night; Beatles for Sale; Rubber Soul; Revolver; Sgt Pepper's; Magical Mystery Tour (the US version of Britain's double EP); and The Beatles (aka The White Album).
Yellow Submarine, Abbey Road and Let It Be appeared in stereo so aren't included, although a few from Yellow Submarine – Only a Northern Song, All Together Now, Hey Bulldog and It's All Too Much – appear on the triple vinyl Mono Masters which is the two Past Masters mono CDs from the previous set.
And all of those Submarine songs sound considerably better and sonically tougher in mono (although few would bother to listen to the throwaway All Together Now more than once).
So the question isn't – unless you really want to hear about Ringo's blisters – not, "Why listen to the Beatles in mono?"
But – given that's how they heard themselves and wanted to be heard – why would you not want to?
For more on the earlier Beatles remastering see here. And check this out.