Graham Reid | | 3 min read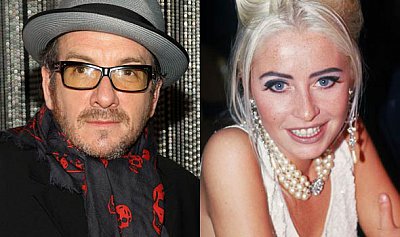 Transvision Vamp were one of those British bands who got through the door in the post-punk/New Wave era, but didn't quite know what to do on the other side.
After some mostly unsuccessful singles they hit paydirt with their '88 album Pop Art and then Velveteen nine months later took them to top of the UK charts. Although neither album appeared on the US charts (in fact only Australians and Swedes shared the British affection for them) they pressed on . . . but MCA initially refused to release their "hope you like our new direction" third album Little Magnets Versus the Bubble of Babble.
This must have been especially galling for the band's singer Wendy James because before the album's intended release she had been banging on to Melody Maker about how she was going to become one of the biggest of British celebs.
By the time it was released in Britain two years on from Velveteen the band had split up . . . but then things started to get really interesting for James.
Although she had co-written some songs on Little Magnets she was smart enough to know she was going to need serious help if she wanted to keep a career going.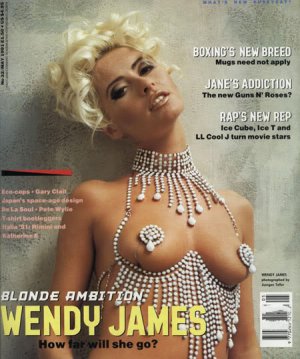 She was desperate to maintain the profile she had built for herself (as this photo from '91 indicates) so she wrote to Elvis Costello -- by that time 13 albums into an enormously successful and prolific career -- to see if he had a couple of songs she might have.
That was courageously shameless but . . .
Imagine her surprise when Costello (sometimes with his then-wife Cait O'Riordan) wrote a whole album for her. It was Now Ain't The Time For Your Tears which was released in early '93.
The word is that Costello knocked off the 10 songs in one weekend (as well as the demoes) while he was also working on The Juliet Letters and liked the idea of a commission to test himself as a writer-for-hire. He didn't look too far for source material however.
The broad arc of the album is a concept piece about an ambitious singer's thwarted and blighted career which is perhaps as much about his life as it is hers, although he couches it more in the feminine and the era in which Transvision Vamp came through.
In London's Brilliant he writes/she sings "I didn't want to be some satellite clown so I went up to London 'cos I heard it's falling down. Found the Denis the Menace of Little Venice still digging up the bones of Strummer and Jones, revolution days were sadly over and a cool profile down Ladbrooke Grove won't make it no more . . . you could wake up in a doorway".
Later in We Despire You the singer is given the kiss-off by the music press ("go home and don't come out again until we tell you to") and the closing track I Want to Stand Forever with strings and kitschy pathos is one of those great musical theatre/curtain call anthems you could imagine Shirley Bassey, Liza Minelli or Judy Garland -- with massed back-up singers and the crowd wiling them on -- belting out.
It's a bitter joke perhaps, and one maybe James didn't quite get. She certainly doesn't quite give it the overwrought treatment it deserves and even requires.
The album drew British writer Andrew Mueller to describe it as "a rampant hybrid of This Year's Model and Evita".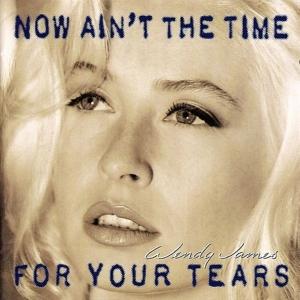 But what is fascinating about Now Ain't The Time For Your Tears -- the title of which comes from Dylan's Hattie Carroll -- is how Costello channels the inner anger which fuelled his first couple of albums more than a decade previous.
The songs -- produced by Chris Kimsey and the band including Attraction Pete Thomas on drums -- frequently have the seething emotional tautness of This Year's Model.
Fill in the Blanks and Puppet Girl are archetypal Costello c1979.
Oddly enough James is better on the ballads like Basement Kiss where her vocal limitations bring a fragility to the lyrics. You could imagine Marianne Faithfull doing it real justice.
Unfortunately despite the stellar assistance the album's sales -- doubtless knee-capped by the poorly chosen lead-off single The Nameless One -- didn't do nearly as well as expected. Or she hoped and needed.
It would be another 17 years -- during which she released two albums with the band Racine, all of songs she wrote and produced -- before Wendy James came out with another album under her own name.
It was entitled I Came Here to Blow Minds.
It didn't either.
You can listen to a free stream of Now Ain't the Time For Your Tears here.
There is a slew of stuff about Elvis Costello at Elsewhere starting here.