Graham Reid | | 6 min read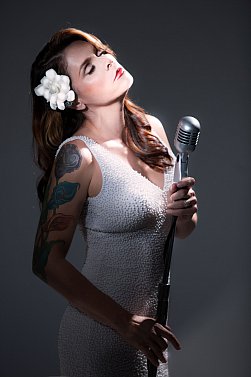 After repeated efforts – I have been the wrong international codes – I finally get through to Beth Hart who it turns out is in Pattaya, Thailand.
"It's rock'n'roll and we're supposed to be late," she laughs when I explain my delayed phoner.
No, we are supposed to be punctual because we are older and know better, I say.
"Unfortunately I think you are right." And she laugh again.
It's her first time in Thailand, she and her longtime husband (and road manager) Scott Guetzkow are on vacation, there's a musical festival going on, she bought "the cutest dress for about 20 cents", loves the people and how respectful they are ("Is that a Buddhist thing?") and the first part of our conversation is taken with a discussion about Thailand.
By the time we get around to discussing her night job (she plays the Powerstation in Auckland this Friday) I cut to the chase and say I met her in 2000 when she was in very bad condition and -- because her new album Better Than Home is so good – I'd like to not to talk about her addictions, problems and such, but talk to her a songwriter.
She sounds relieved, although as becomes clear talking about her various battles (drugs replaced by alcohol, now in therapy) talking it out also seems to be part of the healing process.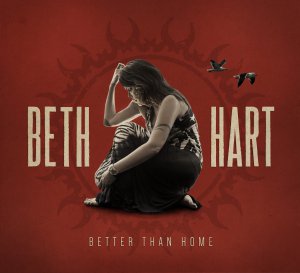 But the new album – while it bristles with songs about heartbreak, yearning for her estranged father and how she was cut out of the relationship by his new wife (the outstanding Tell Her You Belong To Me), one dedicated to her long-suffering mother (Mama This One's For You) and classic soul-blues ballads – also features the ballsy Trouble in which she sings "I didn't come here to make trouble, but the bottom line is, it's a whole lot of fun".
So rather than start with the darker stuff let's head into that joyous celebration of being bad.
"Okay, good. I wrote that years ago, like seven years ago. I turned in well over 45 songs for this album to the producers [Rob Mathes and Michael Stevens who saw her get two standing ovations in a tribute show to Buddy Guy in the Kennedy Centre in 2012].
"They very respectfully listened carefully to every one, not only on their own but with me. I record everything onto my iPhone from my piano room.
"Trouble is so great because it brings humour and lightness into the record. Not necessarily that the record needs lightness because it is filled with positivity, especially when compared to my older work.
"But Trouble is just a girl being a bad girl and she keeps being rebellious and she keeps saying, I'm just here and I don't want to make trouble. But she's a troublemaker and she knows it. Instead of judging herself she's just having fun with it and saying she can be self-destructive and if you don't like it get out of the way because here I come."
We need to talk about Tell Her You Belong To Me because in a world awash with boy-girl love songs it is a rarity, a song from a child to parent. Her aching vocal brings it all home as she looks at how her dad's new partner has deliberately driven a wedge between father and daughter.
"That came from about two years ago and I spend a lot of time in my piano room working on material. This came about after making a record with Joe [Bonamassa] and was very inspired by the soul music we were recording. I came up with the chords and melody quite quickly and was excited by it, but unfortunately I couldn't figure out a lyric.
"But I was so gung-ho to continue to search for the lyrics because the music was inspiring me so much. I wanted to sing it. Months went by and I had crap lyrics on it and I knew what I was doing, I was hiding from something. I just didn't know what it was.
"Then when the day came – I feel like God is working with me on material – and He finally said 'Hello, hello, wake up is the reason why you are struggling is because it's about your dad'.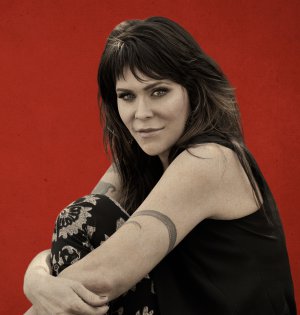 "At that point I went, 'Okay'. I didn't want to have to revisit those feelings because I'd done so many years of therapy on it and didn't want to feel it again. I also didn't want to be hard on my father.
"One of the beautiful blessings of doing so much therapy and getting older is that you not only have forgiveness but also acceptance for who people are, and you see them with compassion and without judgement.
"I didn't want to see myself judging my father in a song, but I went with it knowing if I didn't like it I didn't have to put it on a record. I could just put it away.
"So I worked on it it was still hard for me, that took over a year and half to write a five minute song, and that's not my typical way. Typically I write quickly or maybe spend a few days on a lyric.
"When it was finished I felt so proud and grateful because I saw there was no blame, no anger in me towards my father but instead this great resilience of love that no matter what he did or how far he ran away, no matter who was involved . . . nothing would ever tarnish or taint that love that I had for my father, nothing could or ever will.
"That little girl's adoration for her wonderful father will be there forever. When I sing it sometimes it chokes me up a bit, but not because I'm sad but because I see how much love I have for my dad, and it's unwavering.
"I even dedicated the whole album to my father, and I've never made a dedication like that before."
Both Hart's parents are still alive "and kickin' butt". She says they are strong personalities and that keeps them both alive.
Her reference to God, the gospel backdrop on Tell 'Em to Hold On and other clues across the album (St Theresa about a condemned man facing the inevitable) suggest Hart has a faith or some kind of belief system these days which supports her in times of crisis, or perhaps even when backsliding into that world of addiction which is ever-present in her personality.
"Oh yes, I go to church. I have the most wonderful pastor and she is my best friend. My faith is what keeps me going.
"For years and years I didn't go to church and only recently did I start going. I was feeling very lost and very afraid and it was so hard for me to write this album. The drinking was coming up again, thankfully no drugs in over 15 years now and that's been a Godsend.
"But the alcohol desire had become so powerful all over again that it was really scaring me so I decided to start going to church. I joined one and all that desire to drink was pulled away from me, it was like a miracle.
"I've always prayed to God and always read [religion] but haven't always gone to church, and now that is the best."
She won't be drawn on what kind of church it is and says it wouldn't matter to her what faith it was, just as long as she can go and celebrate.
"I don't want to sway anyone into thinking that my way is the high way. I think any way that brings you peace is fabulous."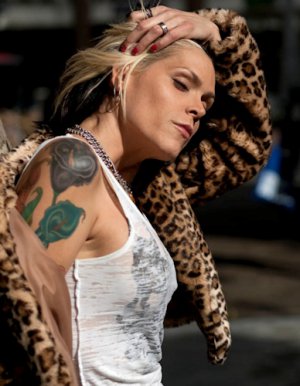 As a woman in her 40s can she look at her life and see that addictive personality.
"I used to say, 'I'm an alcoholic, a drug addict and I'm bi-polar'. Now I say I have alcoholism and I have bi-polar . . . and the reason why the two are different is that I don't say my name is something. I don't call my name a disease. Instead I say that I have it so I can do something about it.
"If I say I am it, then I'm the victim and can't do anything about it. I know it seems like splitting hairs, but believe it or not splitting that hair has made all the difference in term of my own self-empowerment and what I can do about things.
"This came from one of my best friends who've I've known since school and is very spiritual. He said that to me many years ago. But as usual – because I don't listen to anybody, I have to figure out everything the hard way – I didn't get it. But I finally started practicing it this year and it has made all the difference."
At this point husband Scott – "we've been together for 16 years and married for 14" – in the background calls her to say our time has run out, there's someone else waiting.
She goes out with "Thank you sweetie, you have been so kind, come see me in New Zealand".
And on the many strength of this new album, her previous solo albums and work with Joe Bonamassa – and her rare soul-blues rock voice which can run to Janis or Aretha -- I wouldn't miss it for quids.
Beth Hart plays the Powerstation, Auckland on Friday.