Graham Reid | | 8 min read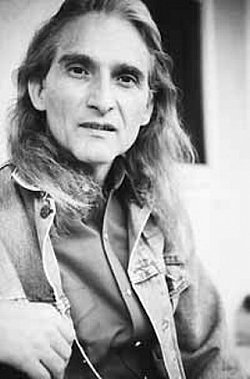 Jimmie Dale Gilmore – speaking from his country home 45 miles outside of Austin, Texas – takes a stab at what his most popular song on Spotify might be.
"Now let's think. I would suspect it might be Dallas, that's the best known one," he says referring to his bitter-sweet paean to that Texas city which includes the lines "Dallas is a jewel, Dallas is a jungle and Dallas is beautiful lie".
It was made semi-famous in versions by his longtime pal and West Taxes rocker Joe Ely, who was invited by the Clash to open a UK tour at the height of their fame/notoriety.
I tell him it's not that song, as I also would have expected, but it also isn't his ennui-filled Tonight I Think I'm Gonna Down Town: "For something I couldn't see when this world was more real to me".
And it's not even his signature song hoe-down My Mind's Got a Mind of My Own which his pal Butch Hancock wrote about him: "[It] takes me out a-walkin' when I'd rather stay at home . . takes me out to parties when I'd rather be alone, doin' things I'd rather not do".
Gilmore grapples a little with the idea of any of his songs being somehow vaguely popular then says: "I guess it would be one of the ones Joe [Ely] recorded, that's what I would have thought":.
So I flip all the cards and tell him it is . . . his version of Mack the Knife.
He laughs about that and, as the cellphone coverage flicks in and out as he has warned it might, his laughter seems to drift off into a the wide open spaces of West Texas where he came from.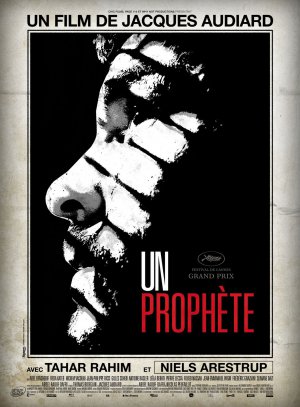 The weird thing is – weirder than that this gifted if infrequent songwriter has delivered superb songs and this is a cover – is that it appeared in French movie, the terrific '09 prison drama Un Prophete by Jacques Audiard.
When the voice comes back it says: "Oh my gosh! I still have not even seen that movie, It has been recommended by so many people but somehow I have not had the opportunity to see it. But I get asked about it all the time."
But more so about his brief appearance as Smokey the Bowler in The Big Lebowski?
"Oh yes," he hoots. "If I am on tour so many people come up, sometimes its not college kids it's bankers.
In that cult favourite Gilmore played the fragile guy on the opposition bowling team who was menaced by John Goodman's character.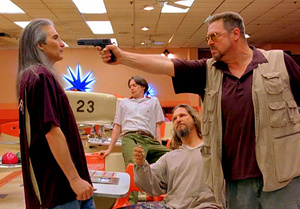 It was a brief cameo but – given Gilmore's distinctive appearance of thin features, long grey hair – obviously a memorable one for college students and businessmen, many of whom traipse off to Big Lebowski Tribute Nights to this day.
There is of course considerably – very considerably – more to Jimmie Dale Gilmore than that.
Gilmore – who plays the Tuning Fork in Auckland on Monday April 20 – is a quiet legend out of West Texas; he was born in Amarillo in '45, grew up in Buddy Holly's hometown of Lubbock when rock'n'roll was kicking off; attended Texas Tech there where he studied philosophy; teamed up with Joe Ely and Butch Hancock to form the barely visible but legendary Flatlanders . . .
They recorded one album in '72 but after it sank without a trace Gilmore pursued his spiritual path, living on an ashram, reading philosophy and lore, studying acupuncture . . .
When he returned to music in the Eighties his extraordinarily pure and high tenor voice became instantly recognisable (hence Mack the Knife), and his lyrics had a deeper dimension than the surfaces betrayed.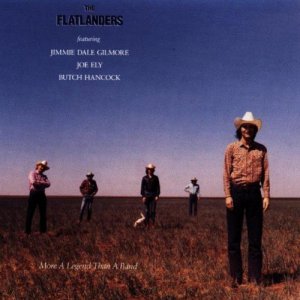 And although nothing happened with that Gilmore/Flatlanders album on release when it was reissued in '90 by Rounder under the title More a Legend Than a Band it was acknowledged as a seminal alt.country album and an inspiration to subsequent generations of Americana songwriters.
Jimmie Dale Gilmore's life has been quite a journey for this quietly spoken, humorous a man – who toured New Zealand with Butch Hancock in the late Eighties under the auspices of Real Groovy – and whose first song had been paid for by Buddy Holly's dad [LO Holley].
"Yes, I was just a folk singer and played in some little biddy coffee-house places, little bootleg joints because Lubbock was completely dry at that time. And that's how Joe Ely and I met, it was in these little dives and we became fans of each other.
"But I met Buddy's dad through an English journalist and I don't remember his name, I don't have any records of that time.
"But Mr Holley liked my music a lot. They weren't wealthy at all, they weren't poor but just working middle-class people like my parents. But he just thought, 'Maybe I have some connections' and he put a few hundred dollars to make a recording, so I put a band together.
"That was the first time I'd ever done that. That band consisted of John Reed, Jesse Taylor, TJ McFarlane and Joe Ely.
"Joe actually played bass. That band sort of became the launching pad for all the things we did later, the Ely band evolved out of that.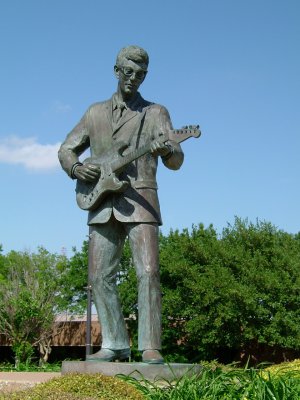 "It was wonderful show of faith [by Mr Holley] although the music didn't catch the attention of anyone, although he took me to meet Norman Petty [Buddy Holly's producer] who was at that time not really taking on new things. He was complimentary of the music but not doing anything, he was sort of getting out of the business.
"And Mr Holley wasn't in 'the business' so didn't really know how to go about doing that, but because of his name he could open doors. I have to be forever grateful he did that because that launched a new direction . . . and how I stopped playing solo folk music and into doing band stuff, which is what I wanted to do anyway.
"Early on I didn't even know that Buddy was from Lubbock. We were a little bit younger than him and heard his music on the radio and in a way it like that for as it was for everybody else, a radio sound.
"Not too long after that we found out he was from Lubbock and of we were extremely proud.
"By the time I started looking like I was going to be a professional I had veered off rom the rock'n'roll and was still a fan, but what I was playing was folk music and al the old country music that my dad had taught me.
Gilmore is a sporadic recording artist – albums so few and far between he hardly could claim a "recording career" – but in the past decade has recorded two albums: one with the Wronglers and the other Come On Back, both of songs and styles which influenced him.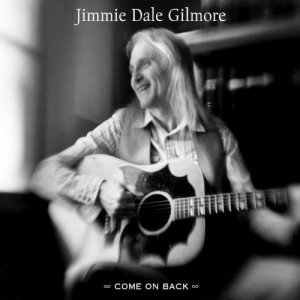 "Come On Back I just wanted to do a tribute to my dad who passed away in 2000, and as far as the Wronglers go, it was just the music that meant the most to me when I was very young and learning how to play, and my connection with [banjo player/singer] Warren Hellman brought about that connection.
"In both cases they were just a labour of love and I never expected them to be commercial."
Neither were.
And Gilmore is a . . . slooooooow writer?
He laughs loud, long and admits, "I always make the joke that Butch Hancock ruined my writing career because I spent all of my career learning his songs, he was writing all the time and they were so good.
"Butch and Joe are way more prolific than I have ever been, I've always been slow. My wife thinks I am too much of perfectionist."
But there is depth and spirituality in Gilmore's lyrics – as there is in Townes' songs – which is rare and in the late Nineties he said: "I believe the impulse to make music is a religious impulse" .
He still believes that.
"I sure do, with a very very broad interpretation of what 'religious' means. If you take the word spirit to mean . . . if someone has a lot of spirit or a lot of soul – and we use those terms to mean higher energy.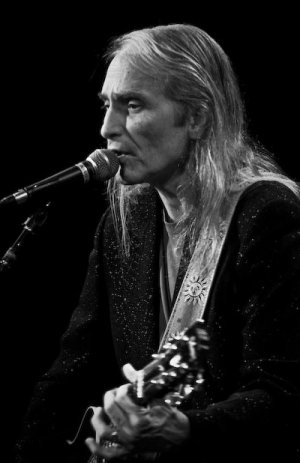 "The drive to do music, to learn how to play an instrument in the first place you have to be driven by your circumstances, your parents or something, or your own energy. It's not easy to play an instrument. But when you hear people play you have to think what was it that made them want to do that when they were young . . . I have a giant respect for that.
"I believe with a lot of musicians it is a very similar drive in people to understand what is really going on."
Someone once said there was a particular calm in Gilmore's voice which was transcendent and they attributed that to the meditation he had practiced. There was a relaxation that it came more naturally.
He isn't so sure.
"It's funny, because it always seemed to me it came naturally and I just did it. I did it instinctively. Things have changed and evolved about my voice, but they haven't happened deliberately,. We rediscovered a very old recording the Flatlanders had done and it's called The Odessa Tapes. They were our earliest recordings and everyone, including me, were amazed how much the same I sound now as I did then. It's very weird.
"Now I know a lot more about music than I did then and I listen differently. You change as the years go by, but still I can tell it wasn't that different then.
"If I do the same songs now there is some change in the timbre of my voice and in some of the inflections, but not major changes."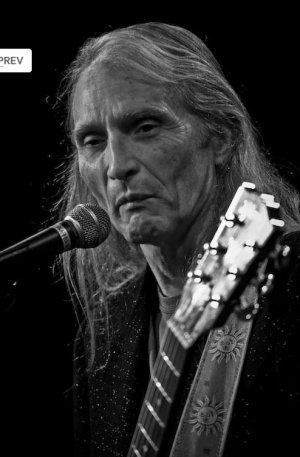 Gilmore – as a man who who grew up on country music and philosophy so can happily mention Ezra Pound and Lefty Frizzell in the same breath – also has Native American chants and blood in his deeper veins.
As a child he heard Cherokee chants which may be buried down in other places within him.
"Probably so, but I don't have any conscious knowledge of that because I was never exposed to Native American culture any more than any of my age, it wasn't until later I became interested in that. But recently I found out on my mother's side there was some Apache
"So I am mostly Irish, with quite a dollop of Cherokee and a bit of Apache.
"But all those people have music deeply included in their culture. In Native American it's different and more rhythmic and ritualistic. I've always wondered if I was born with that love of music or I got it from my parents, mainly from my dad."
Yes Jimmie, we wonder about these things as we got older and have more to reflect on them perhaps?
"Yes, I knew from a very early age that I loved music and it never went away in the times that I have never done it professionally. I still have music as a very big part of my life and that's the way I spend my time."