Graham Reid | | 8 min read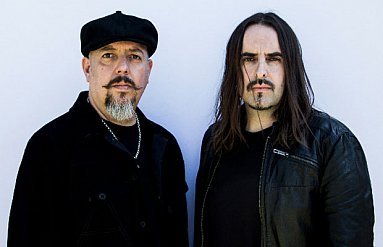 The body language of the two men sitting in the corner of this Mt Eden cafe could hardly be more different.
Drummer and multi-instrumentalist Nick Gaffaney (on the right) seems slightly ill at ease, the eye contact fleeting and smiles wry and rare.
Guitarist/songwriter George Pajon Jr seems entirely comfortable, maintains a steady and clear gaze and speaks with a smile. He even thoughtfully moves my tape recorder towards Gaffaney for better clarity. He's done a lot of interviews in his time.
Different though they may seem, together New Zealander Gaffaney and American Pajon are Cairo Knife Fight, the duo in which Gaffaney has been the sole constant since he founded the band in 2009 and which since has released three EPs and now a debut album The Colossus.
But as befits this fluid concept of CKF, Pajon didn't play on the album because – after moving to Los Angeles on a $12000 Apra Professional Development grant -- Gaffaney pulled the 10 tracks together from recording sessions in New Zealand, Australia and the US with a roster of names which include guitarists Joel Haines, Laughton Kora and longtime CKF partner Aaron Tokona in New Zealand and American rock legend Mark Lanegan.
Meeting Pajon happened more recently but it seems a relationship built on a very solid foundation because Pajon – who has played in the Black Eyed Peas, won Grammys and has been a prolific songwriter – is now on board and looking at a long future in CKF.
"I know what I can do to contribute to this and know where it can go," says Pajon. "So I was like, 'If I can see five or 10 years down the line then this is going to work and I'm in'. There are projects where you think, 'There's no way that's going to work'.
"[Nick] landed in the US and had a clean slate and I was at a time in my life where something fell apart that I was trying to build, so I cut the fat and I had a clean slate. It was that simple."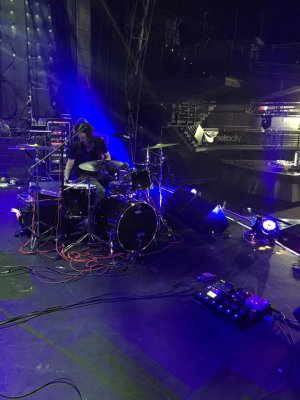 Gaffaney was living in a house on a property which Pajon owned and where he has a studio so the connection was made quickly.
"I've been in that property for 12 years and control it. I play guitar at five o'clock in the morning . . . loud. So if you have someone who's going to work at that time they're going to be upset, so I made sure that everyone in that house is a musician," he laughs.
After initial conversations, Pajon sat down one night and watched CKF video clips and was sold. And he wanted to get back to his first love.
"I grew up playing rock music and the most common question I get is, 'I don't understand, Black Eyed Peas?'
"But my relationship with Will.i.am [of BEP] when I first met him and started touring with the Peas was he came up and said, 'Do you know how to play Hotel California?' I said yes and he asked me to play something in that vein, so I came up with different chords and that turned into a song. That was our relationship.
"I've never bought a hip-hop album in my life but this was Will coming to me and playing Fleetwood Mac, the Doors, Santana and Hendrix and saying, 'Can you play something like this?' So I did and toured with them because they were my songs and I was supporting my children.
"I wish I had left five years earlier to be honest," he says, "because I always felt I had so much more to say and that wasn't my project, that was Will's project.
"I'm very grateful for what I was able to get from that, but [CKF] feels like home, this is what I would do naturally."
Gaffaney says the breakthrough for him was that $12000 grant which allowed him to connect with people to write and perform with who had been part of his specific proposal.
"The grant offered a degree of freedom I never would have had. It was an amazing opportunity. It's an incredible grant, they give out three every two years and I didn't think I would get it. But I guess I had good quality people I wanted to write with.
"It was amazing to have the time to just get somewhere to stay and get a car and drive around.
"I'd already connected with all these people so that was to my advantage, because they had applications from people who just want to go somewhere and write songs. I was quite specific.
"Mostly it came off but some people's schedules weren't right, but the big dog was the Mark Lanegan one and that coming off sealed the deal."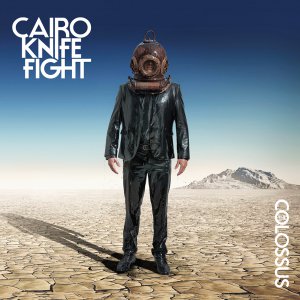 Gaffaney says the 10 songs on The Colossus – Lanegan the cowriter on th stunning Climbing Through Ashes with Gaffaney and Joel Haines – were worked up from jams but that he never had a surfeit of songs to choose from. His Australasian manager Tom Larkin of Shihad wanted him to write 40 songs and they could choose from them, "but I'm not fast enough, so I pretty much wrote 10 songs . . . which is not ideal but that's how I do it. I've never been prolific."
Gaffaney – whose wife has an American passport – has been away from New Zealand for a year and says he naturally gravitated to LA rather than New York or other cities where he has played previously.
"I just loved it, I'm too old for New York. I can't handle the cold anymore but in LA the climate worked for me, my wife loves it. I like the way everyone drives too, it felt like home. Everyone drives rather than using the Tubes like in London or the subway in New York.
"For a drummer that's a pain in the arse. I like the idea of putting drums in a car and just driving to a gig. I've done that other road when being in other cities but getting drums on trams . . .
"As a town for rock music LA feels like more of a home than New York does."
That pragmatism is a feature of their conversation about the CKF project: As a duo they can just fill a couple of bunks on someone else's tour bus says Pajon, and Gaffaney says while he tried to work as a drummer as often as possible in New Zealand (he played with Maisey Rika, Nathan Haines and many others) at 37 he's aware younger players are coming through.
"That's the tyranny of this country, you don't get so many opportunities and much as you try hard to build them there is only so much you can achieve. Then time passes and young people come up and work with their own people playing drums on their projects.
"So you get less work. You notice it with someone like Wayne Bell who doesn't play drums much anymore with people, he just does his own stuff
"I've done as much as I could here, but living in LA you could see you could live 10 months on the road and make it work."
But life in LA is hard and Pajon says the whole system has changed for studio musicians and songwriters like himself. The facts are pretty frightening.
"There are no royalties that much anymore unless you are Bruno Mars. For the studio musicians no one is getting up-front money anymore or paid for the session because there's no money from the record companies anymore to pay for the musicians.
"It's drastically different now. In 2003 or '04 I was getting 20 songs a year placed on different people's albums, now you are lucky if you get one. Unless you are in the top five producers in the industry, like David Guetta would still be getting 20 placements . . . but that's because you have a deal with three or four labels. That's the way it is now.
"Will has a deal with Interscope where he has to deliver five or 10 songs a year and that's why they send him every big album. That's what you are competing with as a producer and a working musician in LA.
"I heard they had 1200 songs turned in for Rhianna's last album and 16 came out of that. Why would you do that? Those odds are horrific. If you work on 10 songs you got a one percent chance of getting on that record, a record that didn't even sell that much.
"The odds used to work in your favour. If you got one on there and the album sold 10 million you are good for five or 10 years.
"Last year just one album sold over a mullion copies, Taylor Swift's, so those days are over.
"That's why [CKF] is more of an exciting and interesting thing for a writer, because you are sharing 50% going forward. So when you have any placements or any kind of sales then the odds are in your favour. And nowadays you have to survive on stage."
He says he likens the music scene today to the Fifties when Elvis Presley, Jerry Lee Lewis and others would get on a bus with a bunch of other bands and tour on the back of a single. When that single started to slip down the charts they'd release another and tour again.
"Personally I think that's healthy, because it's putting music back in the hands of musicians".
Their recent dates in Australia opening for prog-rockers Kornivaal were a proving ground for them and also immensely successful, says Gaffaney.
"Arguably they were the best possible band for us to open for. I've toured with Shihad there and although their fans appreciate us they are more of a bite-sized music project. Karnivool's fans are prog fans, Tool fans and they want to hear something longer and more expressive.
"We learned four or five shows in that their fans are ruthless on support acts but every night we got nothing but love from them. The shows were sold out, and being the only support meant the venue was mostly full for us."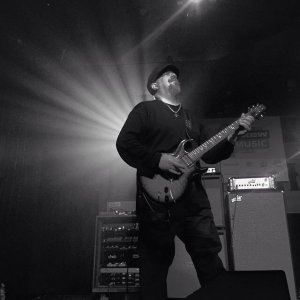 Both Gaffaney and Pajon feel this is a new beginning for both of them, even though Pajon is at present playing CKF material he didn't record.
"I feel personally that I need to learn to play the old stuff for this to grow naturally for me, I need to understand the voice that was here before for me to let it grow into how I would play it. It's more natural. If someone had come into the Doors they'd have to learn Break on Through before he could contribute something.
"I want to respect the material but I also hear things [on The Colossus] that I would have done differently."
CKF also has three prior EPs that American audiences haven't heard . . . but will soon.
And The Colossus – a collection of taut, tight and sometimes bruising songs mostly between the four and five minute mark – is the album to do it for them.
"I realised when we first started as CKF we were the ultimate 20 minute support band. That's all Aaron Tokona and I did for a while, and you could play three songs for 20 minutes and that would be cool.
"When we started doing the demos for this record I thought, 'This is going to bore me shitless to have to listen to 60 minutes of this stuff with two and half minutes of feedback at the start'. I wanted more punch and things to be quicker and more concise . . and so the band just grew out of the stage we started at."
"Nobody sounds like this band in the United States right now," says Pajon. "So why try to now write a whole new album. First of all you're not going to have any promotion, they only thing that's going to bring you that is by being out there playing.
"People will understand that, 'Oh wait, it's affordable to take this band out with us. We've got three bunks empty in our bus so let's put them in there'. We're just the two guys, we should be the band that everyone wants to open up for them. It's easy, economical . . and we're really nice."
The Colossus is out now.