Graham Reid | | 10 min read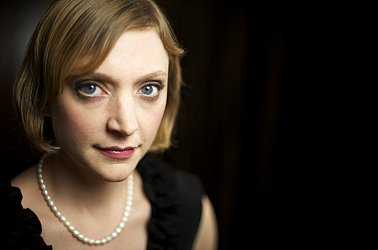 There's no category for Eilen Jewell's music: Some will call it country and some alt.country, but there is also a clear European jazz quality in many songs, she acknowledges Billie Holliday and Bob Dylan as early influences, does a sultry cover of Johnny Kidd and the Pirates' 1960 hit Shakin' All Over and can break your heart with a straight-ahead ballad.
Oh, and in 2010 she did a fine tribute album of Loretta Lynn songs.
She admits, in this interview, that growing up in the Eighties in Boise, Idaho that she didn't much like the pop and rock she heard around her and was drawn to the older styles.
And, after nine years in Boston she and her husband Jason Beek (also the drummer in her band) moved to Boise in 2012 where they have bought a home, had a baby (Mavis) and are very well settled.
"I was ready to change," she says.
Being back home also inspired – unwittingly she says – the songs on her most recent album Sundown Over Ghost Town . . . not that Boise is a ghost town she is quick to add.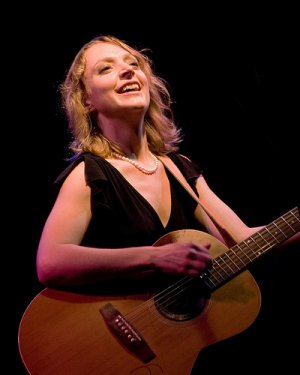 Jewell – whose first name rhymes with "stealin' " – returns to New Zealand with her band (plus baby and mother-in-law this time) for concerts in Auckland (see details below) and took time out to chat about being practical, family, home, her time in Santa Fe and her musical inspirations.
You moved back to Boise, might I ask what took you back home . . . because the saying is, "You can never go home". But you did.
I had been homesick for the West for a long time and after a while it dawned on me and Jason that it really didn't make a lot of sense to be paying Boston rent when we were hardly ever at home to enjoy our apartment, because we were on the road all the time.
So it really made sense to buy a place as an investment in the future and we realised we couldn't afford anything in Boston, and Boise was looking really affordable and it was easy living, and a very comfortable place. So we found a place here.
It was a combination of wanting to be near family and being homesick, but also very practical if you want to invest in something and put down some roots. And it's a good thing we did because a couple of years later we ended up expecting our first child. Now we have little Mavis running around and there's a backyard and park nearby, so we are pretty pleased how things worked out.
These sound like the alarmingly normal things that people do in life, to put down roots and start a family.
Yes, because we live this totally abnormal life otherwise. And it's kinda nice to have this very normal thing.
Does Jason come from Idaho?
No, he comes from the Boston area.
And he didn't mind moving across country?
I think he was ready for it. He'd never lived anywhere else aside from the Boston area and was ready for a change.
Has it been an adjustment moving back home or did it feel like the most natural thing in the world to be back in Boise?
It took some adjusting, we're still kind of adjusting. It's almost like a different country, the pace is so much slower and everyone is so much more polite and everyone wants to chat with you everywhere you go.
Which is really nice, but coming from Boston I'd got used to people being really abrupt with every interaction. If you did linger and want to talk with anyone they'd look at you suspiciously like, "What do you want? What's your angle?"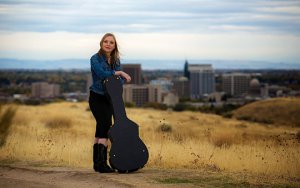 So it's been interesting for me myself to feel suspicious of people, like, "Why is this person talking to me, what to do they want from me? And then you go, Oh that's because they are friendly here. (laughs)
Little things like that. It's also very remote here so we have to travel really far to get to the next big city, which is very different from Boston.
But I like having more space around me and I love the outdoors, but also Boise has changed so much since I lived here last when I was 18. It's been about 15 years so it's like having to get to know a totally new city . . . so that's been fun too.
As a songwriter, was almost inevitable then that you would address your hometown and your feelings on the album Sundown Over Ghost Town?
I didn't really see it that way at the time. When I set out to write a new album I don't know what direction it will be going to go in, and it was only after I took a good look at everything I'd written for this that I saw that it was a very Western-influenced and inspired album, and that it has a lot of to do with home . . . most of the songs mention it.
Because I write what's on my mind I suppose . . . I don't start out to write a themed album, at least I haven't yet. I just let things go the way I feel they want to go. I let the songs run their course and that was where my thoughts were headed: Everything having to do with what "home" means and what is my sense of "home".
And being inspired by being back out here again, the natural beauty, the wild landscapes.
Looking back maybe I could see how it might have been inevitable, but I didn't see it like that at the time.
Just by sheer coincidence I was talking to a guy the other day who was going back to his hometown of Cleveland and he spoke about it being a ghost town. He meant not that it was deserted but that it was actually full of ghosts of his past, people and places no longer there but there in his memory and imagination. Is that how you see the idea of a ghost town?
For me a ghost town is very particularly a Western thing. Here in the US people think of them as a scene from Western movie and tumbleweeds rolling through and no one lives there. In Idaho they are the result of the mining economy going boom and bust, because as soon as they get all the gold out everyone leaves. All the ghost towns around here are all like that.
So they are very lonely and haunted places inhabited by ghosts. I wanted the title of my album to be very Western US. A sunset is also a very Western thing and a ghost town around here is as Western as it gets.
A lot of my songs take place in rural Idaho so it seemed fitting.
I never would have considered Cleveland a ghost town. (laughs)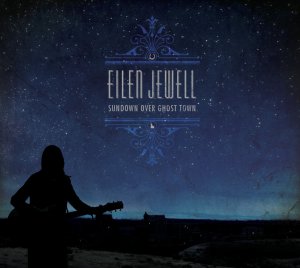 Well, inhabited by the ghosts of this guy's past was what he meant, the shop he once bought bread at was no longer there but the ghost of it was in his imagination.
Yeah, that part of it I totally get and I agree with that interpretation, because that's what I was going for on the cover of my album. In the background you can see the twinkling lights of Boise which is the capital of Idaho . . . and I never meant to suggest to anyone that it was a ghost town. (laughs)
I would have gotten a little bit of flak. Like, "Hey, you callin' Boise a ghost town? What's up with that? We're actually having a growth spurt right now!" (laughs)
I just meant the ghosts of my past.
One of the things that has always impressed me about your music is that kind of jazz swing element, which is not Western Swing. And when I listen to the song My Hometown, the name that comes to me immediately is Billie Holiday. I could imagine a country-raised Billie Holiday singing that, it has that slow blues style about it.
Where does that come from for you, because I don't hear it a lot in country music aside from the Western Swing style?
Well, that honestly comes from listening to a lot of Billie Holiday, so you are spot on.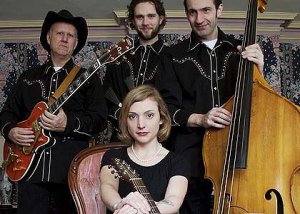 She was an early influence on me and the first person I ever heard a recording of, and I said to myself that some day I wanted to learn to sing like her. I adored her at a very early age.
So that's her shining through there and kind of my ode to her.
It is a very European sound you have on many of your albums, what was your early listening like, as a teenager maybe.
It was a lot of Billie Holiday and I didn't discover any love of country music until I was in college. Growing up here I thought of just mainstream country and I didn't know there was a classic country like Hank Williams. When I did hear him for the first time that totally changed my life.
But prior to college my early influences were Billie Holiday and Bob Dylan, and also the oldies radio station here in the Eighties was playing a lot of stuff from the Fifties and Sixties, and that was what I really loved . . . the early rock'n'roll, Bill Haley, early and mid Sixties stuff like the Kinks and bit of the garage stuff . . .
I didn't really like the mainstream radio at all here, it didn't speak to me all that popular stuff of the Eighties and Nineties. That skipped over me, I still don't have an ear for it and don't really go there with the pop music.
I'm still really into Sixties music or earlier, whether it be country or blues or jazz.
What is that appeals? Is it that at the time those people were actually exploring and breaking barriers whereas today many people are just copying successful formulae which others have established? Did it feel more authentic?
I liked the rawness of it, the simplicity of people playing instruments has always appealed to me, the guitar sounds like a guitar, the drum sounds like a drum. It is authentic but it also came a little bit from a nostalgia for the past. I've always been intrigued by the past and am more interested in eras gone by than the present time, even as a little kid.
I was pretty strange that way . . . and then in high school it became a bit of snobbery. If something was cool to do then I didn't want to do it, I would do the opposite because I didn't want to be like everybody else.
So it was a combination of nostalgia and snobbery. (laughs)
I have to say you do the sexiest version of Shakin' All Over that I've ever heard, instead of rockabilly rock'n'roll you've actually listened to the words.
Oh yeah, and that's a fun song.
I know you went to college in Santa Fe but on the current album there is the song Rio Grande and I read a comment somewhere in which you said that as much as you loved the Southwest it always seemed to spit you out. What did you mean by that?
I really can't help but feel there is a force-field around Santa Fe that keeps kicking me out of the city. Every time I go there something goes south or haywire for me. I suddenly feel like I'm not supposed to be there, it's hard to put my finger on. It's maybe a curse or something.
I talked to some people who live there when I was writing that song and they said they knew exactly what I meant. For some people they can't get away from Santa Fe, so there is something really special about that place. I love it, I adore it, but I'm not supposed to be there and so that is heartbreaking.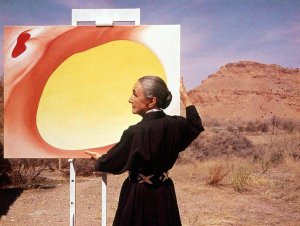 The deserts around there are extraordinarily beautiful.
Oh yeah, I've always found it so poetic and I just want to stay there and write novels or something. But it doesn't want me to do that.
I think it wasn't until I saw that area that I more fully understood Georgie O'Keefe's art, not until I saw where she lived.
Oh yeah. I love Georgia O'Keefe. I lived there off and on for five years when I was going to school. I was also in my early 20s and it is a common thing for young people, but I felt always very high or very low. I was very depressed there at times and yet at other times I was on top of the world. No other place I've lived has had that effect on me. It is the place itself, there is something very powerful about it.
It is full of art and there's a particular culture, and there's something so powerful about that combination that it had a huge effect on me.
I'm glad I had my time there . . . but on the other hand you can only stand so much adobe. (laughs)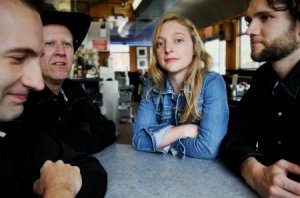 And all that sandy colour. I'm on limited time and I know you are busy. You are bringing the full band to Auckland?
Yeah the whole band, my little daughter Mavis and my mother-in-law is coming as the tour nanny.
It's the family traveling show. This must be a very different and perhaps even more comfortable way of touring, and you are now a very different person from what you were seven or eight years ago?
Absolutely, a completely different person. Life is much deeper for me now, it is much more meaningful. I feel I have more compassion for people now that I am a mother.
Parenthood changes you.
And maybe part of it was I was ready to be changed, I wanted to be changed and for life to take on more meaning. And now we have the perfect excuse to not have to go on really long drives when we are on tour.
"Oh no, the baby can't do it." It's the perfect out.
Eilen Jewell and her band play The Tuning Fork, Auckland on March 24