Graham Reid | | 3 min read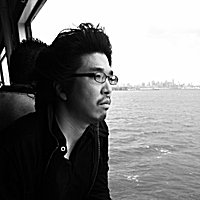 Ryan Choi was born, and lives, in Honolulu. And he plays ukulele. But that is where the cliches and expectation ends. Because he plays a very different ukulele in a very different way.
But first, let's backtrack a little to say how he came to Elsewhere's attention.
Every week on average Elsewhere receives about a dozen CDs for consideration and about the same number of e-mails from international or local PR people offering albums (these days usually streams or downloads). And then there are the e-mails from the artists themselves . . . about another dozen.
Most of the latter are just an optimistic blanket mailouts (clearly a blackmetal band From Norway whose album is entitled Kidnap, Rape, Kill Then Bury isn't reading Elsewhere, they get the immediate "trash"). Some are absurdly brief, little more than, "Here's a link to my album, hope you will write about it".
Others are more in-depth and offer links to websites, bandcamp, a place for images and so on.Many however don't even give a hint at the kind of music they make.
Ryan Choi's first e-mail was exactly the kind we on the sharp end like receiving: personal ("Dear Graham" suggests he knows who he is addressing) and to the point.
"I'm inquiring about the possibility of having my two albums reviewed, Three Dancers and Whenmill; the first features the baritone ukulele, percussion and electronics and the second features solo baritone ukulele. All the music was composed, performed and recorded by me . . ."
And he offered links to soundcloud for the albums, said he would send CDs if that was preferable and also had a link to his website.
All that in a tidy few lines . . . and he had me at "baritone ukulele, percussion and electronics".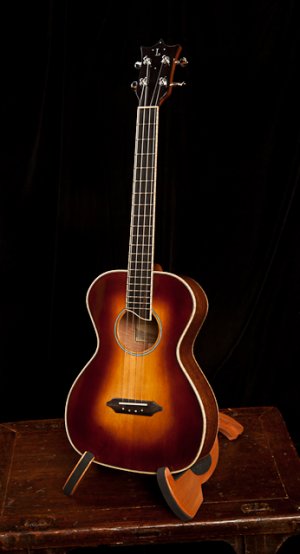 A quick push of a link to a soundcloud page and I was back in touch saying, "Leave this with me".
He spotted my address at the end of the reply and said he'd post actual CDs . . . and within days they arrived with some promo material, again very focused.
Choi struck me as intelligent, savvy and professional.
And his music . . .
Choi is in his early 30s, classically trained on double bass and his music on baritone ukulele is perhaps best described as being in the contemporary classical area (with electronics and percussion sometimes.
The fact he lives just outside Downtown Honolulu is interesting, he is "outside" but "Downtown" (fancifully at this distance, that is as in "off-Broadway" and akin to "the Downtown NYC scene" of the late 20th century).
Choi works the margins with challenging, interesting and sometimes mathematically complex original compositions and playing . . . but his work can be highly approachable.
It doesn't all sound like Fred Frith on prepared guitar, but would be enticing for the Kronos Quartet to adapt if they heard it.
From what I have read, he has been away from music for a while and the two albums Three Dancers (which takes its title from Picasso's Les Trois Danseuses) and Whenmill were released a month apart earlier this year.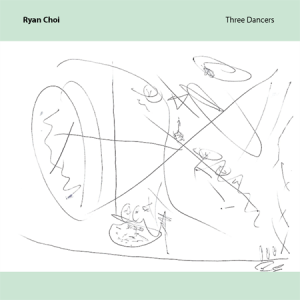 He might have been away, but he's come back as a man in a hurry and right now is working on a series of piano pieces and another ukulele album.
Three Dancers (in a cover of his own art, a piece which alludes as much to Matisse as Picasso) opens with the sprightly and short Preparations I and IV on prepared baritone ukulele places him close enough to a lively and quirky piece by Frith, but in its rapid changes of tempo and stuttering notes is the perfect introduction to his style.
Some won't find it easy listening but it is quite captivating.
The longer second piece (just over nine minutes) Apollon at Eros is again for prepared ukulele (with wooden box percussion) and its liveliness, melodic angularity and tease (where to next?) suggest a series of discrete ideas formulated separately but pulled together in a coherent and sometimes witty whole.
The six minute title track (prepared baritone ukuleles and electronics) is the most aurally challenging and alluring as no clear melodic lines emerge but it plays off rhythmic elements and hyperactive interplay between the instruments and subtle electronics.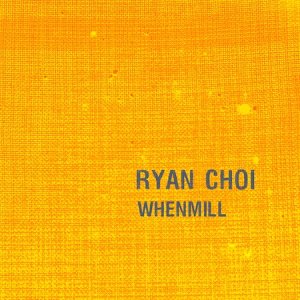 He packs a lot of musical information, improvisation and challenging enjoyment into just 20 minutes.
Whenmill is rather different, a series of four pieces for solo baritone ukulele using unusual tunings and, as before, owing little to vernacular language of ukulele. The opener Quixano has a stately, almost Spanish-guitar sound with passages of languid romanticism.
Inn Blue and the title track which follow again explore more introverted moods than the previous album.
The final 12 minute-plus piece South Aleksandr (as with all these pieces, worked on and recorded some years ago) is a more episodic and expansive exploration of the territory previously marked out.
These gentle pieces are perhaps your easiest in-road to what Choi does . . . and then you can take on the more demanding but rewarding terrain of the Three Dancers album.
And the mutual discovery of Choi/Elsewhere is what this site is all about.
To check out these albums by Ryan Choi go here. Whenmill and the Three Dancers single are available through iTunes.