Graham Reid | | 1 min read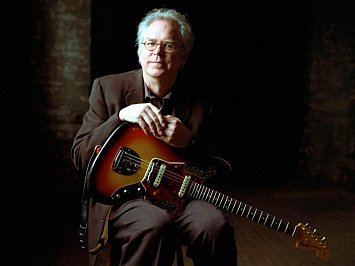 No matter where on the musical spectrum you try to place American guitarist/composer Bill Frisell – one of the chief guests at the Wellington Jazz festival — he always seems like the outsider on the inside.
Trying to get a clear picture of him is like looking through a prism: From one perspective he's a jazz musician, from another the distinctive guitarist on albums by Tom Waits and Elvis Costello. Looked at another way he's a country-cum-Americana musician and with another glance through the glass he's a contemporary classical composer.
Or maybe an avant-garde guy with Downtown NYC darlings like saxophonist John Zorn and drummer Joey Baron in the 80s.
Bill Frisell – born in Baltimore in March '51 but spending his formative youth in Denver – is a musical itinerant who rarely rests in any genre. But to whatever project he is part of, and in his diverse solo work, Frisell brings his signature tone which can be glistening, mercurial, full of texture and sustain, and deftly deploying a range of effects with constraint and nuance.
He can paint a sonic landscape as wide as West Texas or sound anxiously claustrophobic like a turbulent subway platform.
His eclectic taste is emblematic of a man who grew up with surf guitar records, the Beatles and the British Invasion alongside Jimi Hendrix and his jazz interest in Sonny Rollins and Miles Davis.
In 2011 he recorded All We Are Saying, an album of John Lennon songs . . .
To read the rest of this article, go here.
Bill Frisell, featuring Petra Haden, Thomas Morgan and Rudy Royston, 8pm, Wednesday 7 June, Opera House, as part of the 2017 Wellington Jazz Festival.