Graham Reid | | 3 min read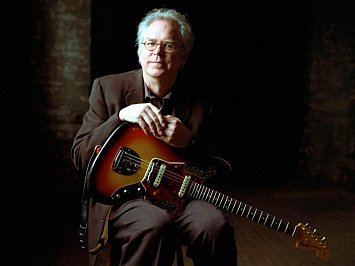 No matter where you try to place American guitarist/composer Bill Frisell – one of the chief guests at this year's Wellington Jazz festival – on the musical spectrum, he always seems like the outsider on the inside.
Trying to get a clear picture of him is like looking at an image through a prism: From one perspective he's a jazz musician, from another he's the distinctive guitarist who was on albums by Tom Waits and Elvis Costello. Looked at another way he's a country-cum-Americana musician and with another twist of the glass he's a contemporary classical composer.
Or maybe he's an avant-garde guy when you listen to his work in the 80s with Downtown NYC darlings like saxophonist John Zorn and drummer Joey Baron.
Bill Frisell – born in Baltimore in March '51 but spending his formative youth in Denver – is a musical itinerant who rarely rests in any genre. But if he can't be placed in any specific style he certainly has a distinctive voice on guitar.
To whatever project he is part of and in his diverse solo work, Frisell always brings his signature glistening tone which can be full of texture and sustain, often deftly deploying a range of effects with constraint and nuance.
He can paint on a sonic landscape as wide as West Texas or burrow down deep and anxiously claustrophobic like a turbulent New York subway platform.
His eclectic taste is emblematic of a man who grew up with surf guitar records, the Beatles and the British Invasion alongside Jimi Hendrix and his jazz interest in Sonny Rollins and Miles Davis.
In 2011 he recorded All We Are Saying, an album of John Lennon songs.
"I really sort of grew up as rock and roll was being born, and as Fender guitars were being born" he told Guitar.com three years ago on the release of his album Guitar in Space Age. "The atmosphere, at that time, there was this kind of optimism in the air, with, 'Oh, we're gonna go to outer space,' and 'everything's gonna be so great!' "
Even today the genial musician brings some of that optimistic spirit and although looking ahead in terms of exploring musical sounds he has, in the past decade or so, interpreted songs by Marvin Gaye, Bob Dylan, Hank Williams, Thelonious Monk, Sam Cooke, Benny Goodman, Pete Seeger, Merle Travis and Ray Davies.
And on his new album When You Wish Upon a Star he explores themes from classic movies and television shows.
It's as if his past is always present while he engages the now and the possible futures his curiously allows.
Frisell's eclecticism began early: He built his own guitar at age four (cardboard and rubber bands), the first record he bought was the Beach Boys' Little Deuce Coupe/Surfer Girl, he picked up saxophone for a while and was classically trained (clarinet initially). He studied music at the University of North Colorado before attending the Berklee College of Music in Boston for a semester then studied guitar with Jim Hall in New York City for two months.
He was learning from the best and would later spend two years at Berklee.
In the early 80s he started recording for the emerging ECM label – recommended to the company's founder Manfred Eicher by ECM guitarist Pat Metheny – and his distinctive tone and versatility (as well as Eicher's ethic of shifting players through different associations) meant he played alongside saxophonists Jan Garbarek, John Surman and Joe Lovano, pianist Paul Bley, drummers Peter Erskine (of Weather Report) and drummer Paul Motian among many others. He recorded three albums under his own name for ECM before moving to Nonesuch which was developing a reputation for recording innovative, emerging artists such as avant-garde minimalists Steve Reich and Phillip Glass as well as the groundbreaking classical group Kronos Quartet.
Frisell fitted in seamlessly into the roster and enjoyed a 20 year association with the label, recording albums designed to accompany Buster Keaton silent movies, loving tributes to country music (Nashville), and The Sweetest Punch in 99 with Elvis Costello which included variations of songs from Costello's Painted from Memory collaboration with Burt Bacharach.
By that time the man many once thought of a jazz musician became known to the adult rock audience through his appearances on albums by Costello, Tom Waits and Lou Reed. And then the tick-list really began: Dr John, Brian Eno, Paul Simon, Keith Richards . . .
He was nominated for the jazz Grammy in 2003 for his Intercontinentals album, and won two years later with Unspeakable which features samples, synthesizer and a string section.
Critics and reviewers have often grappled with how to describe Frisell's music and shifting personae, but the rock magazine Spin came amusing close when it described him as the Clark Kent of the electric guitar: "Soft-spoken and self-effacing in conversation, he apparently breathes in lungfuls of raw fire when he straps on his (guitar) . . . His music is not what is typically called jazz, though it turns on improvisation; it's not rock'n roll; and it sure ain't that tired dinosaur called fusion. In one of the biggest leaps of imagination since the Yardbirds and Jimi Hendrix, Frisell coaxes and slams his hovering split-toned ax into shapes of things to come . . ."
Of himself Frisell has said, "The most happiest I've ever been is when you're really, really immersed in the music itself. It's got nothing to do with money or fame or success or anything . . . It's super simple. Just forget all that other stuff and just play your guitar . . . if you just stay with that, you can't go wrong."
In the excellent documentary Bill Frisell: A Portrait – being screened in the jazz festival with a Frisell Q&A session afterwards – the venerable jazz guitarist and longtime friend Jim Hall describes Bill Frisell as like "a far-out, cloud-like eminence".
But, we'd suggest, one looked at through a prism.
Bill Frisell, featuring Petra Haden, Thomas Morgan and Rudy Royston, 8pm, Wednesday 7 June, Opera House, as part of the 2017 Wellington Jazz Festival.