Graham Reid | | 3 min read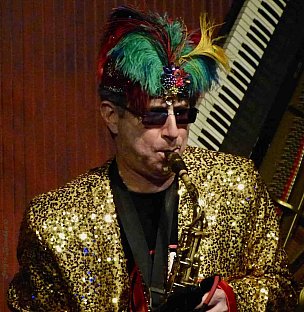 Okay, follow us back for a while, down a few by-ways and familiar names before we get to Boston's much acclaimed funky New Orleans-influenced brass band.
Let's go way back to Boston's post-punk outfit Moving Parts who broke up in the late Seventies . . . because out of their remnants came two more familiar names; Mission of Burma and an odd off-shoot called Birdsongs of the Mesozoic.
It's the latter we are interested in because they made a worringly good implosion of rock and classical music (not like Deep Purple's Concerto For Group and Orchestra, more hammered together and left-field).
When Birdsongs founder member and former Moving Parts man Roger Miller (not that one) quit becase of tinnitus issues, saxophonist/keyboard player Steve Adams replaced him in the late Eighties.
With his input their sound moved towards jazz of the peripheries.
But when he was offered a place in the innovative Rova Saxophione Quartet he was replaced by Ken Field.
And now our Revolutionary Snake Ensemble story begins.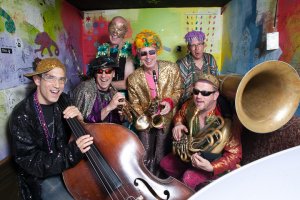 Field did eight albums with Birdsongs but in '90 also founded the RSE which, in bright attire and taking its lead from the New Orleans second-line brass bands, has struck out on its own and become not just popular but highly acclaimed and commercially succesful.
They are one of the first-call bands in the Boston area for street parades and have played at Berklee, Tipitina's in New Orleans, the Brooklyn Academy of Music and the Krewe of Muses Mardi Gras Parade in the Big Easy.
They've had stellar guests like Charles Neville sit in (on their Live Snakes album of 2014) and late last year released their fourth album I Want That Sound!, all songs save one penned by Field.
Critics and fans are quick to check names like Sun Ra and latter-day Coltrane as much as the Mardi Gras bands and Lester Bowie's jazz funk.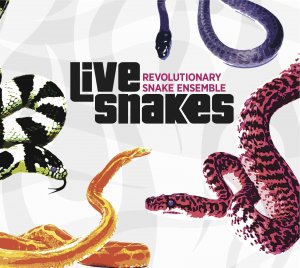 The 12 track Live Snakes gives you the flavour of them because it is boisterous and jubilant – recorded at four concerts between '11 and '13 with a whole heap of guest players joining the RSE collective – but its also touches some deeper places. As on For Karen (Field's late wife Karen Aqua who was an accalimed animator whose work frequently appeared on Sesame Street, filmmaker and collaborated with RSE for Street clips).
It's a haunting improv which, on the album, segues into their treatment of the New Orleans funeral standard I'll Fly Away which begins as a melancholy, gospel lamentation, morphs into a stately march then ends as a celebration of life.
Traditonal New Orleans music has been the driving force of RSE – their second album Forked Tongue opened with Just a Closewr Walk With Thee and included Field's arrangement of Down By the River Side – and Live Snakes kicks in with Field's pounding original Parade.
Later they address Rock of Ages, Ellington's Caravan and Que Sera Sera, all given the RSE/Nawlins big band twist.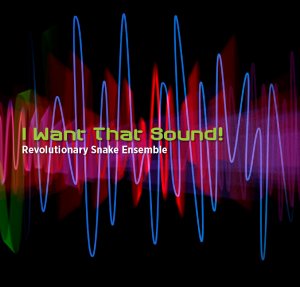 Their most recent album I Want That Sound! finds them punching through Field's material like the slinky funk of Discoveries (which sounds ripe for lyrics), the Latin shuffle'n'slip of Nature and the reflective Just Walk Closer.
Although they had a few membership changes early on the band of Field, tenor player Tom Hall, trumpeter Jerry Sabatini, trombonist/tuba player Dave Harris, bassist Blake Newman and drummer Phil Neighbours have now been together for about five years and so have become a tight ensemble.
Needless to say, their costumes would tell you this much, they are probably a band best enjoyed live . . . but these two recent albums offer considerable and enjoyable diversity.
So this might have started like a shaggy dog story with the mention of other bands, but here is the tale of a band that wags that dog . . . and shakes a tailfeather too.
For more on the Revolutionary Snake Ensemble check out their website here.