Graham Reid | | 5 min read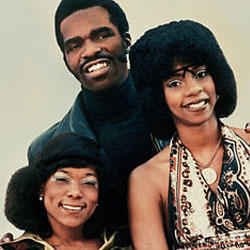 Unlike so many of their soul peers out of Motown like the Temptations, Smokey Robinson and the Miracles, the Supremes and many others, the Undisputed Truth never quite made the splash they perhaps should have.
Or more correctly could have, if the planets had aligned differently.
Very few of their songs were played on New Zealand radio, which was certainly keen on Motown and singers like Joe Tex, Wilson Pickett and many other black artists from the early Sixties.
Only the Undisputed Truth's wah-wah soul-funk single Smiling Faces Sometimes of the early Seventies got any serious radio play here, although their version of Brother Louie was certainly known by the soul congoscenti.
But many of the 36 songs across the recently released double CD set Nothing But The Truth (on Kent, through Border in New Zealand) would be familar.
Check out these titles: Ball of Confusion, I Heard It Through the Grapevine, Papa Was a Rolling Stone, Killing Me Softly With His Song, Just My Imagination, Walk On By, What's Going On . . .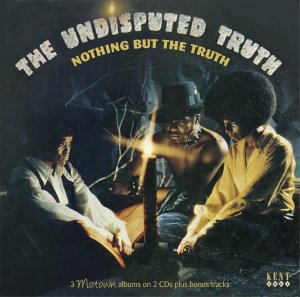 And right there you can see the problem The Undisputed Truth had.
With the best will in the world, the great Motown producer and songwriter Norman Whitfield wanted a group to explore areas that other acts didn't, but he would frequently use the vocal trio of Billie Rae Calvin, BJ Evans and Joe Harris on songs he'd crafted for others.
And most often these songs would be done better or more successfully by the main players.
So the 10 minute psychedelic soul stomper Ball of Confusion here uses the backing music for the Temptations' classic version and just has the UT added in place of the Temps' vocals.
Same with the Temps' version of I Heard It Through the Grapevine . . . which had already been a hit for Marvin Gaye.
In fact many of the UT songs were more successful by others, or were created with someone else in mind.
Save My Love For a Rainy Day was a Marvin Gaye song they were overdubbed onto, Feelin' Alright? was created for the Temps but "re-assigned" to them; If I Die was recorded for Edwin Starr and nudged over to them . . .
Then there were their covers which seemed superflous: Dylan's Like A Rolling Stone given an overly earnest treatment; Aquarius from the musical Hair, Papa Was a Rolling Stone, Killing Me Softly With His Song, the Beatles' With a Little Help From My Friends, Bacharach and David's Walk On By . . .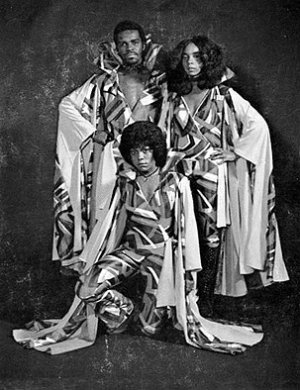 You have to wonder – as Undisuted Truth did – where they were in all of this. Just Whitfield's vanity project or his puppets, a viable band in their own right or an afterthought?
The pity is that they also had it in them to deliver the ocassional lost classic, as with their very groovy and subtle California Soul of '72 which captures a breezy, soulful and lightlydelic quality and sounds a fresh today as it did then.
The moody Smiling Faces Sometimes of '71 -- written by Barrett Strong and Whitfield, and previously recorded by the Temptations in a 12 minute version which was unreleased -- was originally titled Stop the War Now. It was a pure and paranoid product of the Nixon presidency/Vietnam era/Black Power era: "Beware of the handshake . . . the pat on the back might just hold you back . . . behind smiling faces . . . they don't tell the truth . . . your enemy won't do you now wrong because you know where he's coming from".
Mama I Gotta Brand New Thing is a superb chunk of horns, congas and soul urgency, but it stalled on the charts. Feelin' Alright was a much more deep and thoughtful soul treatment of the Dave Mason song which was a hit for Joe Cocker, and even Ringo's Sgt Pepper turn on With a Little Help From My Friends gets a good reading.
Law of the Land, the title track of their second album, was a desperate sliver of dark and urgent politicised wah-wah funk (and another Temptations song), and their version of Papa Was a Rolling Stone was very good . . . but even while it was enjoying some chart success Whitfield was recording the Temptations' version which went stratospheric.
You can understand why, by the early Seventies, the UT were wondering what they needed to do to get serious attention from the public and their producer.
The answer came soon enough: that Law of the Land album was one of the last, possibly the very last, album to be recorded in Detroit because Berry Gordy moved Motown to the West Coast and, reluctantly, Whitfield followed.
The Undisputed Truth trio didn't, just Joe Harris and Billie Rae Calvin (the latter as Whitfield's partner but no longer performing) and BJ went off to other things and obscurity.
In Los Angeles, The Undisputed Truth expanded to a five-piece with Harris out front . . . and had a sudden hit with the catchy, handclap Help Yourself, another Whitfield write and production.
The Down to Earth album of '74 was pulled together from Detroit and LA sessions: It featured their fine treatment of Brother Louie, previously a hit for Hot Chocolate, and the funkadelic I'm A Fool For You alongside the MOR Our Day Will Come and Just You 'N' Me.
The odd mix was typical of how shapeless the careers of the two Undisputed Truths could be . . . but the constant is the excellent arrangements (and sometimes unusual ones) by Norman Whitfield.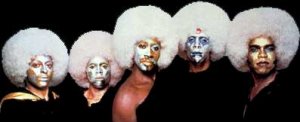 In their closing overs he pushed them into a more glam-disco style but they failed to ignite on that getting-mighty-crowded dancefloor and when Whitfield decided to quit Motown in '76 that was it for Joe Harris who decided to get out of the game.
But then there was an unexpected coda. When Whitfield started his own label his first signing was UT and they had a hit with You + Me = Love, a disco floor-filler (not included on this expansive collection however).
And then it was the slow dissolution and more disillusionment although the band name soldier on for a few more years and albums.
At their best – which admittedly wasn't as frequent as the Temptations – the Undisputed Truth trio were one of the great second-tier Motown acts who deserve better than to be relegated just because they didn't have hits.
There's ample evidence on this collection which includes their complete debut then third and fourth albums, plus some singles.
Their loyalty to Whitfield and him to them may have in fact been their undoing. Neither party could see how they could have emerged as unique voices – one male and two female singers – and not been in the shadows of their more successful peers.
The Nothing But the Truth collection is a fine testament to a group who worked with one of the best, but too infrequently got to deliver their best.