Graham Reid | | 1 min read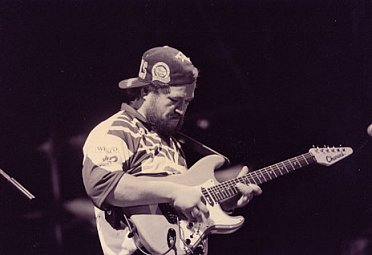 Directed by Lee Tamahori, the opening scene of the 1994 film Once Were Warriors is among very few viscerally powerful sequences in New Zealand cinema. The camera lingers on a picturesque scene of Aotearoa New Zealand scenery of a river and mountains … then pans down to reveal it is just a power company billboard beside a motorway slicing through urban blight.
As much as its visual power however, the scene gets added resonance by the soundtrack which opens with gently evocative taonga pūoro then morphs into searing, angry and distorted guitar passages which drive the darker message home.
That piece, created by Tama Renata, one of the finest post-Hendrix blues-rock guitarists of his generation, also gets a strident and extended reprise supported by a powerful haka over the film's closing credits. It is a remarkable piece of music which captures the coiled rage and emotional chaos of a central character Jake The Muss, played by Temueara Morrison.
Renata – who died in November 2018 – was a legendary figure in New Zealand music who played alongside some of the country's finest talent. He went from playing marae gigs around Gisborne to being inducted into the New Zealand Music Hall of Fame in 2012 . . .
To read the full article/tribute to Tama Renata go here at www.audioculture.co.nz
Audioculture is the self-described Noisy Library of New Zealand Music and is an ever-expanding archive of stories, scenes, artists, clips and music. Elsewhere is proud to have some small association with it. Check it out here.