Graham Reid | | 1 min read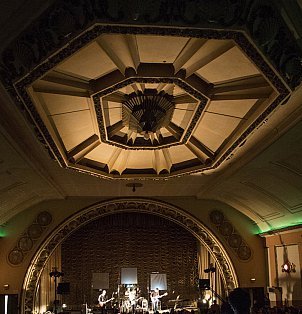 When, in the late 1950s, impresario Phil Warren took over Auckland's Crystal Palace Ballroom, he used his customary flair and promotional skills to resurrect interest in a place which had fallen from favour in the previous five years. Among his marketing campaigns was a series of advertisements in the Auckland Star which read, "Oh! If Epi Could See It Now!"
Epi Shalfoon and his band rehearsing at the Crystal Palace Ballroom, summer 1947. Shalfoon is in the front row, with a saxophones in his lap; his daughter Reo is at the microphone. On drums is Frank Gibson Sr. - Shalfoon family collection
That was a reference to the famous bandleader and pianist Epi Shalfoon, who had taken a residency in the ballroom beneath Mt Eden Road's Crystal Palace picture theatre in 1935 and pulled dancers and music fans from all over Auckland until 1953.
The 1958 letter from Amalgamated Cinemas renting Phil Warren the Crystal Palace Ballroom. Phil rented the room until 1973.
Well, if Epi could see the room now he'd be even more surprised, and wouldn't recognise it.
The old room, which had seen a passing parade of the country's finest jazz and dance musicians – as well as being a meeting place for couples – is now . . .
To read the full article on the Crystal Palace then and now go to here to audioculture.co.nz.
Header photo copyright Garry Brandon
Audioculture is the self-described Noisy Library of New Zealand Music and is an ever-expanding archive of stories, scenes, artists, clips and music. Elsewhere is proud to have some small association with it. Check it out here.