Graham Reid | | 1 min read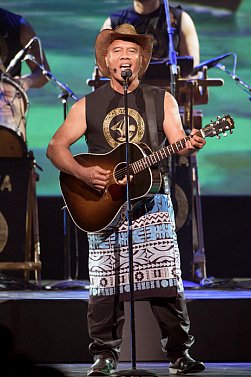 The acclaim for Opetaia Foa'i of Te Vaka for his music on the soundtrack to the animated Disney film Moana – which topped the Billboard soundtrack and children's charts, and went to No.2 on the main US charts – is a story many decades in the telling.
For those who haven't followed Te Vaka, it may seem like an overnight success, but they've long been a twist on the famous ad slogan: They are "world famous … except in New Zealand".
Until the success of the Moana music, which went to No.1 on the New Zealand charts, Foa'i and Te Vaka have rarely been part of New Zealand's musical landscape. Certainly they have lived in Australia for quite a while but in New Zealand – where they have been critically acclaimed but rarely performed as they spent so much time touring overseas – their music was barely acknowledged in their early years.
"Maybe it was too familiar in this area," said Opetaia in 2002. "People would go, 'Huh, what do you want to do that for?' That was the attitude here."
But Moana has changed all that.
"I think this [film] will awaken some sort of sense of pride in people," he told the New Zealand Heraldlate last year at the film's launch. "And hopefully they will go, 'Oh, I need to go back and reconnect and put my feet on the land and discover, find out about my roots.' "
And those roots reach across many Pacific cultures, entwined by language, custom and heritage from Hawaii to Aotearoa New Zealand.
Opetaia Foa'i – chosen by Disney after they heard the band's many albums – seems an almost obvious pick as the one to bring authentic Pacific beats, harmonies and language to the blockbuster project.
The story of the pan-Pacific sound of Te Vaka began . . .
To read the full article on Te Vaka's remarkable journey go here to audioculture.co.nz.
Audioculture is the self-described Noisy Library of New Zealand Music and is an ever-expanding archive of stories, scenes, artists, clips and music. Elsewhere is proud to have some small association with it. Check it out here.