Graham Reid | | <1 min read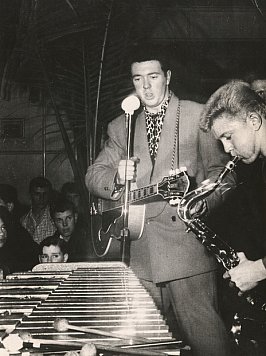 Many bands have an in-house archivist, the member (or proud parent) who keeps posters, tickets, clippings, photos and such. Such people are invaluable to researchers, historians and the curious.
The early New Zealand pop and rock scene from the late 1950s to the early 70s was lucky enough to have saxophonist Bill Fairs, who kept dozens of photos. These charted his career from the school dance band to the Bob Paris Combo in 1956; hanging out and playing with Johnny Devlin; joining with the Keil Isles at the Jive Centre and Orange Ballroom in Auckland; touring with international guests such as Cliff Richard, Del Shannon ("just an ordinary bloke and not a lot of talent"), Bobby Rydell, and the Who; clowning around as the Torn Sack at the National Jazz Festival in Tauranga in 1969 (yes, they wore sacks as head attire) … and so much more.
Fairs had an interesting and eventful early life. He was born in 1940 and . . .
To read the rest of this article on the Bill Fairs' photos and to see his images go to audioculture.co.nz direct right here.
Audioculture is the self-described Noisy Library of New Zealand Music and is an ever-expanding archive of stories, scenes, artists, clips and music. Elsewhere is proud to have some small association with it. Check it out here.