Graham Reid | | 1 min read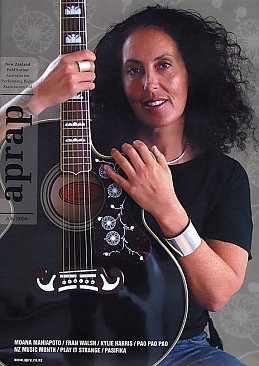 One of the most powerful and politically pointed performances at the 2014 Womad festival in New Plymouth came from Moana and the Tribe who – to thumping beats and a thrilling meltdown of dub, rock, reggae, funk and waiata – delivered a set which surpassed that of the internationals on that same main stage.
Among the new songs she delivered – they would appear on their Rima album later that year – were her swipes at rapacious multinationals, globalisation and big business, notably the hypnotic 'Whole World's Watching' with its catchy "Oma Rapeti"/"Run Rabbit Run" hook. And they did this while performing between the banners of the festival's key sponsors: Todd Energy and Shell.
Afterwards Moana Maniapoto pretended to some embarrassment about that juxtaposition … but she knew what she was saying.
She always has.
Invercargill-born Moana Maniapoto (Ngāti Tūwharetoa/Tūhourangi/Ngāti Pikiao) – awarded the Taite Music Prize classic record in 2019 for the Moana and the Moahunters album Tahi (1993), inducted into the New Zealand Music Hall of Fame in 2016, made an Arts Laureate in 2007 and honoured with the New Zealand Order of Merit in 2004 – has long been in the vanguard of Māori music, politics, social justice and advocacy.
In fact her career has been so all-encompassing – from winning international songwriting awards and taking her music to places as far-flung as Vladivostok, Greece, the Chatham Islands, New Orleans, Berlin, Istanbul and the United Nations, as well as attending conferences for indigenous artists and activists – that it is more convenient to break it into parts . . .
To read this article in full at audioculture.co.nz go here.
Audioculture is the self-described Noisy Library of New Zealand Music and is an ever-expanding archive of stories, scenes, artists, clips and music. Elsewhere is proud to have some small association with it. Check it out here.
There is more on Moana (interviews and album reviews) at Elsewhere starting here.