Graham Reid | | 1 min read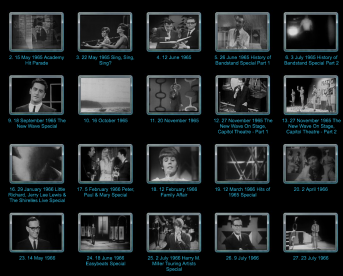 Video may have killed the radio star for the MTV generation, but during the 1960s in Australia, radio stars became household faces when they appeared on the small screen.
In New Zealand the 1960s pop programmes In the Groove, Let's Go, C'mon and Happen Inn(then Free Ride in the early 70s) by producer Kevan Moore – appointment viewing for a young audience wanting to see their music – gave viable, if sometimes undeserved, pop careers to artists such as Sandy Edmonds, Allison Durbin, Bobby Elliot and many others.
Television brought Ray Columbus, Dinah Lee, Mr Lee Grant, The Librettos and dozens of others to national attention. Across the Tasman the hour-long music show Bandstand – which first screened in November 1958 and ran until June 1972 – was the platform for pop performers.
At the start it was a tele-illiterate TV show of clean-cut teens dancing awkwardly to American hits, drinking the sponsor's product (Coke, of course, with pimple-cleansing Clearasil in the background) and kids being given free records while a parade of aspiring stars came on singing covers.
So does anyone here remember Lucky Starr, Lane Goddard or Ken Corbett? Yet the real thing (Col Joye, Johnny O'Keefe, the young Bee Gees singing 'My Old Man's a Dustman' among them) were also introduced.
Bandstand was where many great Australian acts (Johnny O'Keefe to the Easybeats) and a surprising number of New Zealand artists appeared. Among our local exports were Johnny Devlin and the Devils, Dinah Lee, and Bill and Boyd.
For New Zealanders looking to the bigger time, Bandstand was the gateway to Australian audiences . . .
To read the rest of this article on Bandstand with video clips of New Zealand artists go to audioculture here.
Audioculture is the self-described Noisy Library of New Zealand Music and is an ever-expanding archive of stories, scenes, artists, clips and music. Elsewhere is proud to have some small association with it. Check it out here.