Graham Reid | | 1 min read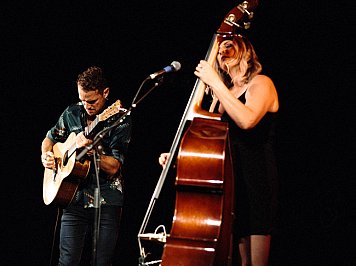 Singer-songwriter Cy Winstanley – half of the expat country-folk duo Tattletale Saints with his former partner, vocalist/bassist Vanessa McGowan – has lived in Nashville for more than five years.
Well, mostly.
Recently, he spent three months in Japan as a sideman for Glen Campbell's daughter, Ashley, then in Australia and around the American South with Nashville-based singer Rachel Baiman, who helped them get established in the city.
McGowan, too, spends time outside of Tattletale Saints and the capital of country music where they are established "side players".
"People respect us and Vanessa has had some really killer country gigs in the upper level of the scene," says Winstanley. "She's definitely entrenched. And I've had some good gigs, too. Nashville is the hub we come back to, but the more time you spend on the road, the less attached you get to the place."
Winstanley, an Apra Silver Scroll nominee for his songwriting, says there are different scenes in the city and "it's easy to get absorbed into one and ignore the others".
But, over the years, they've created their niches."You do a gig, play well, have a hang with the players and they learn you're a good person . . . .
For the rest of this article visit The LIstener website here.
There is more on Tattletale Saints including a review of their latest album Dancing Under the Dogwoods at Elsewhere starting here.
You can hear Dancing Under the Dogwoods at Spotify here.