Graham Reid | | 3 min read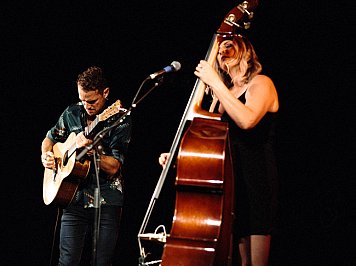 Singer-songwriter Cy Winstanley – half of the expat country-folk duo Tattletale Saints with his former partner, the vocalist/bassist Vanessa McGowan – has lived in Nashville for more than five years.
Well, mostly.
Recently there was three months in Japan as a sideman for Glen Campbell's daughter Ashley, then in Australia and around the American South with Nashville-based singer Rachel Baiman who helped them get established in the city.
McGowan too spends time outside of Tattletale Saints and the capital of country music where they are established "side-players".
"People respect us and Vanessa has had some really killer country gigs in the upper level of the scene," says Winstanley. "She's definitely entrenched. And I've had some good gigs too. Nashville is the hub we come back to. But the more time you spend on the road the less attached you get to the place."

Winstanley, an APRA Silver Scroll nominee for his songwriting, speaks of the different scenes in the city -- "it's easy to get absorbed into one and ignore the others" – and over the years they've created their niches.
"You do a gig, play well, have a hang with the players and they learn you're a good person to have in a band. It's not schmoozy-schmoozy.
"I thought it would be more so, but it's quite supportive. Everyone realises we're all in the same boat. You're not going to gain friends or gigs by being a dick and schmoozing too much."
Winstanley also notes his girlfriend is a photographer: "Every time I go out it's musicians, musicians, musicians. I've dated songwriters and side-players and it's nice to have that different domesticity and be with someone who's not as consumed as I am with the whole game."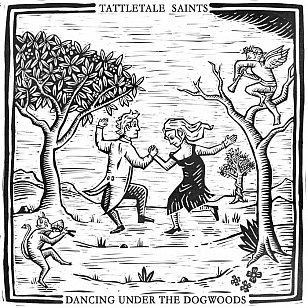 Despite the side-player work, Tattletale Saints recorded a new album Dancing Under the Dogwoods, to be released the day before they appear at the Auckland Folk Festival then embark on an extensive national tour.
With a similar low-key approach, concise and melodic tunes with wry or personal lyrics as their previous two albums, Dancing Under the Dogwoods also considers the American social climate which has changed dramatically since they settled there.
One And The Same is a melancholy lament: "I used to call you 'brother' . . . but somewhere all that has come under attack . . ."
In the country music scene Winstanley has encountered many from conservative church backgrounds, so certain subjects are off-limits: "You can be similar in so many respects, then a conversation comes up that touches on political things and it's so divisive."
Elsewhere on the album, Winstanley again reflects the style and delivery of a post-Garfunkel, solo Paul Simon, notably on the light cajun swing of Bobby Where Did You Learn to Dance? and the sly D.I.N.K. He admits he'd never heard of "double income, no kids" until his sister mentioned it.
"Vanessa is very proudly a D.I.N.K. and it's pretty much about her and her boyfriend."
And she knows that?
"Of course! We were together five or six years, now we're best buds and very honest. There are no secrets in Tattletale Saints."
Dancing Under the Dogwoods was recorded with supportive friends at the same Nashville studio as their debut How Red is the Blood, which won them a Tui for Folk Album of The Year in 2014. The album also features their live favourite, a downbeat version of Abba's Dancing Queen which finds the hollowness in the heart of central figure.
The final track Here At Last celebrates "the dream we had is in our grasp".
Winstanley expects to stay in Nashville but will broaden his musical portfolio: "It doesn't matter how good you are, the winds of change can blow and you still need to have a gig. So it's useful to have a good spread."
In that regard he recently recorded a charming children's song Marley Sitting on a Pumpkin Seed as Simon Stanley: "It's what I always get misheard as anyway, and that's been a really creative form of writing".
He's also thinking of releasing some new material under another misheard name, which will doubtless ensure fart jokes.
"Yeah, I'll take that," laughs the man who might soon also be Side Wind Stanley.
There is more on Tattletale Saints at Elsewhere starting here.
DANCING UNDER THE DOGWOODS, Tattletale Saints (Old Oak Music), released January 23