Graham Reid | | 1 min read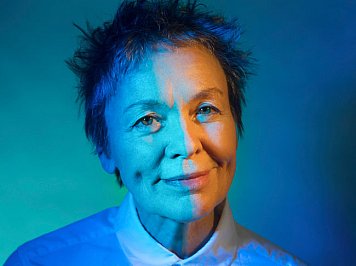 The irony isn't lost on us: Laurie Anderson, the American multimedia artist on the leading edge of innovative technology, can't get cellphone coverage.
Admittedly, she's on a construction site but all we have are bursts of static between yawning silences, with which she could doubtless do something provocatively creative. We postpone until she's back in her Brooklyn studio.
"This is downtime," says the perpetually busy 72-year-old the next day. "I'm painting big and pretty bad paintings, but I don't worry if they're bad. It's just pure experimenting and really nice to do."
However, even downtime is productive (she'll probably exhibit the ones that aren't horrible in the spring, she says) and the following day she's giving a Sunday afternoon talk at the Brooklyn Public Library entitled The Size of the Con, a monologue-cum-discussion about preparing for the 2020 election.
"It's called that because the writer George Trow talked about the US being based on the idea that everything could be so big: the bridges, skyscrapers, the population …
"Then the question was, 'What else is big?' Well, there's the marketplace, and the ultimate question to consider is 'the size of the con'. I thought that was a good way to put it, people feel that."
Then Anderson – a guest artist/curator alongside director/choreographer Lemi Ponifasio and actor/composer Bret McKenzie for next year's New Zealand Festival of the Arts in Wellington – embarks on a digressive consideration of the American socio-political landscape and where artists fit in. Or fail to do so.
She speaks of widespread cynicism and people confronted by the constant white noise where "the media is entertainment", each day delivering new drama.
"It's a wild time to be an artist, a wild time to be alive," she laughs without discernible humour. "I never thought I'd see anything like this, ever. I'm trying to find new ways of expression rather than just saying, 'Can you believe what he just said?', because that's getting boring."
She admits she struggles with how artists should respond in such times, and notes . . .
To read the rest of this interview go to the Listener here
The New Zealand Festival of the Arts, Wellington, February 21 to March 15, 2020.
For more on Laurie Anderson at Elsewhere start here.