Graham Reid | | 2 min read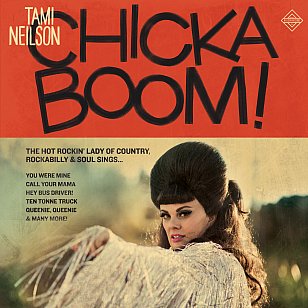 Tami Neilson is world famous in New Zealand. For now.
Over confident and enjoyable albums, the Canadian-born singer/songwriter adapted the spirits of Peggy Lee, Wanda Jackson, Roy Orbison, Johnny Cash, Patsy Cline and others to create something unique.
A clutch of local awards, sold out concerts, her striking style ("The real reason I sing loud, so you can hear me over my clothes")and extraordinary stage energy have endeared her to audiences here. And, increasingly, those overseas through regular touring.
Back in 2014 the Guardian named her Dynamite! one of the top 10 country albums of that year saying, "Neilson blends the ambience of Old West saloons with the pastel palette of a 1950s beach musical, and her soulful bellow breathes modern life into a vintage collection".
There have been similarly favourable album reviews in Britain's Mojo, Rolling Stone and other taste-shaping magazines.
And now comes Chickaboom!, another exclamatory album title after 2018's sassy feminist wit on the excellent Sassafrass!.
On Neilson Records and being given a significant shove by her Toronto-based distribution company Outside Music, Chickaboom! might just break her in the US where decades ago she toured with the Neilson Family Band of mother Betty, her late father Ron, and brothers Jay and Todd.
She recently found when playing international festivals she gravitated to artists who have family performing with them and "nothing can come close to that special blend of blood harmonies and silent communication that only comes from being onstage with a person for over 30 years."
So Jay – a songwriter, singer and producer in Toronto – came to Auckland to workshop and record new songs for Chickaboom!.
From the aggressive blues of Call Your Mama(written with Delaney Davidson), the taut rockabilly of Hey Bus Driver! (written with Jay) and the underclass dreams and personal observations of Ten Tonne Truck through to the Davidson-penned ballad Sleep elevated by the sibling harmonies, Chickaboom! covers a lot of territory.
There's New Orleans funk (Queenie Queenie), a roaring Etta James-like soul stomper You Were Mine and Any Fool With a Heart where they become Jay and Tami Everly. She also offers a joyous salute to the spiritual trinity of Mavis Staples, Mahalia Jackson and Sister Rosetta Tharpe (Sister Mavis).
And, as always, she has something adult to say about desire and sensuality. What Chickaboom! – co-produced by Tami and Davidson – perhaps lacks is a newly-minted classic ballad like Manitoba Sunrise at Motel 6 (on Sassafrass!) or Lonely (with Marlon Williams, on 2016's Don't Be Afraid).
But they and others in her back-catalogue await discovery and Chickaboom! -- another impressive Neilson album -- isn't going unnoticed.
In January, Austin's influential No Depression magazine singled it out for special attention, describing Neilson as "a singer-songwriter who embodies virtually all of the branches of roots music, makes it singularly her own, and packs it with a wallop".
It concluded: "Just call 2020 'The Year of Tami,' " and Chickaboom! "the first great album of the year."
And so it begins?
Tami Neilson – whose very persona comes with an exclamation mark – might just become world famous from New Zealand.
There is more about all aspects of Tami Neilson's career including interviews and a video essay at Elsewhere starting here.