Graham Reid | | 1 min read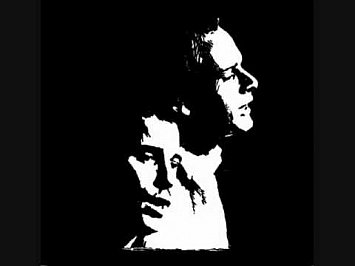 It's an unusual thing to observe given he is one of the finest and most consistent songwriters of his generation, but the songs of Paul Simon have invited very few covers.
Elsewhere has a shelf of maybe 120 tribute albums to everyone from Ace Frehley (of Kiss) and Joy Division to the Rutles (who never existed), the Grateful Dead and of course many of Leonard Cohen.
The shelf for the Beatles (together and solo) is about as full. Even the Stones have invited quite a number.
But conspicuous by its absence is any to Paul Simon.
I'm sure they exist, it's just none have ever crossed Elsewhere's ever-watchful path.
Perhaps his work is too singular, unique and seemingly personal for others to want to undertake them?
So we turn our attention then to how Simon has reinterpreted his own work, in this case his remarkable early song, The Sound of Silence (originally The Sounds of Silence)
Here is Simon's original solo version of Sounds of Silence (1965) which was written before the assassination of John F Kennedy but captured the melancholy mood of the period (and his adolescent angst).
The key to it is in when he sings, " 'Fools', said I, 'you do not know' . . ." with all the accusatory assurance of a young man who feels he knows better. The poet/singer as visionary (who sees the words of the prophet written on subway walls)?
Paul Simon solo
Here's the version with Art Garfunkel in 1965. The harmonies sweeten the song but the drums and bass -- added by producer Bob Johnson without Simon's permission -- give urgency.
But the whole tone has changed into close-harmony folk-rock (Johnson's intention) and that swaggering accusatory venom is smoothed out and lost.
Simon and Garfunkel
and here is Simon solo singing the same song in 2013 when he was 71, half a century older than when he wrote it.
He sounds more world weary, wiser, less certain than he once was -- life'll do that to ya? -- and not remotely accusatory. He knows he can no longer accuse others as being fools.
Forgive the audience noise, it's a bootleg from a recording in the crowd.
Paul Simon, live in 2013
In late 2015 the metal band Disturbed undertook a cover of this folk-rock classic, one of the rare covers of a Simon song and certainly very different and undeniably powerful.
Simon actually liked it and gave his approval.
.
then there's this, Dylan and Simon together. The picture isn't that great but the sound is fine
and them again
by the way, we lied, there have been any number of covers of this particular Simon song (see here, most are horrible MOR versions) but this is a funny parody