Graham Reid | | 3 min read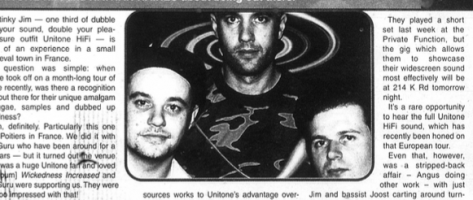 It's all very well touring the provinces but increasingly New Zealand musicians are making the big leap direct into the world.
Stinky Jim – one third of dubble your sound, double your pleasure outfit Unitone HiFi – is telling of an experience in a small mediaeval town in France The question was simple: when Unitone took off on a month-long tour of Europe recently was there a recognition factor out there for their unique amalgam of reggae samples and dubbed up wickedness?
"Yeah definitely, particularly thus one gig in Poitiers in France. We did it with Loop Guru who have been around for a few years but it turned out the venue owner was huge Unitone fan and loved out album Wickedness Increased and Loop Guru were supporting us.
"They weren't too impressed with that!
"We didn't have the heart to tell them it was only our third ever gig. The strange thing is in France you can't drink in the venue itself so everyone goes to the bar. So when we started there was virtually no one in the room.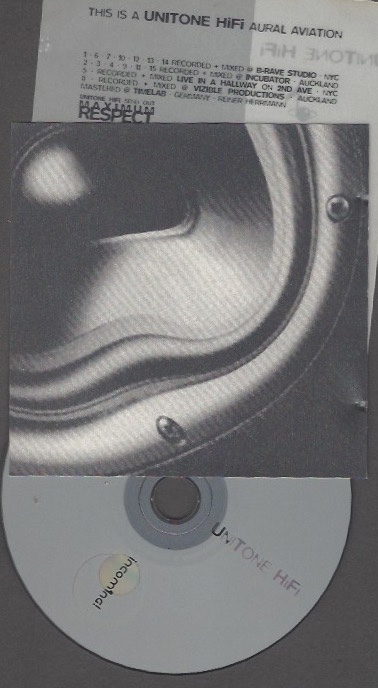 "The guy says, 'Next up Ooneetone EeeFee' and the place suddenly flooded and we ended up doing three encores.
"In Germany a lot of radio people and journalists would turn up who really loved the album because we're a bit of an enigma coming from New Zealand, having recorded in New York and being released on a German label."
If that convergence of seemingly disparate sources works to Unitone's advantage overseas it actually creates a problem for them on home territory, says Jim
"In New Zealand we feel there's not quite a place for us. People don't quite know how to handle it. We can't quite fit unto the Twelve Tribes buzz or the dance party scene, even though there are some of those elements in there.
"I think to some extent we are damned by our diversity . . . but there are a lot of worse ways to go."
That diversity hasn't seen the band do much on the live front locally although with the recent Boomshot album, they are now up to three shiny CDs out there in the market.
They played a short set last week at the Private Function but the gig which allows them to showcase their widescreen sound most effectively will be at 214 K Rd tomorrow night.
It's a rare opportunity to hear the full Unitone HiFi sound which has recently been honed on that European tour.
Even that however was a stripped back affair – Angus doing other work – with |just Jim and bassist Joost carting around turntables, mixers, a CD player used as a sampler with a Unitone one-off sample disc, various delays "and some of those boxes which make very foolish noises we're so fond of".
The European tour was organised by their record label – Incoming out of Germany – which had been encouraged by responses in France and Germany to their first album. From there it grew into a full scale tour.
As much as hammering the live end into shape the tour allowed them to tap into the underground networks, locate artists they feel some affinity with and see how it is possible to live and create in New Zealand but find those small pockets of fans which allow them to continue.
Says Jim: We appeal to a niche market but we know that so that's what we play to.
"We'd like to see more local bands take their stuff direct to the world rather than wait around for a major label to sign them and live with all the problems that can come with that.
"We've been sending some local stuff to people on our label over there and we'd say to people, 'Don t get despondent about selling a few hundred records in New Zealand, there are plenty of other opportunities out there'.
"Things are picking up for us here now too, although we haven't gone out and said 'We're a New Zealand band kind of thing'. But there's a slow awareness."
The motivation for this hybrid of sounds experienced un the crucible of New York but simmered in the South Pacific is much what has always been" "Jamaican dancehall, whatever's number one this week and won't be next week."
Having been to Jamaica many times and seen the speed people work at has also given Unitone an ethic.
"There's no point in getting precious about it. Get it down, keep it fresh and let it sizzle. No point in worrying about getting the sound like the textbook says. "Just keep it moving . . . "