Graham Reid | | 5 min read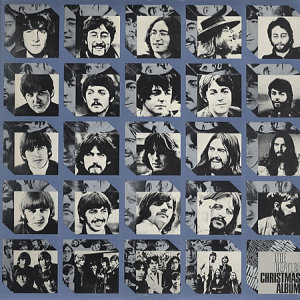 Although the Beatles appeared to have a finite recording career (1962-69) and that everything they ever did has been released, remastered and/or remixed, for the abject Beatle fan there is always going to be the need for more.
Of course the famous Carnival of Light track may never come to the surface but some rightly hold out hope for an expanded edition of the Get Back/Let It Be sessions, the complete "rooftop concert" and so on.
But there have always been those other albums which emerge from the shadowland of bootlegs or strange and unofficial sources in Eastern Europe or China.
Many of these are hoaxes – no one could take seriously the recent Little Red Album of what sounded to be Abbey Road outtakes in Mandarin – but here are five albums which have titillated collectors and the gullible for many years.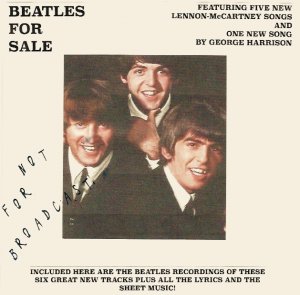 Lennon, McCartney and Harrison: Beatles for Sale (1965)
Not to be confused with the official album of later the same year.
In 1963 and '64 when Lennon and McCartney realised there was money to be had out of songwriting and publishing they were knocking off dozens of songs and, McCartney in particular, flogging them off to the likes of Tommy Quickly, Billy J Kramer, Cilla Black and the Rolling Stones (who covered I Want to be Your Man).
By '65 they had all but ceased doing that, however in a flurry of activity to get some ready cash the pair quickly wrote five songs and Harrison weighed in with another.
There were 12 copies of the six-song demo album pressed under the title Beatles For Sale which came with artwork, lyrics and music charts, as well as invoice forms and tax deduction documentation. These were sent to their publisher Dick James, various other publishers in London's Denmark Street and in New York, and someone called Louis "The Lip" Bompanserra in New Jersey.
Among the Lennon-McCartney songs only two got covered: 19th Nervous Breakdown which the Stones picked up and A World Of Our Own by the Seekers. McCartney said he didn't like either version and Lennon was quoted as saying he didn't care, he got to buy a Rolls Royce.
Harrison's song was an early version of If I Needed Someone which would later appear on Rubber Soul. It was enthusiastically picked up by the Hollies and effectively ended their string of hits.
Copies of this album fetch upwards of $10,000 on eBay.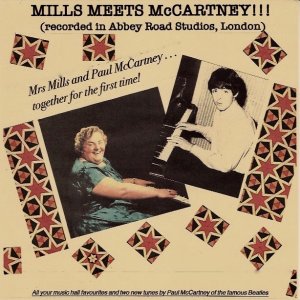 Paul McCartney: Mills Meets McCartney (1965)
The Beatles were not the only famous act using Abbey Road studios. The knees-up roly-poly popular singalong pianist Mrs Mills was cracking out three albums a year for EMI during the Sixties.
Over tea in the canteen one day McCartney and Mrs Mills agreed to record some material together and the subsequent 10 songs were mostly music hall favourites. But among them were early McCartney solo versions of When I'm 64 and Honey Pie. Both without lyrics at this stage.
EMI pressed a limited number of the album in a plain cover but all of them disappeared off the shelves on the first day, it is believed McCartney himself bought the lot and trashed them.
Noel Coward happened to be in Abbey Road that day also and sat in for some of the session. In his autobiography he said it was "a wonderful day, loads of fun and it was impossible to tell which of them was the lesser talent".
(In an interesting footnote McCartney would later marry Mrs Mills granddaughter Heather, whom he wishes he had never met.)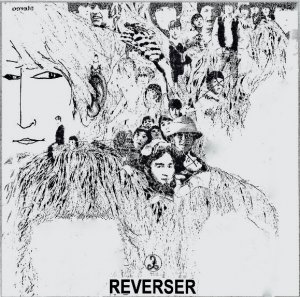 John Lennon: Reverser (1966)
According to legend when a stoned John Lennon threaded in the tape of Rain the wrong way and it played backwards he was so delighted with the strange sound that he wanted the whole song – the flipside of Daytripper, or maybe Paperback Writer, it doesn't matter – to be released that way.
The compromise was the last minute or so on the fade out appeared backward.
Undeterred and possibly still stoned, when the Revolver sessions ended he took the tapes of his own five songs home, recorded them backwards, added a few other effects then presented them to Abbey Road engineers for mastering and subsequent pressing.
Only 10 copes of what he called his Reverser album were made: three went to the other Beatles, one each to producer George Martin and engineer Geoff Emerick and the fate of the other five remained unknown . . . until recently when Yoko Ono offered one on eBay so she could buy a new fur coat.
It was bought by a collector in Japan who later reported that it was "actually very bad, very very bad" but that he liked the cover which Lennon had done to go with it.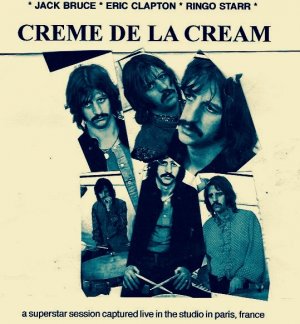 Ringo Starr: Crème de la Cream (1968)
It is widely known that Ringo Starr quit the Beatles during the fraught and tedious sessions for the Get Back film and what became the subsequent Let It Be album. What was not known was that during the week away he actually considered joining the supergroup Cream because, by coincidence, their drummer Ginger Baker had also abruptly left the band.
Starr flew to Paris to spend a day with guitarist Eric Clapton and bassist Jack Bruce and they recorded a number of tracks at the famous Chateau Marmont studio.
Among them was a 14 minute version of Boys – most of it a drum solo -- and two takes of Baker's spoken word piece Pressed Rat and Warthog. There was also a jam which allowed Starr a 27 minute drum solo and the chance for Clapton and Bruce to go out and get baguettes.
An acetate of the session was briefly in circulation.
The recording was halted when Baker returned, threatened to punch everyone and then blow up the studio.
Starr left and went back to England telling a reporter at Heathrow the food in Paris didn't agree with him and was "worse than India".
Clapton later admitted that Starr had not been a good fit anyway "because he wasn't a keen heroin addict like me" and that in fact "it wasn't him I was after in the Beatles' circle, it was George's wife. I mean, she was a tasty bit of crumpet, yeah?"
The Beatles: The Savile Row Sessions (1970)
This spoken word – more correctly shouted-word – album with guest lawyers and Yoko Ono (on screaming) was recorded live in the Apple offices when the four Beatles, now effectively going their own ways, met to discuss the break-up of the band. And their finances.
In its own way the equal of the notorious Troggs Tapes for the profanity and increasing anger, this triple album captures an audio-verite slice of Beatle life at this time. Although the only music comes from distant muzak it is much prized by collectors for the sharpness of the wit on display by Lennon towards McCartney ("No, I'll fuck you over first") and Starr's more conciliatory tone ("Looks like I'm going to be fucked by everyone," he says plaintively).
At one point Mary Hopkin accidentally walks in the room to ask if anyone has change for a parking meter and manager Allen Klein quips, "Money? Those were the days you stupid twat".
Although a few bootleg copies appeared in the mid Seventies the set has not been available for some time, but streamed versions are regularly used in legal studies and linguistic classes at universities worldwide.
Collectors however prize the gatefold sleeve with photos of a bloodied Lee Eastman (McCartney's legal representative), the weeping Mary Hopkin and Yoko Ono sitting cross-legged on top of the water cooler.
For other articles along these lines check out Absurd Elsewhere here.