Graham Reid | | 2 min read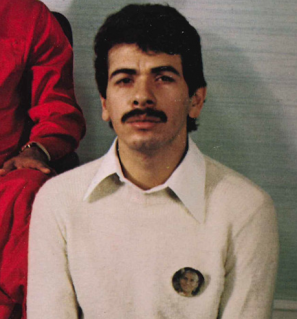 Dating from the time when Sri Chinmoy followers took on the prefix name he gave them (Mahavishnu John McLaughlin, Narada Michael Walden), this double album (about 15 minutes each side to preserve the recording quality) found the guitar master with his dream band, among them – on various tracks – saxophonist Wayne Shorter, drummer Tony Williams, keyboard player Herbie Hancock and bassist Ron Carter, all from one of Miles Davis' greatest groups.
The man who said rarely a day went by without him listening to something by Davis, John Coltrane and his other jazz heroes was now a little more than a decade down the track from his seminal appearance at Woodstock and in that time he'd traveled far.
Carlos Santana had brought Latin-tinged jazz into rock but moved further into jazz and then struck gold with albums which included hit covers (She's Not There).
Although Sri Chinmoy gets three composition here (Swapan Tari, Phuler Matan and Jharna Kala) this album -- pulled from the shelves at random for these on-going pages -- came near the end of his time with that spiritual master.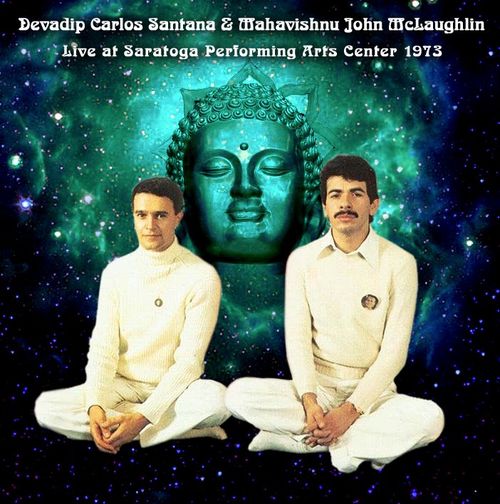 The opener Swapan Tari delivers Santana's signature sustain before he switches into blues-rock and funk gear with Hancock switching from acoustic to electric piano and bringing some Stevie Wonder in behind the guitar pyrotechnics.
It is an impressive calling card which pulls itself right back to allow Williams to drive proceedings behind the soprano sax of Premik Russell Tubbs (which gets a nice delay).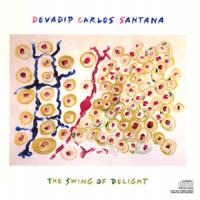 Alex North's love theme from Spartacus gets slowly teased out but you have to think it isn't most exciting vehicle for Santana, Shorter, Carter, Hancock and drummer Harvey Mason. Nice playing once it gets going, but very LA jazz-lite and it peters out at the end into a fade as ends up in a blind alley.
Oddly enough Sri Chinmoy's restful Phuler Matan (no idea, sorry) which opens with acoustic passages before announcing the tune's head on electric, is one of the stronger pieces with Williams and Carter thoroughly enjoying their complex interplay.
Chinmoy's Jharna Kala is a more sprightly, Latin-flecked band track with Dave Margan on bass and Tubbs' tenor sax firing off into furious bop.
The Shorter-penned Sher Khan, The Tiger at the end is among the better and more atmospheric pieces which allows him, Hancock and Carter to use it as a vehicle for some weightless exploration.
One of those albums which was fascinating at the time, disappeared into history and which, when pulled off the shelf again offers some rewarding pieces as much as it frustrates at times.
After this Sri Chinmoy was gone and the Santana band came back and into mainstream popular success.
One reviewer at the time said this about The Swing of Delight: "Like his colleague Deodata, Santana creates unusual tone colourings, uncommon rhythm patterns and oddball vocals. None of it is boring".
Those "oddball vocals" are on the very Latin dance track La Llave which seems to have beamed in from a very different album.
And some of this is, in fact, boring.
.
You can hear this album at Spotify here.
.
Elsewhere occasionally revisits albums -- classics sometimes, but more often oddities or overlooked albums by major artists -- and you can find a number of them starting here