Graham Reid | | 3 min read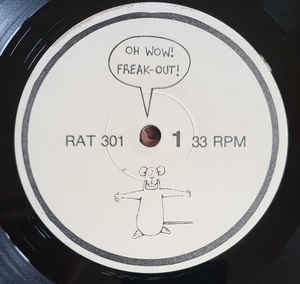 For many New Zealand artists the Eighties was the decade of EPs, cassettes and compilations.
EPs were manageable if you only had a few songs you'd polished up, while tapes allowed more free range. But compilations could be pulled together quickly by someone else and getting your song on one meant you were sometimes rubbing shoulders with fellow travelers or even those you respected.
And some of their gloss might rub off on you.
There were many great compilations in the post-punk period which captured the moment: the classic AK 79; Class of '81 and Out of the Corners (a collection of women artists which included the Topp Twins, Mahina Tocker and Jess Hawk Oakenstar).
There was also Goats' Milk Soap (Mockers, Swingers, Newmatics, Meemees, Danse Macabre etc); the student radio comp Weird Culture Weird Custom (JPSE, the Puddle, Cassandras Ears, Putty in Her Hands); Hits and Myths (the old guard of Split Enz, Dragon, Hello Sailor Vs Suburban Reptiles, Toy Love, Spelling Mistakes, Swingers etc) and many more.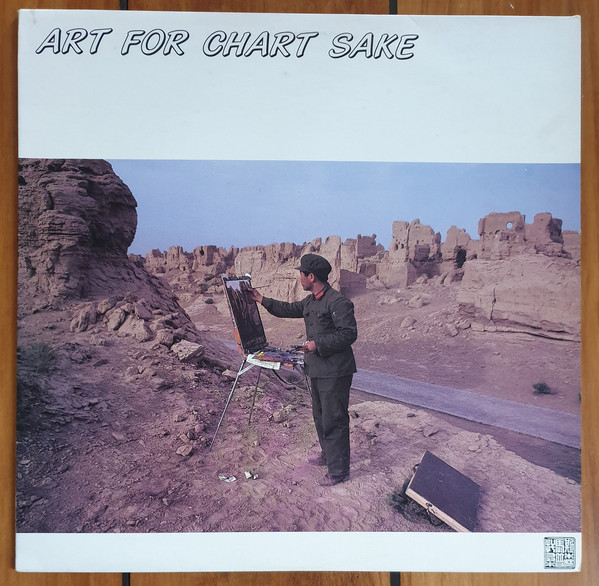 You might even put the Flying Nun "Dunedin Double" in that company.
Then there was this, Art For Chart Sake, a 10-song collection on Rational Records out of Dunedin.
Under a title which referenced the big 10cc hit of a decade previous, in a kind of alphabetical order on the album were Aardvark, Armalite Hour, the Baxters, Craig Watt and His Horse and Let's Get Naked (with the promisingly titled Funky Dunedin).
That's side one.
Side two: The Moon, Rhythm Cocktail then the Idles, Shorts and Spaghettis.
Not one of these bands was destined for great fame or even becoming a household name. Unless you lived with them, or it happened that the Idles – who were very good – were the subject of morning-after conversations.
It's interesting that in Ian Chapman's 2016 book The Dunedin Sound he concentrated exclusively on Flying Nun bands and even in the chart of Dunedin bands only the Spaghettis and Armalite Hour – the latter's Love in Vein here has something of Morrissey's delivery in Gary Iti's melodic vocals – were considered worthy of noting.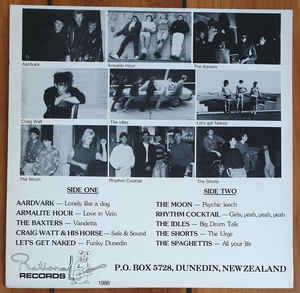 Pulled off the shelf at random for this on-going series of considerations, Art for Chart Sake reminds us more of the enthusiasm of the era rather than these songs.
A few interesting names scattered about though (Jono Lonie, one of Watts' Horse), guitarist John Dodd who went on to play with Midge Marsden . . . and John Farry getting the all-important "solicitor" credit!
This is very much UK-influenced post-punk pop-rock in that it has the reductive approach of post-punk (DIY, enjoyably untutored singing) but by the mid-Eighties much of that enthusiastic amateurism and gobby bellicoseness had passed in favour of New Wave pop.
So here the songs run along familiar tracks with verses and choruses and even the odd guitar solo.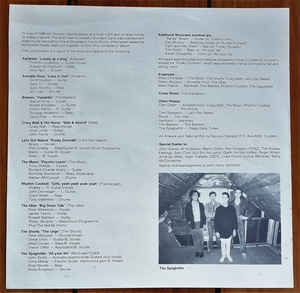 In that regard, there is some snappy stuff here, notably the Baxters' jangling and choppy Vandetta (sic), the more experimental pop-rock of Watt and Horse and the strange Funky Dunedin which seems to be along the lines of Netherworld Dancing Toys-meets-Front Lawn and not taking itself, nor Dunedin, too seriously. It was the opening track on their Something Like That album.
The Moon's funk-punk pop on Psychic Leech devolves into enjoyable chaos (although the rest is unmemorable), Rhythm Cocktail go back to a refined kind of Sixties garageband on Girls Yeah Yeah Yeah which is kinda low-level fun, and the Spaghettis – a band name not destined for greatness, perhaps – offer something like half-conceived but enjoyable country-rock All Your Life.
The Idles (who made actual albums released on Jayrem and included Barry Blackler now a promoter, Johnny Fleury a well respected guitar tutor and Ross McKenzie who was also in Let's Get Naked) deliver something enjoyably on the jerky rock-funk of Big Drum Talk.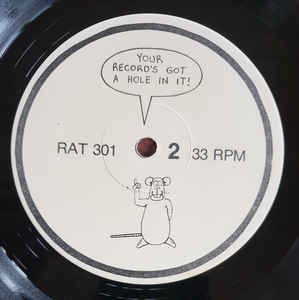 That kind of sound – at some remove from the Nunnery – comes through again on the Short's overlong The Urge and you get the overall impression these bands were aiming for some mainstream radio acceptance.
Some hope in that decade but . . .
Art For Chart Sake didn't take any of these bands onto the charts so the album stands as a snapshot in sound of a time in Dunedin somewhere to the right of Flying Nun.
And at $7.95 secondhand a few years later, not a bad deal.
Not on Spotify, of course.
.
Elsewhere occasionally revisits albums -- classics sometimes, but more often oddities or overlooked albums by major artists -- and you can find a number of them starting here