Graham Reid | | 3 min read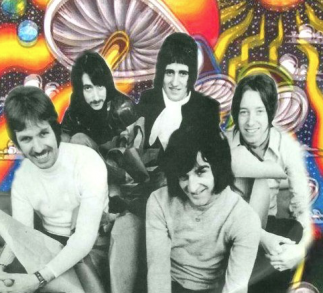 Usually for this column the album under consideration is something pulled from the shelves at random, hence the haphazard subjects.
But this one wasn't like that. It came to hand recently through a friend – who, despite this album, remains a pal – and he thought I might be interested in it.
I played it once and put it aside.
Since then it has shifted from the front of the pile to the middle and back to the front as other things got dealt to or dismissed.
Finally it became, "let's do this thing so it can be shelved".
Although John Deen and The Trakk on the obscure Europa label – with liner notes in German, French and English – are rather hard to forget.
Some background such as we can piece together: Wolfgang M Schmidt who wrote the liner notes says he first heard this British band in Hamburg's Top Ten Club on the Reeperbahn (yes he name-checks the Beatles) and was knocked out by Deen's "fantastically breathtaking voice".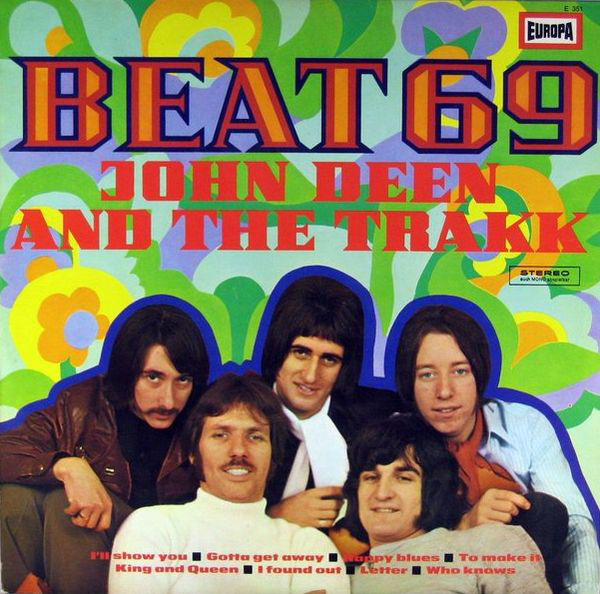 Schmidt – who maybe owns Europa – scheduled a recording session and Deen, refusing to do any covers, wrote these 14 songs in the fortnight before the session which took "three long days". The band continued to play the club at night.
So here are John, Dave, Nelson, Keith and Allan, them who pose awkwardly on the slightlydelic cover.
A kind of John Deen, Dozy, Beaky, Mick and Titch of the psychedelic era?
Hmmm, not really because Deen does possess a moderately impressive voice which could be turned to Spencer Davis Group-like soul and a more burned-out balladeer.
The problem is the material.
Deen writes highly referential songs: the opener I'll Show You is certainly spirited but if you've heard Junior Walker's classic Shotgun then you've heard a superior version of this.
They default to ballads (the cliched Standing Alone, I Found Out) which makes you think Deen could cut it in a supper club, or on the chicken-in-a-basket circuit.
There's also the very ordinary blues (Happy Blues) which would allow people to get more drinks from the bar. You wonder why they thought the 77 seconds of Looking Down on my Friends was included when clearly it was only half-thought out.
The band are often poorly recorded as backing singers and harmony vocalists although whoever are playing organ and lead guitar know what they're doing, especially on the instrumental High Phen, and the organ solo on the otherwise dull Happy Blues.
Elsewhere they are just trying to slot their talent into inferior songs like the mundane pop of Your Whole Life Through, the directionless I Met a Girl Last Night . . .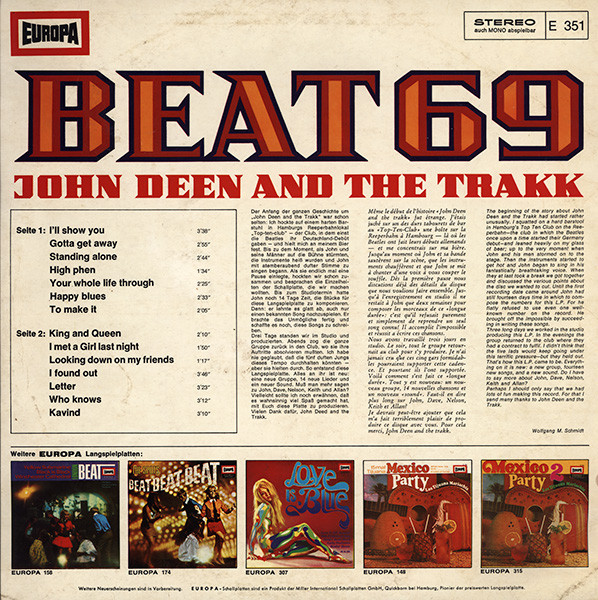 At its best though – and these are rare highpoints – there is promise here and you can understand the appeal for Schmidt who maybe thought he'd discovered the Next Middle-Sized Thing: Gotta Get Away is knocked off sideways from young Stevie Winwood's style on I'm A Man with anchoring bass and swirling organ, and kinda anticipates Blood Sweat and Tears; there's the almost drone-psychedelia of To Make It; the soul-pop of King and Queen (another lyrically inane song where bass and organ are the stars), the waltzing Letter (again, the organist!) . . .
Were they psychedelic (the stoner track Who Knows) or aiming for mainstream acceptance? Or was Deen creating some calling cards for the club circuit?
There's a bit of everything here.
I just hope the band found work as session players or an outlet better suited to their talents.
So thank you my friend for passing this on.
I'll still enjoy our lunches together.
And we'll never mention Beat 69 again.
.
This album is not on Spotify but you can piece it together or listen to selected songs on You Tube
.
Elsewhere occasionally revisits albums -- classics sometimes, but more often oddities or overlooked albums by major artists -- and you can find a number of them starting here
.