Graham Reid | | 5 min read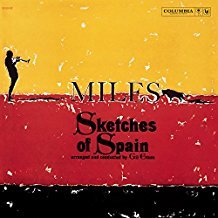 When Miles Davis entered Columbia Records' New York studio in November 1959 with composer/arranger Gil Evans and producer Teo Macero to record the material for the album Sketches of Spain, the trumpeter was not on completely unfamiliar territory.
He had seen and heard flamenco music, doubtless knew the explorations of Spanish music by Lionel Hampton, Charles Mingus and others, had heard a recording of the Spanish composer Joaquin Rodrigo's Concierto de Aranjuez (one section of which Evans would adapt for him on Sketches) and of course had already recorded Blues for Pablo and Maids of Cadiz on Miles Ahead in '57 and Flamenco Sketches on Kind of Blue (co-written with Evans, an album produced by Macero) earlier that year.
He had also previously worked with the perfectionist Evans on two projects: Miles Ahead in '57 and Porgy and Bess (recorded the year before the first Sketches sessions, also with producer Macero).
Given all that, you'd have thought that the recording of Sketches of Spain – another landmark album in Davis' career – would have gone smoothly.
The opposite was true.
Davis played flugelhorn in some places and Evans' charts were notoriously complex. Their first sessions with some classical musicians were fraught and finally fruitless.
In his free-wheeling and frequently self-aggradising autobiography Davis was angrily dismissive of classical musicians: "The musicians can only play what's there and nothing else. They can remember and have the ability of robots. In classical music, if one musician isn't all the way a robot, like all the rest, then the other robots make fun of him or her . . ."
Neither Davis nor Evans wanted the robotic playing on such emotional music.
Yet Davis admitted that he too struggled with the charts where the voicing of his trumpet was to be akin to playing the guitar part in the Rodriguez piece and a woman's voice in Saeta.
Davis said Evans had to re-orchestrate the Saeta charts and for most of the playing he (Davis) would read the score over and over, listen to it and only then play it just a couple of times to capture the feeling of spontaneity and freshness.
Davis also delayed the subsequent sessions after the aborted hours with classical players until he could get his favourite lead trombonist Frank Rehak who had been on Miles Ahead and Porgy and Bess.
Rehak wasn't available and Davis refused to do the sessions without him. According to John Szwed's So What; The Life of Miles Davis, "In the end, nineteen musicians and several engineers all had their schedules changed to fit Rehak's on the date".
When the sessions were finally done, Davis said in his autobiography, "I didn't have nothing inside me. I was drained of all emotion and I didn't want to hear that music after I got through playing all that hard shit".
He said he didn't hear the music again until the album came out the following year and in his autobiography is casually dismissive of it: "When I finally did hear it, my musical head was somewhere else, so I didn't think nothing of it . . . I liked the record and thought everybody had played well on it and that Gil had arranged his ass off, but it didn't have a large impact upon me".
It had an impact on composer Rodrigo however, he didn't like it at all ("Let's see if he likes it after he starts getting those royalty cheques," said Davis) and for Davis listeners more comfortable with the modal sounds of Kind of Blue of the same period, it is a more difficult proposition.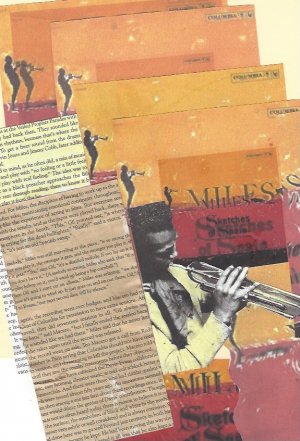 But it remains a singular album in Davis' vast catalogue – the very different but also Spanish-influenced Marcus Miller-produced Siesta decades later suffered in the comparison – and it has now been reissued at budget price as a double disc with rehearsal takes, alternate and live versions.
The extra disc, sensibly, opens with Maids of Cadiz and closes with the classic Davis quintet of the period – John Coltrane, Wynton Kelly, Paul Chambers and Jimmy Cobb -- improvising on a nine minute-plus tribute to producer Macero entitled Teo which was on the Quintet album Someday My Prince Will Come recorded later in early '61. It seems an odd inclusion because – although the argument runs it was influenced by Sketches – more apposite inclusions might have been Blues for Pablo and/or Flamenco Sketches. Although you can see the canny marketing logic, those two are much more familiar given the profile of Kind of Blue in many people's collections.
The live version of the Concierto De Aranjuez on the extra disc is important because it was the only piece from the original album ever performed before an audience (Carnegie Hall in May '61). It is also quite superb and Davis adopts an especially delicate tone
Most of this extra material has appeared previously but in expensive box sets or on hard to find CDs. So to have the original album (plus Evan's brief but heroic Song of Our Country from the same sessions with Davis again adopting the Spanish voice in his playing) and these outtakes and allied material on place is useful, especially for those coming new to this style of Davis' playing, the trumpeter within the context of an orchestra.
The album, as with those others where Davis worked with Evans, is considered one of the highpoints of the Third Stream movement where jazz and classical music attempted to find some common ground, a term used by this album's liner note writer Schuller.
Although the adapted adagio from Rodriguez' Concierto is considered the centerpiece (albeit the opening track) there is superb playing by Davis and delightful arrangements by Evans elsewhere, notably on the 12 minute-plus Solea where Davis plays with a 22-piece orchestra and, as Gunther Schuller wrote in the liner notes when this set was originally released in 2009, "unlike the other pieces, it kind of swings giving it a slightly happier, less melancholy feeling . . . it is also Miles' most assured and confident solo excursion".
That comment highlights a problem some have always had with this album, that it feels constrained, the emotions tight and not free flowing, the lack of the rhythm section being allowed to lay out the tempo so familiar in jazz . . .
Perhaps Sketches of Spain is a jazz crossover album more to be admired and analysed than enjoyed?
Perhaps.
But – despite Davis' typical dismissal of it, he wanted to present himself as a man always moving forward – it is an album of considerable pleasures and more than a few are on the extra disc where you can hear just how fastidious Evans and Davis wanted to be about it. Among the tracks are two versions of Song of Our Country – a lovely piece.
One of them, taking the piece at a slightly slower tempo, is take 14.
There is much more on Miles Davis at Elsewhere including an interview, and album and DVD reviews. Start here.
.
Elsewhere occasionally revisits albums -- classics sometimes, but more often oddities or overlooked albums by major artists -- and you can find a number of them starting here