Graham Reid | | 4 min read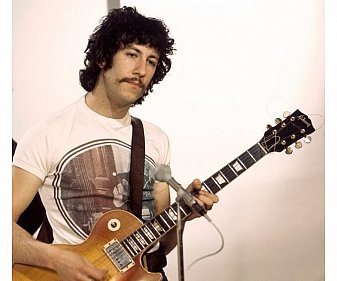 The sad story of Sixties singer-guitarist and songwriter Peter Green (born Peter Greenbaum in 1946, of Bethnal Green) probably needs little repeating but the bare facts look like this.
After playing in a few local groups as a bassist (one featuring drummer Mick Fleetwood and briefly singer Rod Stewart), he emerged as one of the great blues guitarists in the mid Sixties, replaced departing guitarist Eric Clapton in John Mayall's Bluesbreakers in '66 (for one album A Hard Road which featured two of his pieces The Same Way and a signature instrumental The Supernatural).
He then took his reputation, Mayall band members Fleetwood and bassist John McVie into a band with guitarist Jeremy Spencer.
They were called Fleetwood Mac, despite him and Spencer being the focus, and they mostly played blues covers and a few originals in the idiom.
However Green emerged as a distinctive, acclaimed player and wrote such cornerstone Mac songs as the instrumental Albatross, Man of the World, Oh Well and The Green Manalishi (a song about the curse of money) as well as the classic Black Magic Woman (made most famous by Santana).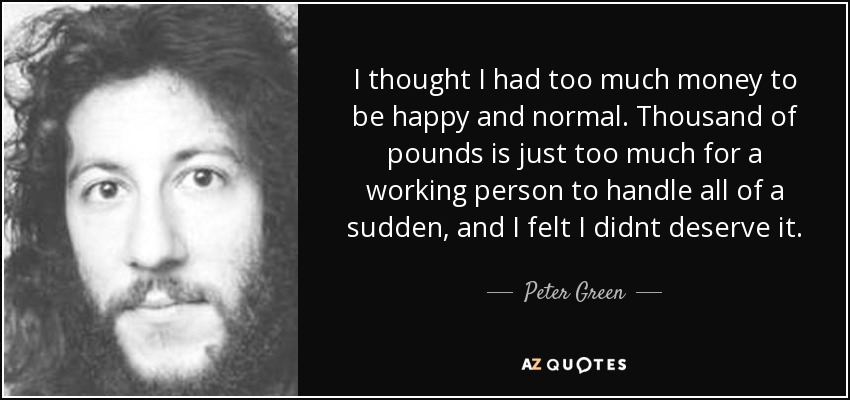 Acid, stress and a degree of psychological problems emerging lead to increasing instability and a yearning to quit.
Which he did progressively and by 1970 – aside from an uncredited appearance on Mac's Penguin album ('73) and a tentative reunion – he was lost to music.
It had been a remarkable four years.
He then had time in psychiatric institutions and few expected to hear from him again, but then in 1979 against all odds the lowkey album In the Skies appeared.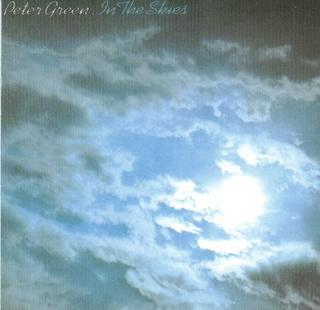 The album was such a surprise that many at the time – myself included – needed to ask, "You mean THE Peter Green?"
He'd been encouraged back into the music world by his brother Mike who was promotions manager at the small PVK Records, named for producer Peter Vernon-Kell.
In the Skies was never intended to be Green's major statement and his claim on a blues crown he once owned. In fact on the title track opener, with lyrics by Jane Green, and the follow-up instrumental Slabo Day he lets the solos be taken by Snowy White, soon to work with Pink Floyd then join Thin Lizzy.
Also on the album were percussion player Lennox Langston (Santana), bassist Kuma Harada (Kokomo) and Hammond player Peter Bardens of Camel who had led the first band Green had played in, Peter's Bees.
Those expecting some of his previous fire were doubtless disappointed but in fact In the Skies was a deliberately modest (unambitious even) return with some quite gentle and lovey songs and instrumentals.
Green's vocals, which aren't strong, suit the moods of the songs perfectly and the spiritual lyrics (the Santana-lite In the Skies, Seven Stars which draws on the Book of Revelation) and he hits his blues straps on the slow A Fool No More, the third track in where he steps out as lead guitarist as he does for the rest of the album's nine tracks.
At the time I noted Proud Pinto acknowledged a little of the Al di Meola style and Apostle at the end was out of the Roy Buchanan's gospel-guitar school.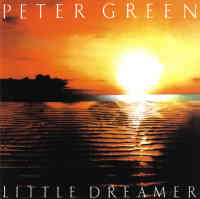 Nine years on from his somewhat half-hearted solo album The End of the Game, Peter Green seemed to be coming back with an album which even now is an easy listen.
And less than a year later he released another album Little Dreamer, most of the material this time written by brother Mike (aside from a too-pleasant Born Under a Bad Sign and a co-write on the title track).
Again Green kept things mellow, perhaps even more so than on In the Skies. Some of the material like the bluesy pop of Loser Two Times and Baby When the Sun Goes Down sounded like a serious pitch at radio play, the funk didn't quite suit him but the seven minute closer title track took him right back to the sound and style of Albatross, with lyrics.
So, two delightfully lowkey albums which signaled something of a return.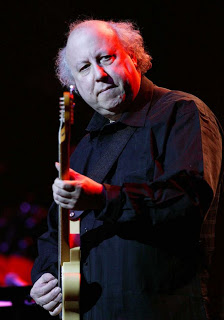 And so it went: another three albums followed year-upon-year, there were a few guest appearances, The Peter Green Splinter Group which released nine albums before splitting in 2004, Peter Green and Friends five years later which ended in 2017. . .
His path was often interrupted by periods when his illnesses returned or he simply stopped playing guitar (after he moved to Sweden in 2994), or simply lost interest and . . .
As far we can tell, at 73 he is no longer playing.
But then you never know.
Some might say Peter Green's obvious gifts as evidenced in those Fleetwood Mac years were never fully realised, but these two albums when he made his steps back into the world he had abandoned are very much worth hearing.
Reviews at the time (my own among them) used words like confident and authoritative, warmly recommended, very pleasant, tasty, some fine singing . . .
To say more would be to overstate their modest charms.
You can hear In the Skies at Spotify here and Little Dreamer here
Elsewhere occasionally revisits albums -- classics sometimes, but more often oddities or overlooked albums by major artists -- and you can find a number of them starting here