Graham Reid | | 5 min read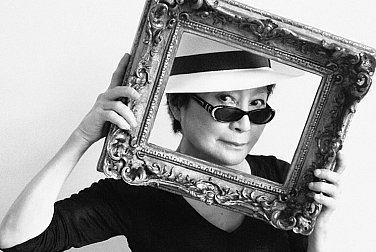 Given the sexist, racist and hurtful personal comments she received when she arrived in popular culture at the side of John Lennon, Yoko Ono was certainly entitled to release an album under the title Yes I'm a Witch.
The wonder is that it took her so long.
Yes I'm A Witch arrived in 2007 and Ono told Mojo's Mark Paytress she was happy with that title.
"When people kept calling me 'Dragon Lady' it made me feel yeauch. Then one day I said, Okay thank you for calling me dragon lady because a dragon is a very powerful animal.
"And this whole thing about the witch: a witch has a very bad name, but a wizard, the male form of a witch, doesn't.
"I'm proud to be a woman, and I'm proud to be a witch."
That Witch album was something a minor breakthrough for Ono who at that time had released about a dozen albums under her own name, half a dozen or so with John Lennon and been the subject of a tribute album Every Man Has a Woman ('84).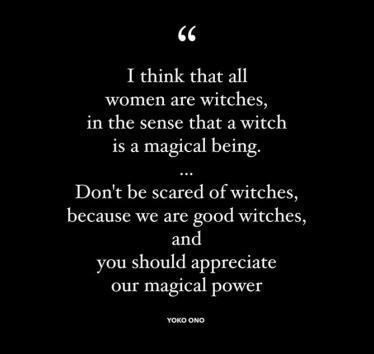 But Yes I'm a Witch – which produced so much material there was a second volume in 2016 – was something different again.
She offered various contemporary artists material from her back-catalogue with the suggestion they use only her vocals and create their own music around them.
And then she let them go to it.
Among those on board were Flaming Lips, Peaches, Antony and the Johnsons, Cat Power, Polyphonic Spree, DJ Spooky, Porcupine Tree . . .
Seventeen diverse artists in all who were given a free hand: "I like the fact that it's not controlled by me," she said. "I enjoyed the experience of being in the experience itself.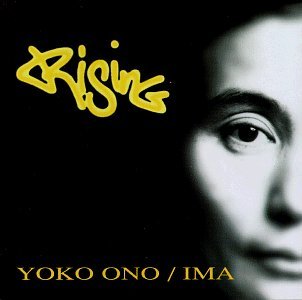 "It was like my work as an artist, where I invite audiences to participate without exactly telling them how."
Although the album received good notices, it wasn't the first time Ono's material had been remixed by others.
More than a decade previous after the release of her Rising album in late '95 there was the six-track Rising Mixes album ('96).
The short album was Rising material overhauled by Cibo Matto, ABA Allstars, Ween, Tricky, Thurston Moore and herself with IMA (IMA and ABA Allstars included her son Sean).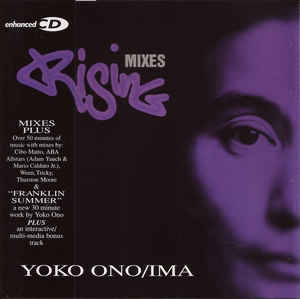 In many ways Rising Mixes anticipated the two volumes of Yes I'm a Witch/Yes I'm a Witch Too in that the remixers lay down their own soundbeds alongside or behind her vocals.
ABA Allstars (which included Adam Yauch of the Beastie Boys, and Miho Hatori and Yuka Honda of Cibo Matto) identify a thumping post-disco/Screamadelica groove (with tabla and scouring guitars) behind Ono's orgasmic moans and shuddering cries of pain on a new piece The Source; Ween set down a more wobble-funk then grit-guitar backdrop behind her spoken words on Ask the Dragon; and Tricky comes over all deep loop'n'throb for Where Do We Go From Here.
These are all effective reconstitutions of the raw material but the standout is Thurston Moore and phalanx of friends turning their remix of the Rising title track into a moody, eight minute-plus tone poem of menacing bass, simple percussion and white noise behind her guttural screams, gagging, gasping and vocalese.
The faint of heart should not venture near it, and for those who can't see the point of Ono this is probably Exhibit A.
It's extraordinary and has few reference points anywhere in contemporary music.
After it, few will stick around for the 30 minute Franklin Summer, a new piece with IMA which plays like a gentle, wordless acoustic folk ballad.
But despite the 12-string, tabla-like percussion and her contained vocal, you suspect where it going to go.
But it doesn't, until the final minutes where, raga-like, it briefly rises to a rapid, increasingly fast and passionate intensity before dialing back down.
Those who like acoustic Led Zeppelin's folk-influenced material would feel at home here.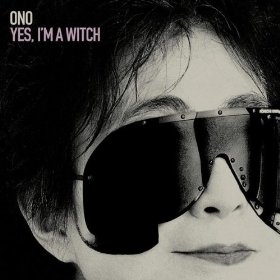 Rising Mixes is an Ono primer before undertaking the more interesting, and often danceable, songs on Yes I'm a Witch.
When Lennon heard the B52s he apparently said they were doing Yoko, and much of her music at that time in the early Eighties and beyond (Walking on Thin Ice remaining a extraordinary peak) lent itself to sometimes funky pop.
Peaches recognises that with her electro-pop take on Kiss Kiss Kiss, as do Shitake Monkey on the lightly funky O'Oh, and Le Tigre who bend the feminist Sisters O Sisters into post-disco almost No Wave pop.
And for Cambridge 1969/2007 Flaming Lips deliver something between the chaotic energy of original live performance in Cambridge and a punishing wrestle between Ono's vocals and discordant sax over a thumping, monotonous beat.
Others pull Ono's songs towards open-hearted ballads (Apples in Stereo on the widescreen setting of Nobody Sees Me Like You Do), odd psychedelia (Polyphonic Spree's configuration of you and I) or dreampop (Antony with Toyboat).
With 17 tracks in an hour, Yes I'm a Witch rarely outstays its welcome and the verdict on release was that, courtesy of the hip artists involved, Ono's time seemed to have come. At least for a new generation which hadn't been around for the vitriol and often open hatred she experienced as that Dragon Lady who stole the best Beatle and broke up the band.
Yet it took almost a decade for the sequel to emerge.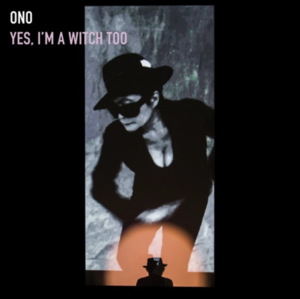 Yes I'm a Witch Too in 2016 brought in Danny Tenaglia (for an orchestrated Walking on Thin Ice using a different Ono vocal), Death Cab for Cutie, Sparks (a typically eccentric Euro-fairground overhaul of Give Me Something), Miike Snow, tUnE-yArDs and some earlier fellow travellers back again (Sean, Cibo Matto, Blow Up).
The dancefloor fun is here again: Chris Glover (as Penguin Prison) serves up She Gets Down on Her Knees with a panache that would get Travolta under the mirrorball; Dave Aude hits the techno-pop buttons behind the uneasy lyrics of Wouldnit; Cibo Matto take the music hall out of Ono's You're My Angel and relocate it somewhere closer the disco . . .
Sean Lennon keeps Dogtown dark and threatening like an unnerving film-noir scenario; Ono and Lennon's producer Jack Douglas comes soaring in with brittle and epic rock for Move On Fast; Miike Snow tosses her into a rapidly edited manga movie . . .
It ends with Moby completely remaking Hell in Paradise into a 10 minute ambient trip-hop piece so the original, brittle pop-rock song is almost entirely absent.
When Yes I'm a Witch Too came out Yoko Ono said in an interview that she "would like people to know that there is immense beauty, love and joy in life".
For someone who – even decades on from the first spew of bile – was often dismissed by those outside her artistic peers to be that generous of spirit is quite remarkable.
She said she regretted nothing, "everything that was to be regretted, I have already regretted.
"And now it has become the water which gives you the good wine."
At your leisure try – with an open mind – decanting Yoko Ono, remixed.
.
You can hear Rising Mixes on Spotify here.
You can hear Yes I'm Witch (an Elsewhere best of 2007 album) at Spotify here.
You can hear Yes I'm a Witch Too at Spotify here.
.
Elsewhere has a number of articles about Yoko Ono's albums here and there are also interviews with her at Elsewhere here.
.
Elsewhere occasionally revisits albums -- classics sometimes, but more often oddities or overlooked albums by major artists -- and you can find a number of them starting here