Graham Reid | | 2 min read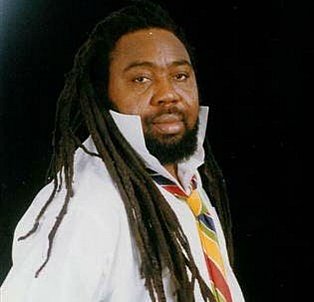 Known as the Nigerian rub-a-dub master, Ras Kimono -- sometimes Raz Kimono -- came to attention in reggae circles with his first two albums Under Pressure (1988) and this follow-up two years later.
Distributed by PolyGram meant that he got more of a foothold than many African reggae artists and his likable boasting on Rub-A-Dub Master on this album became his signature, following Rum-Bar Stylee on that Under Pressure debut.
My UK copy pulled at random from the shelves for consideration is in dodgy condition, the cover rather tattered. But the cover itself is nothing to write home about: the registration of the typography is off-kilter on the back so it's hard to read the credits.
But the music is fine.
Ras Kimono – born Oseloke Augustine Onwubuya in '58, or Ekeleke Elumelu depending on what source you have – was as political as Marley and Peter Tosh (his own Slavery Days here), and as rootsy as the late Bunny Wailer (Rastafarian Chant at the end).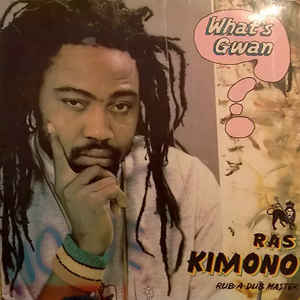 On the title track of this album he wonders about the world he sees in Nigeria: poverty, hunger, murder, illegal detention, teachers and students having relationships . . . The song is a lea for unity in the face of all that: "Let's come together and build our nation, a virile nation with one destiny".
Rub-A-Dub Master and Jah Guide I address similar matters: corrupt politicians, ghetto suffering, the vampires and parasites in society . . .
Ras Kimono pulled few punches . . . but did it with joyous horns, upbeat riddims and nods to dub in places (the choppy instrumental Do the Ska with rock guitar from Samuel Ayunke).
He sends the driving pop-reggae of Natty Get Jail to "revolutionaries all over the world" (it's a plea for the legalisation of marijuana) and Slavery Days is litany of places slaves were taken from although lacks the deep resonance of Burning Spear's song of the same name.
Ras Kimono started in the group Jastix alongside Majek Fashek who went on to an even more successful international career as a reggae artist. But in his homeland Kimono was much respected (and won many awards) for his championing of the poor and dispossessed, and a fearless attitude towards corrupt politicians and bureaucrats, and apartheid in South Africa.
To those used to deep roots Jamaican/Rastafarian sounds, Ras Kimono's music doesn't have the same gravitas or resonance, but the messages were much the same. Down to the Nyabinghi-styled percussion on Rastafari Chant which closes this fine album.
Ras Kimono died in Lagos in June 2018 not long after his 60thbirthday.
Ironically a number of politicians – who had grown up with Ras Kimono's music – posted messages of condolence on Facebook.
Rather surprisingly this album is available on Spotify here, I guess that's the advantage of being distributed by a major international label.
.
Elsewhere occasionally revisits albums -- classics sometimes, but more often oddities, or overlooked albums by major artists -- and you can find a number of them starting here.