Graham Reid | | <1 min read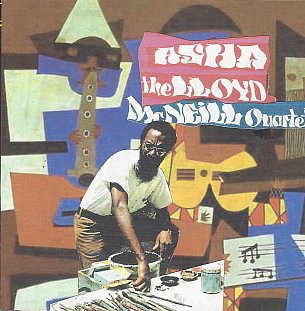 Lloyd McNeil is a pretty obscure character. First of all he's a jazz musician and that's a minority music, and he played jazz flute, an instrument which hasn't been in the frontline for many decades.
And the album this collage was to illustrate was recorded in '69 and only given a run of about 1000 copies.
All pretty obscure, right?
The album was Asha and it was given a reissue in 2010 . . . but I suspect it went past just about everybody all over again.
No matter, I heard it and thought it was swinging and very cool.
As to the imagery?
Well, McNeill -- who was also a painter -- had lived in the south of France and knew Picasso so we get an image of the jazzman as artist, a famous Picasso of musicians in the background and his slightlydelic album cover slotted in.
Made sense at the time!
You can read about him and that album here.
.
For other Art by Elsewhere go here.