Graham Reid | | <1 min read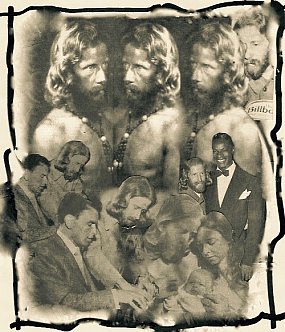 Singer-songwriter Eden Ahbez was a hippie two decades before hippies came to attention. In 1948 Life magazine profiled him -- on the strength of his song Nature Boy which had quickly become a standard after Nat King Cole covered it -- and found him to be a bearded vegetarian longhair into yoga.
Elsewhere was drawn to write about him in our on-going column WE NEED TO TALK ABOUT because a local singer-songwriter had appeared calling himself Arthur Ahbez (which may have indeed been his real name but we kinda doubted it).
Anyway, the art to illusrtate that article about the remarkable Eden Ahbez seemed to require a somewhat hazy and hippie illustration: hence the multiple images of the Christ-like Ahbez which were deliberately out of focus, but the one of him and Cole in deliberately sharper focus because that's what he was known for.
A fascinating character we needed to talk about. That article is here.
.
For other Art by Elsewhere go here.