Graham Reid | | <1 min read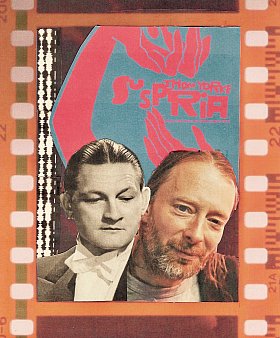 When Thom Yorke of Radiohead released his soundtrack to the new version of the old horror Italian film Suspiria, it was an opportunity to think about how soundtracks had changed over the decades.
And Yorke's mate in Radiohead Jonny Greenwood had also written acclaimed soundtracks, so there were some interesting points of comparision and difference.
None more so than thinking about soundtrack music by the likes of classically-trained Victor Young in Thirties/Forties Hollywood and Yorke's post-rock approach.
You could also not find two physical personalities much more opposite either: the poised and groomed Young and the more dishevelled Yorke.
Cramming them into the same frame of a film was probably a bit obvious, but there you go.
The article which mentions other soundtrack composers and the music of the first Suspiria, is here.
.
For other Art by Elsewhere go here.