Graham Reid | | <1 min read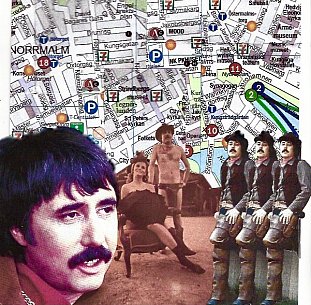 At the end of the Sixties during which he had become a household name for his duets with Nancy Sinatra, the singer-songwriter-producer Lee Hazlewood seemed to disappear.
He went to Sweden where he continued to run his own LHI label, embarked on a number of duets with Swedish singers, recorded the albums Cowboy in Sweden and themed Trouble is a Lonesome Town, and more.
Not much of which made a ripple although when they were reissued by Light in the Attic some years ago there were some real gems to be chivvied out.
This art was to illustrate a column in which we revisited Lee Hazlewood once more.
Given he had a sense of humour about his cowboy persona (the photo in the middle of the collage) I thought it only appropriate to, in addition to a street map of Stockholm, have him as saloon can-can girls about to do their high kicks.
Well, I laughed.
The 2017 article it illustrated is here.
.
For other Art by Elsewhere go here.