Graham Reid | | <1 min read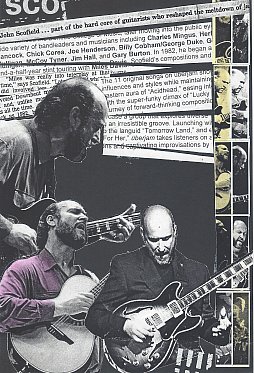 American John Scofield has long been one of Elsewhere's favourite jazz guitarists . . . and not just for his playing.
His song titles -- chosen by his wife he told me once -- can be pretty damn funny: Big Fan, Go Blow, The Guinness Spot, The Beatles and The Stones, I Brake 4 Monster Booty . . .
My recollection is he first came to New Zealand in the early Eighties (for a festival Rodger Fox put together?) and he has been back a few times.
This image may have accompanied a 2008 interview with him although I suspect I could just have reproduced there and it had originally been done for Real Groove magazine.
With jazz musicians it was always important to make clear that was their idiom in any artwork, otherwise Sco might just have looked like any other balding rock player.
Hence the text which namechecks a number of those he had played with.
You can read that 2008 interview here. There are album reviews also at Elsewhere starting here.
.
For other Art by Elsewhere go here.