Graham Reid | | <1 min read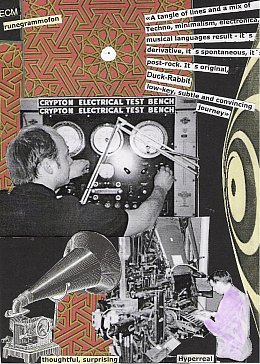 More than a decade ago the Rune Grammofon label out of Norway appeared on our radar.
This was experimental electronic music and a few of the albums were very appealing, at the time we noted it was free jazz ruled by the head and not the heart.
So yes, thoughtful and calculated but also quite romantic and charming in places.
The article we wrote placed it in the longer context of free jazz and also the ECM label's approach to Wellington-produced jazz.
The collage therefore aimed to reflect the past and present with words and images which alluded to some of what the article touched on.
You can read the article here.
.
For other Art by Elsewhere go here.