Graham Reid | | <1 min read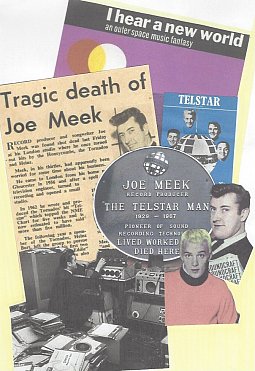 As time goes, on the life of British producer Joe Meek actually comes down to his tragic death, a suicide after murdering his landlady.
Aside from his work in the early Sixties on Telstar by the Tornados which was innovative and the thumping Have I The Right? hit for the Honeycombs in the Beat Era, not much of his work makes an impact outside of musicians' circles these days.
A pity, but understandable.
However he recorded an odd concept album I Hear a New World in '60 which disappeared, but then was reconstructed from tapes in '91.
In the article I wrote about Meek which this collage illustrated, I described it as "brilliant and rubbish at the same time".
The idea of the collage was to play up the shock value of his death but also put Telstar and the weird album in there.
That article is here if you are interested in the strange and tragic figure of Joe Meek.
.
For other Art by Elsewhere go here.