Graham Reid | | <1 min read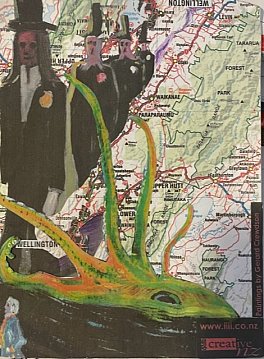 Frankly this collage isn't up to much.
It was done in haste (no excuse) because I had spent so much time listening through to a bunch of albums on Wellington's iiii label (which I wrote about in a catch-all column here).
The idea however was to use images from the various album covers (the walking figures, the massive squid) with some acknowledgement of Creative New Zealand which was being very generous towards the label and its revolving door of musicians, as well as locating the label in the capital . . . but with tentacles reaching beyond the Wellington scene.
If you didn't see any of that in it you are certainly forgiven.
It's pretty arcane.
But there it was, and it isn't improved by the poor reproduction of it here (which is much clearer in the original).
.
For other Art by Elsewhere go here