Graham Reid | | <1 min read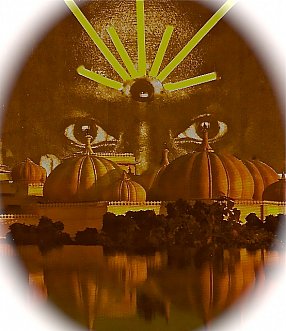 By chance, some years ago I came across a three-record box set from 2007 ("audiophile collector's edition" no less) entitled Miles From India: A Celebration of the Music of Miles Davis.
It was produced by Bob Belden and among the Davis alumni on this Indo-jazz rethinking of Davis' music were Ron Carter, Jimmy Cobb, Chick Corea, John McLaughlin, Marcus Miller, Wallace Roney, Mike Stern and . . .
That would be fellow travellers from just about every part of Miles Davis' career.
Add in Indian ensembles and beautiful artwork and it was very hard to refuse this set.
And while somewhaqt uneven, as I wrote, it did actually make sense when you think of modal styles, drone, Davis' experimentations . . .
I wrote about it here and felt it needed an artistic response: the idea of Miles rising up to keep a wide-eyed overview appealed to me.
Hence the image.
There is a lot about Miles Davis at Elsewhere, including a rare and long interview. Start here.
For other Art by Elsewhere go here.