Graham Reid | | <1 min read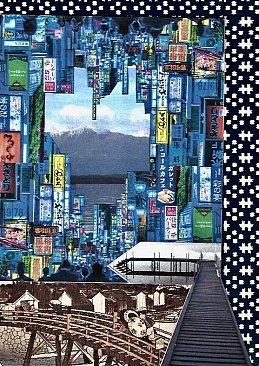 When the very beautiful collection Kankyo Ongaku: Japanese Ambient, Environmental and New Age Music 1980-1990 arrived in 2019 it was so seductive and engrossing that it was quite transporting.
Not to the busy Japan of streets and markets or the oppressive highrises that are so familiar, but the quieter interior spaces in offices and homes and temples.
This collage was an attempt to convey that open space and place of rest which exists between and within the obvious neon-lit, crowded streets of the cities . . . and a link back to the more traditional simplicity which still exists n Japan, if you make the time to find it.
You can read what I wrote about that ambient collection here. I hope the art does it justice.
For other Art by Elsewhere go here.