Graham Reid | | <1 min read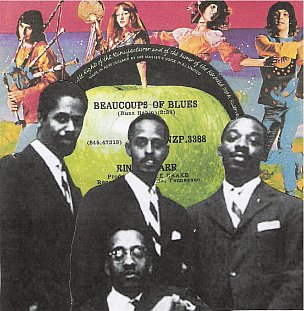 This art was just absurd . . . as absurd in a way as the fact the buttoned-down, besuited and ineffably cool Modern Jazz Quartet would briefly appear on the Beatles' Apple label for two albums in the late Sixties.
The American group seemed incongruous on a label launched the wake of Sgt Pepper and which was scooping up oddballs or releasing Lennon and Harrison's vanity projects.
But there they were, oddities for their conservatism in a very odd world.
So setting them off in their Brooks Brothers suits against the colourful design/music troupe The Fool who were part of the Apple extended family of charlatans and hippies was just fun.
I needed to make the more obvious Apple connection via the distinctive logo, so why not Ringo's single which was neither hippie nor jazz? It was a rather good country song full of sentiment and sadness as only Ringo could deliver.
So three very different images, all of which were contemporaneous.
It really was an odd time.
You can read the article about the MJQ Apple albums here.
For other Art by Elsewhere go here.